Alright, you can all pack up and go home now, because the most important part of P&P week is already here: The Official FYA Pride and Prejudice Drinking game! But don't actually pack up and go home, because we have lots more AWESOME coming your way this week.
Since it is CLEARLY the only one that matters, I used the 1995 miniseries adaptation, though most of the rules could be applied across other versions. Unless you're watching the Laurence Olivier/Aldous Huxley version, which bears absolutely no resemblance to the original plot. In which case, just drink constantly. You'll need it.
The Official FYA Pride and Prejudice Drinking Game
Take a sip every time:
Mrs. Bennet exasperatingly exclaims "OH MR. BENNET!!"
Lizzy or Jane chastises Lydia
Mr. Darcy is a total dick
Every time Mr. Hurst drinks, is drunk, slurs his words, or is unconscious (from drinking)
Mary plays the piano
Mrs. Bennet calls for Hill
Caroline Bingley looks down her nose
Wickham tells a lie
Mrs. Bennet compains about her "poor nerves" (to calm your own)
Mr. Collins mentions Lady Catherine de Bourgh
You are overcome by Colin Firth's hotness
Mr. Darcy is hot
Take a shot when:
There is a marriage proposal
You hear the words "Gretna Green"
You recognize an actor from another Jane Austen film adaptation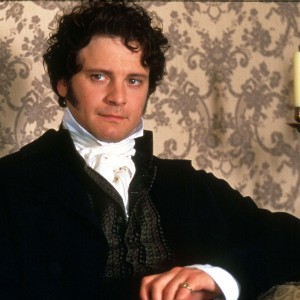 Mr. Darcy is still hot, even when he's proposing in a dickish manner
Chug for the entire duration of:
Netherfield Ball
Awkward super-imposed faces
Mr. Darcy does his best Cathy impersonation. I'm so cold, let me into your window, Lizzy!
Pour One Out
When Charlotte marries Mr. Collins
Mr. Darcy is sad about this, too.
That should keep you good and drunk for the next five and a half hours. Hop to it!
Shop Our Jane Austen Themed Merch