It's the most wonderful time of the year — when we look ahead to what awaits our TBR! (Minor spoilers possibly ahead for sequels and follow-ups.)
Note: This post contains affiliate links. Learn more about our affiliate policy here.
Title: A Heart So Fierce and Broken (Cursebreakers #2)
Author: Brigid Kemmerer
Publication Date: 2020 January 07
Series: Cursebreakers
Why I'm Excited:
I feel like I've been waiting for this book for ages! I'm excited to see more of Gray and a new love story, and perhaps a glimpse of Harper and what's been happening in her new world. -Stephanie
Title: The Map From Here to There (The Start of Me and You #2)
Author: Emery Lord
Publication Date: 2020 January 07
Series: The Start of Me and You
Official Blurb:
Acclaimed author Emery Lord crafts a gorgeous story of friendship and identity, daring to ask: What happens after happily ever after?

It's senior year, and Paige Hancock is finally living her best life. She has a fun summer job, great friends, and a super charming boyfriend who totally gets her. But senior year also means big decisions. Weighing "the rest of her life," Paige feels her anxiety begin to pervade every decision she makes. Everything is exactly how she always wanted it to be–how can she leave it all behind next year? In her head, she knows there is so much more to experience after high school. But in her heart, is it so terrible to want everything to stay the same forever?

Emery Lord's award-winning storytelling shines with lovable characters and heartfelt exploration of life's most important questions.
Why I'm Excited:
I've been squirming for this book ever since Lord hinted that she was writing a sequel to The Start of Me and You – one of my fave contemporaries – years ago. My heart could burst at the thought of more Max and Paige! -Rosemary
Title: Three Things I Know Are True
Author: Betty Culley
Publication Date: 2020 January 07
Official Blurb:
This moving debut novel in verse about a teenage girl dealing with the aftermath of an accident that nearly takes her brother's life is a stunning exploration of grief and the power of forgiveness.

The reminder is always there—a dent on the right side of Jonah's forehead. The spot you'd press when you felt a headache coming on. The bullet tore away bone, the way dynamite blasts rock—leaving a soft crater.

Life changes forever for Liv when her older brother, Jonah, accidentally shoots himself with his best friend Clay's father's gun. Now Jonah needs round-the-clock care just to stay alive, and Liv seems to be the only person who can see that her brother is still there inside his broken body.

With Liv's mom suing Clay's family, there are divisions in the community that Liv knows she's not supposed to cross. But Clay is her friend, too, and she refuses to turn away from him—just like she refuses to give up on Jonah.
Why I'm Excited:
I'm up for any book in verse, especially one about gun violence. -Brian
Title: Lucky Caller
Author: Emma Mills
Publication Date: 2020 January 14
Official Blurb:
With the warmth, wit, intimate friendships, and heart-melting romance she brings to all her books, Emma Mills crafts a story about believing in yourself, owning your mistakes, and trusting in human connection in Lucky Caller.

When Nina decides to take a radio broadcasting class her senior year, she expects it to be a walk in the park. Instead, it's a complete disaster.

The members of Nina's haphazardly formed radio team have approximately nothing in common. And to maximize the awkwardness her group includes Jamie, a childhood friend she'd hoped to basically avoid for the rest of her life.

The show is a mess, internet rumors threaten to bring the wrath of two fandoms down on their heads, and to top it all off Nina's family is on the brink of some major upheaval.

Everything feels like it's spiraling out of control―but maybe control is overrated?
Why I'm Excited:
I feel like I haven't gotten to dive into a nice, easy but sweet contemporary lately, and I've really liked Emma Mills' books in the past. January is the perfect time to read something light-hearted as you transition from all the holiday fun back to normal life. -Stephanie
(Seconded by Rosemary)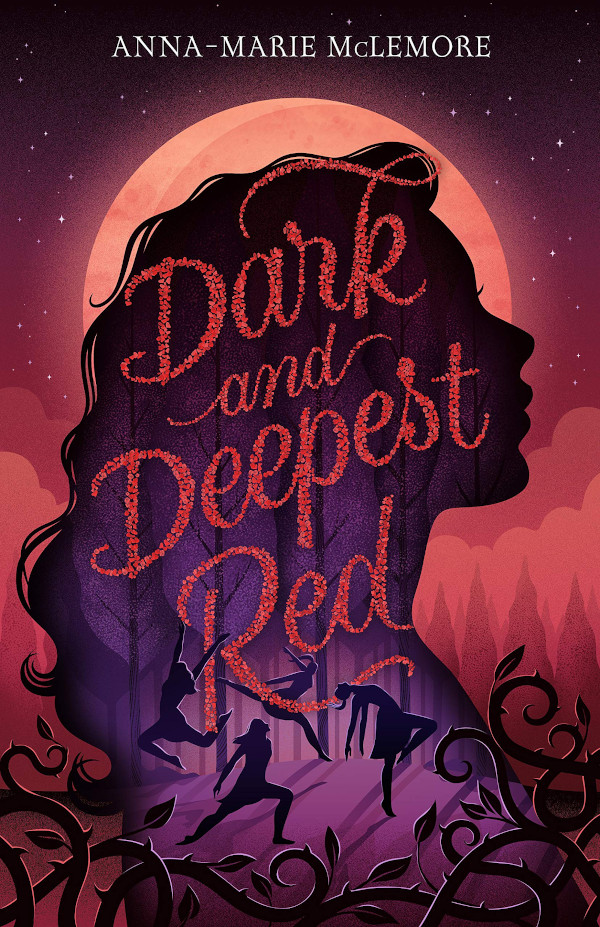 Title: Dark and Deepest Red
Author: Anna-Marie McLemore
Publication Date: 2020 January 14
Official Blurb:
Summer, 1518. A strange sickness sweeps through Strasbourg: women dance in the streets, some until they fall down dead. As rumors of witchcraft spread, suspicion turns toward Lavinia and her family, and Lavinia may have to do the unimaginable to save herself and everyone she loves.

Five centuries later, a pair of red shoes seal to Rosella Oliva's feet, making her dance uncontrollably. They draw her toward a boy who knows the dancing fever's history better than anyone: Emil, whose family was blamed for the fever five hundred years ago. But there's more to what happened in 1518 than even Emil knows, and discovering the truth may decide whether Rosella survives the red shoes.

With McLemore's signature lush prose, Dark and Deepest Red pairs the forbidding magic of a fairy tale with a modern story of passion and betrayal.
Why I'm Excited:
Anna-Marie McLemore is one of my go-to authors for magical realism and diversity. I love their killer ability to take familiar fairy tales (or sometimes not so familiar tales) and expand them to different cultures—and their inclusion of a wide selection of characters from the queer spectrum is inspiring. -Mandy C.
Title: The Otto Digmore Decision (Otto Digmore #2)
Author: Brent Hartinger
Publication Date: 2020 January 15
Series: Otto Digmore
Official Blurb:
Another adventure of Otto Digmore, the badly-scarred actor, by one of my favorite authors. -Brian
Title: Deathless Divide (Dread Nation #2)
Author: Justina Ireland
Publication Date: 2020 February 04
Series: Dread Nation
Why I'm Excited:
Another sequel to one of my favorite books from a few years ago. I hope it lives up to the hype in my head! I loved Jane's practicality and sass, and I'm looking forward to more adventure. -Stephanie
(Seconded by Mandy C. and Mandy W.)
Title: The King of Crows (The Diviners #4)
Author: Libba Bray
Publication Date: 2020 February 04
Series: The Diviners
Why I'm Excited:
Full disclosure: I haven't read any of these books except the first one, but only because I was waiting for it to be over so I could read it all at once. The first one was so action packed and juicy that I knew I wouldn't stand the wait between books (or remember much). I was NOT expecting it to take 7 dang years for four books, but let's hope the conclusion was worth the wait! -Stephanie
Title: Night Spinner (Night Spinner #1)
Author: Addie Thorley
Publication Date: 2020 February 11
Series: Night Spinner
Official Blurb:
A must-read for fans of Leigh Bardugo's Grishaverse, transforming The Hunchback of Notre Dame into a powerful tundra-inspired epic.

Before the massacre at Nariin, Enebish was one of the greatest warriors in the Sky King's Imperial Army: a rare and dangerous Night Spinner, blessed with the ability to control the threads of darkness. Now, she is known as Enebish the Destroyer―a monster and murderer, banished to a monastery for losing control of her power and annihilating a merchant caravan.

Guilt stricken and scarred, Enebish tries to be grateful for her sanctuary, until her adoptive sister, Imperial Army commander Ghoa, returns from the war front with a tantalizing offer. If Enebish can capture the notorious criminal, Temujin, whose band of rebels has been seizing army supply wagons, not only will her crimes be pardoned, she will be reinstated as a warrior.

Enebish eagerly accepts. But as she hunts Temujin across the tundra, she discovers the tides of war have shifted, and the supplies he's stealing are the only thing keeping thousands of shepherds from starving. Torn between duty and conscience, Enebish must decide whether to put her trust in the charismatic rebel or her beloved sister. No matter who she chooses, an even greater enemy is advancing, ready to bring the empire to its knees.
Why I'm Excited:
This book had me at "The Hunchback of Notre Dame reimagining." I can't resist a retelling, and this is one story I haven't yet had the pleasure of reading a new version of. -Mandy C.
Title: The Shadows Between Us (The Shadows Between Us #1)
Author: Tricia Levenseller
Publication Date: 2020 February 25
Series: The Shadows Between Us
Official Blurb:
Alessandra is tired of being overlooked, but she has a plan to gain power:

1) Woo the Shadow King.
2) Marry him.
3) Kill him and take his kingdom for herself.

No one knows the extent of the freshly crowned Shadow King's power. Some say he can command the shadows that swirl around him to do his bidding. Others say they speak to him, whispering the thoughts of his enemies. Regardless, Alessandra knows what she deserves, and she's going to do everything within her power to get it.

But Alessandra's not the only one trying to kill the king. As attempts on his life are made, she finds herself trying to keep him alive long enough for him to make her his queen—all while struggling not to lose her heart. After all, who better for a Shadow King than a cunning, villainous queen?
Why I'm Excited:
I've heard great things about this standalone story about a power-hungry girl who wants to marry — and then kill — an evil king. I feel like Levenseller is one of those authors I started out a bit wary on but she's been getting better and better with each book. -Stephanie
Title: Be Not Far From Me
Author: Mindy McGinnis
Publication Date: 2020 March 03
Official Blurb:
Hatchet meets Wild in this harrowing survival story from Edgar Award-winning author Mindy McGinnis.

The world is not tame.

Ashley knows this truth deep in her bones, more at home with trees overhead than a roof. So when she goes hiking in the Smokies with her friends for a night of partying, the falling dark and creaking trees are second nature to her. But people are not tame either. And when Ashley catches her boyfriend with another girl, drunken rage sends her running into the night, stopped only by a nasty fall into a ravine. Morning brings the realization that she's alone – and far off trail. Lost in undisturbed forest and with nothing but the clothes on her back, Ashley must figure out how to survive despite the red streak of infection creeping up her leg.
Why I'm Excited:
I love Mindy McGinnis' powerful writing, I love survivalist YA. I am extremely stoked for McGinnis' survivalist YA, billed as Hatchet meets Wild. GIMME. -Rosemary
(Seconded by Mandy C. and Stephanie)
Title: The Kingdom of Back
Author: Marie Lu
Publication Date: 2020 March 03
From #1 New York Times bestselling author Marie Lu comes a historical YA fantasy about a musical prodigy and the dangerous lengths she'll go to make history remember her—perfect for fans of Susanna Clarke and The Hazel Wood.

Two siblings. Two brilliant talents. But only one Mozart.

Born with a gift for music, Nannerl Mozart has just one wish—to be remembered forever. But even as she delights audiences with her masterful playing, she has little hope she'll ever become the acclaimed composer she longs to be. She is a young woman in 18th century Europe, and that means composing is forbidden to her. She will perform only until she reaches a marriageable age—her tyrannical father has made that much clear.

And as Nannerl's hope grows dimmer with each passing year, the talents of her beloved younger brother, Wolfgang, only seem to shine brighter. His brilliance begins to eclipse her own, until one day a mysterious stranger from a magical land appears with an irresistible offer. He has the power to make her wish come true—but his help may cost her everything.

In her first work of historical fiction, #1 New York Times bestselling author Marie Lu spins a lush, lyrically-told story of music, magic, and the unbreakable bond between a brother and sister.
Why I'm Excited:
I love Marie Lu, and I love her genre-hopping ways: dystopia, fantasy, sci-fi, superhero, and now historical. Where she leads, I will follow! -Mandy W.
(Seconded by Mandy C. and Stephanie)
Title: The Midnight Lie (Forgotten Gods #1)
Author: Marie Rutkoski
Publication Date: 2020 March 03
Series: Forgotten Gods
Official Blurb:
Where Nirrim lives, crime abounds, a harsh tribunal rules, and society's pleasures are reserved for the High Kith. Life in the Ward is grim and punishing. People of her low status are forbidden from sampling sweets or wearing colors. You either follow the rules, or pay a tithe and suffer the consequences.

Nirrim keeps her head down and a dangerous secret close to her chest.

But then she encounters Sid, a rakish traveler from far away who whispers rumors that the High Caste possesses magic. Sid tempts Nirrim to seek that magic for herself. But to do that, Nirrim must surrender her old life. She must place her trust in this sly stranger who asks, above all, not to be trusted.

Set in the world of the New York Times–bestselling Winner's Trilogy, beloved author Marie Rutkoski returns with an epic LGBTQ romantic fantasy about learning to free ourselves from the lies others tell us—and the lies we tell ourselves.
Why I'm Excited:
Marie Rutkoski returning to the world of the Winner's Trilogy with an epic LGBTQ romance?!?! YES PLEASE NOW THANKS. -Mandy W.
(Seconded by Stephanie)
Title: All Your Twisted Secrets
Author: Diana Urban
Publication Date: 2020 March 17
Official Blurb:
"Talk about frightening page-turners! I kept reading chapter after chapter. I had to know what happens next! And trust me―the scares just keep on coming!" ―R.L. Stine, bestselling author of Goosebumps and Fear Street

This thrilling debut, reminiscent of new fan favorites like One of Us Is Lying and the beloved classics by Agatha Christie, will leave readers guessing until the explosive ending.Welcome to dinner, and again, congratulations on being selected. Now you must do the selecting.

What do the queen bee, star athlete, valedictorian, stoner, loner, and music geek all have in common? They were all invited to a scholarship dinner, only to discover it's a trap. Someone has locked them into a room with a bomb, a syringe filled with poison, and a note saying they have an hour to pick someone to kill … or else everyone dies.Amber Prescott is determined to get her classmates and herself out of the room alive, but that might be easier said than done. No one knows how they're all connected or who would want them dead. As they retrace the events over the past year that might have triggered their captor's ultimatum, it becomes clear that everyone is hiding something. And with the clock ticking down, confusion turns into fear, and fear morphs into panic as they race to answer the biggest question: Who will they choose to die?
Why I'm Excited:
And Then There Were None meets the Saw movies. I'm in. -Brian
Title: Seven Endless Forests
Author: April Genevieve Tucholke
Publication Date: 2020 March 31
Official Blurb:
In this gorgeous standalone companion to the critically acclaimed fantasy, The Boneless Mercies, April Tucholke spins a bold and blood-hungry retelling of the King Arthur legend that is perfect for fans of Naomi Novik, Garth Nix, and Laini Taylor.

On the heels of a devastating plague, Torvi's sister, Morgunn, is stolen from the family farm by Uther, a flame-loving Fremish wolf-priest who leads a pack of ragged, starving girls. Torvi leaves the only home she's ever known, and joins a shaven-skulled druid and a band of roaming Elsh artists known as the Butcher Bards. They set out on a quest to rescue Torvi's sister, and find a mythical sword.

On their travels, Torvi and her companions will encounter magical night wilds and mystical Drakes who trade in young men. They will sing rowdy Elshland ballads in a tree-town tavern, and find a mysterious black tower in an Endless Forest. They will fight alongside famous Vorseland archers and barter with Fremish wizards. They will feast with rogue Jade Fell children in a Skal Mountain cave, and seek the help of a Pig Witch. They will face wild, dangerous magic that leads to love, joy, tragedy, and death.

Torvi set out to rescue a sister, but she may find it's merely the first step toward a life that is grander and more glorious than anything she could have imagined.
Why I'm Excited:
Another author on my must-read list, I'm excited to check out this companion to Tucholke's The Boneless Mercies. Her characters are always so fierce and formidable, and her writing is dreamlike and magical. Talk about escapism! -Mandy C.
Title: We Are Totally Normal
Author: Naomi Kanakia
Publication Date: 2020 March 31
Official Blurb:
Nandan's got a plan to make his junior year perfect. He's going to make sure all the parties are chill, he's going to smooth things over with his ex, and he's going to help his friend Dave get into the popular crowd—whether Dave wants to or not. The high school social scene might be complicated, but Nandan is sure he's cracked the code.

Then, one night after a party, Dave and Nandan hook up, which was not part of the plan—especially because Nandan has never been into guys. Still, Dave's cool, and Nandan's willing to give it a shot, even if that means everyone starts to see him differently.

But while Dave takes to their new relationship with ease, Nandan's completely out of his depth. And the more his anxiety grows about what his sexuality means for himself, his friends, and his social life, the more he wonders whether he can just take it all back. But is breaking up with the only person who's ever really gotten him worth feeling "normal" again?

From Rahul Kanakia comes a raw and deeply felt story about rejecting labels, seeking connection, and finding yourself.
Why I'm Excited:
LGBTQ romance about friends becoming more. -Brian
(Seconded by Mandy W.)
Title: The Best Laid Plans
Author: Cameron Lund
Publication Date: 2020 April 07
Official Blurb:
Eighteen-year-old Keely Collins is determined to change her status as the last virgin standing in this sweet, hilarious rom-com for fans of Meg Cabot and Jenny Han.

It seemed like a good plan at first.

When the only other virgin in her group of friends loses it at Keely's own eighteenth birthday party, she knows it's time for drastic measures. If she's going to avoid heading to college without any experience of her own, she needs to find the guy, and fast.

Problem is, she's known all the boys in her small high school forever, and it's kinda hard to be into a guy when you watched him eat crayons in kindergarten. So she can't believe her luck when she meets a ridiculously hot new guy named Dean. Not only does he look like he's fallen out of a classic movie poster, but he drives a motorcycle, flirts with ease, and might actually be into her.

But Dean's already in college, and Keely is convinced he'll drop her if he finds out how inexperienced she is. That's when she talks herself into a new plan: her lifelong best friend, Andrew, would never hurt or betray her, and he's clearly been with enough girls that he can show her the ropes before she goes all the way with Dean.

Of course, the plan only works if Andrew and Keely stay friends–just friends–so things are about to get complicated.
Why I'm Excited:
This rom-com about a teen's whacky plan to lose her virginity sounds hilarious and sweet and sex-positive. More of these, please! -Rosemary
Title: Little Universes
Author: Heather Demetrios
Publication Date: 2020 April 07
Official Blurb:
One wave: that's all it takes for the rest of Mae and Hannah Winters' lives to change.

When a tsunami strikes the island where their parents are vacationing, it soon becomes clear that their mom and dad are never coming home. Forced to move to Boston from sunny California for the rest of their senior year, each girl struggles with secrets their parents' death has brought to light, and with their uncertainty about the future. Instead of bringing them closer, it feels like the wave has torn the sisters apart.

Hannah is a secret poet who wants to be seen, but only knows how to hide. The pain pills she stole from her dead father hurl her onto the shores of an addiction she can't shake and a dealer who turns her heart upside down. When it's clear Hannah's drowning, Mae, a budding astronaut suddenly launched into an existential crisis—and unexpected love—must choose between herself and the only family she has left.

Little Universes is a book about the powerful bond between sisters, the kinds of love that never die, and the journey we all must make through the baffling cruelty and unexpected beauty of human life in an incomprehensible universe.
Why I'm Excited:
It's a new Heather Demetrios book, SAY NO MORE. (No, really. This is the first time I've even looked at the blurb, because the only words that I need to convince me to read it are Heather Demetrios.) -Mandy W.
Title: What I Like About You
Author: Marisa Kanter
Publication Date: 2020 April 07
Official Blurb:
Can a love triangle have only two people in it? Online, it can…but in the real world, it's more complicated. In this debut novel that's perfect for fans of Jenny Han and Morgan Matson, Marisa Kanter hilariously and poignantly explores what happens when internet friends turn into IRL crushes.

Is it still a love triangle if there are only two people in it?

There are a million things that Halle Levitt likes about her online best friend, Nash.

He's an incredibly talented graphic novelist. He loves books almost as much as she does. And she never has to deal with the awkwardness of seeing him in real life. They can talk about anything…

Except who she really is.

Because online, Halle isn't Halle—she's Kels, the enigmatically cool creator of One True Pastry, a YA book blog that pairs epic custom cupcakes with covers and reviews. Kels has everything Halle doesn't: friends, a growing platform, tons of confidence, and Nash.

That is, until Halle arrives to spend senior year in Gramps's small town and finds herself face-to-face with real, human, not-behind-a-screen Nash. Nash, who is somehow everywhere she goes—in her classes, at the bakery, even at synagogue.

Nash who has no idea she's actually Kels.

If Halle tells him who she is, it will ruin the non-awkward magic of their digital friendship. Not telling him though, means it can never be anything more. Because while she starts to fall for Nash as Halle…he's in love with Kels.
Why I'm Excited:
A You've Got Mail-esque contemporary about a YA book blogger/cupcake maker is literally all that I ever need packed into one cute book. -Rosemary
(Seconded by Stephanie)
Title: Time of Our Lives
Authors: Emily Wibberly and Austin Siegemund-Broka
Publication Date: 2020 April 21
Official Blurb:
A reflective, romantic coming-of-age novel that explores life after high school–perfect for fans of Fangirl and Emergency Contact

A boy desperate to hold on, a girl ready to let go.

Fitz Holton waits in fear for the day his single mother's early-onset Alzheimer's starts stealing her memory. He's vowed to stay close to home to care for her in the years to come–never mind the ridiculous college tour she's forcing him on to visit schools where he knows he'll never go. Juniper Ramirez is counting down the days until she can leave home, a home crowded with five younger siblings and zero privacy. Against the wishes of her tight-knit family, Juniper plans her own college tour of the East Coast with one goal: get out.

When Fitz and Juniper cross paths on their first college tour in Boston, they're at odds from the moment they meet– while Juniper's dying to start a new life apart for her family, Fitz faces the sacrifices he must make for his. Their relationship sparks a deep connection–in each other's eyes, they glimpse alternate possibilities regarding the first big decision of their adult lives.

Time of Our Lives is a story of home and away, of the wonder and weight of memory, of outgrowing fears and growing into the future.
Why I'm Excited:
I enjoyed their last book, and this looks like a poignant coming-of-age story set in between high school and college. -Stephanie
Title: Aurora Burning (The Aurora Cycle #2)
Authors: Amie Kaufman and Jay Kristoff
Publication Date: 2020 May 05
Series: The Aurora Cycle
Why I'm Excited:
Kaufman/Kristoff collabs will always get me excited, and I really enjoyed the first book in this series. I can't wait to go on more adventures with Squad 312. -Mandy C.
Title: The Heart Principle (The Kiss Quotient #3)
Author: Helen Hoang
Publication Date: 2020 May 04 2021
Series: The Kiss Quotient
Why I'm Excited:
I don't think I need to explain why I am bursting with anticipation to read Quan's story. Hoang's romances are delightful, sexy, and smart. -Stephanie
Title: The Notorious Virtues (The Notorious Virtues #1)
Author: Alwyn Hamilton
Publication Date: 2020 May 05
Series: The Notorious Virtues
Official Blurb:
Bestselling Rebel of the Sands author Alwyn Hamilton is back with a glittering thriller about a glamorous media darling, a surprise heiress, and the magical competition of a lifetime.

At sixteen, Honora "Nora" Holtzfall is the daughter of the most powerful heiress in all of Walstad. Her family controls all the money–and all the magic–in the entire country. But despite being the center of attention, Nora has always felt like an outsider. When her mother is found dead in an alley, the family throne and fortune are suddenly up for grabs, and Nora will be pitted against her cousins in the Veritaz, the ultimate magical competition for power that determines the one family heir.But there's a surprise contestant this time: Lotte, the illegitimate daughter of Nora's aunt. When Lotte's absent mother retrieves her from the rural convent she'd abandoned her to, Lotte goes from being an orphan to surrounded by family. Unfortunately, most of them want her dead.

And soon, Nora discovers that her mother's death wasn't random–it was murder. And the only person she can trust to uncover the truth of what happened is a rakish young reporter who despises everything Nora and her family stand for.With everyone against her, Lotte's last hope is hunting for the identity of her father. But the dangerous competition–and her feelings for Theo, one of the Holtzfalls' sworn protectors–turns her world upside down.

Incredible tests, impossible choices and deadly odds await both girls. But there can only be one winner.
Why I'm Excited:
Hamilton seriously impressed me with her debut Rebel of the Sands trilogy, so I'm excited to see where she takes us readers next. Plus: who doesn't love reading about magical competitions and dysfunctional families? -Mandy C.
Title: The Ballad of Songbirds and Snakes (The Hunger Games #0)
Author: Suzanne Collins
Publication Date: 2020 May 19
Series: The Hunger Games
Why I'm Excited:
OK, y'all — I'll admit it: I liked (loved?) Mockingjay. And as recent history has shown, I'm willing to give creators a few chances in reviving their beloved favourites. It's yet to really pan out for me, and apparently I still have not learned my lesson, because I AM EXCITE FOR THIS. (… although maybe laying it out like this is slowing my roll down just a smidge.) -Mandy W.
Title: My Calamity Jane (The Lady Janies #3)
Authors: Cynthia Hand, Brodi Ashton, and Jodi Meadows
Publication Date: 2020 June 02
Series: The Lady Janies
Official Blurb:
Welcome ​to 1876 and a rootin'-tootin' America bursting with gunslingers, outlaws, and garou.

JANE (a genuine hero-eene)
Calamity's her name, and garou hunting's her game—when she's not starring in Wild Bill's Traveling Show, that is. She reckons that if a girl wants to be a legend, she should just go ahead and be one.

FRANK (*wolf whistle*)
Frank "the Pistol Prince" Butler is the Wild West's #1 bachelor. He's also the best sharpshooter on both sides of the Mississippi, but he's about to meet his match. . . .

ANNIE (get your gun!)
Annie Oakley (yep, that Annie) is lookin' for a job, not a romance, but she can't deny there's something about Frank she likes. Really likes. Still, she's pretty sure that anything he can do, she can do better.

A HAIRY SITUATION
After a garou hunt goes south and Jane finds a suspicious-like bite on her arm, she turns tail for Deadwood, where there's been talk of a garou cure. But things ain't always what they seem—meaning the gang better hightail it after her before they're a day late and a Jane short.
Why I'm Excited:
I love the Lady Janies series for a good laugh and a brilliant farcical take on history, and I can't wait to see what they do with the legend of Calamity Jane! -Mandy C.
Title: The Mall
Author: Megan McCafferty
Publication Date: 2020 June 09
Official Blurb:
New York Times bestselling author Megan McCafferty returns to her roots with this YA coming of age story set in a New Jersey mall.

The year is 1991. Scrunchies, mixtapes and 90210 are, like, totally fresh. Cassie Worthy is psyched to spend the summer after graduation working at the Parkway Center Mall. In six weeks, she and her boyfriend head off to college in NYC to fulfill The Plan: higher education and happily ever after.

But you know what they say about the best laid plans…

Set entirely in a classic "monument to consumerism," the novel follows Cassie as she finds friendship, love, and ultimately herself, in the most unexpected of places. Megan McCafferty, beloved New York Times bestselling author of the Jessica Darling series, takes readers on an epic trip back in time to The Mall.
Why I'm Excited:
NEW MEGAN MCCAFFERTY. New Megan McCafferty SET IN A MALL. New Megan McCafferty set in a mall IN THE 1990s. I'm basically just going to YELL A LOT about this book until I can actually read it. -Rosemary
(Seconded by Mandy W., Posh, and Stephanie)
Title: This Is All Your Fault
Author: Aminah Mae Safi
Publication Date: 2020 June 09
Official Blurb:
Set over the course of one day, this smart and voice-driven YA novel follows three young women determined to save their indie bookstore.

Rinn Olivera is finally going to tell her longtime crush AJ that she's in love with him.

Daniella Korres writes poetry for her own account, but nobody knows it's her.

Imogen Azar is just trying to make it through the day.

When Rinn, Daniella, and Imogen clock into work at Wild Nights Bookstore on the first day of summer, they're expecting the hours to drift by the way they always do. Instead, they have to deal with the news that the bookstore is closing. Before the day is out, there'll be shaved heads, a diva author, and a very large shipment of Air Jordans to contend with.

And it will take all three of them working together if they have any chance to save Wild Nights Bookstore.
Why I'm Excited:
In contrast to so many high-stakes YA novels, I kind of love this very modest and earnest premise. And who wouldn't cheer on a trio of girls on a mission to save their local bookstore? -Mandy W.
Title: Keep My Heart in San Francisco
Author: Amelia Diane Coombs
Publication Date: 2020 June 23
Official Blurb:
Sparks fly when two ex-best-friends team up to save a family business in this swoon-worthy and witty debut perfect for fans of Jenn Bennett and Sarah Dessen.

Caroline "Chuck" Wilson has big plans for spring break—hit up estate sales to score vintage fashion finds and tour the fashion school she dreams of attending. But her dad wrecks those plans when he asks her to spend vacation working the counter at Bigmouth's Bowl, her family's failing bowling alley. Making things astronomically worse, Chuck finds out her dad is way behind on back rent—meaning they might be losing Bigmouth's, the only thing keeping Chuck's family in San Francisco.

And the one person other than Chuck who wants to do anything about it? Beckett Porter, her annoyingly attractive ex-best friend.

So when Beckett propositions Chuck with a plan to make serious cash infiltrating the Bay Area action bowling scene, she accepts. But she can't shake the nagging feeling that she's acting irrational—too much like her mother for comfort. Plus, despite her best efforts to keep things strictly business, Beckett's charm is winning her back over…in ways that go beyond friendship.

If Chuck fails, Bigmouth's Bowl and their San Francisco legacy are gone forever. But if she succeeds, she might just get everything she ever wanted.
Why I'm Excited:
Also in saving beloved institutions — but with enemistry and in San Francisco! Admittedly, I'm a little biased because this is the first book that FYA's very own Jennie sold as a literary agent. But using the YA blog through which I met one of my dearest friends to promote her career is one of the perks of this unpaid gig, y'all! (See also: Traitor by Amanda McCrina and Pepper's Rules for Secret Sleuthing by Briana McDonald.) -Mandy W.
(Seconded by Stephanie)
Title: Love & Olives (Love and Gelato #3)
Author: Jenna Evans Welch
Publication Date: 2020 July 07
Series: Love and Gelato
Why I'm Excited:
I LOVED Love & Gelato, and highly enjoyed Love & Luck as well. Welch's books always pack the double-whammy of being a delight to read while also giving you insane travel fever. Take me to Greece, girl! -Rosemary
Title: Unravel the Dusk (The Blood of Stars #2)
Author: Elizabeth Lim
Publication Date: 2020 July 07
Series: The Blood of Stars
Why I'm Excited:
It takes a lot for me to commit to a new series nowadays, but when I finished Spin the Dawn, I knew I had to find out how this story — *cue CSI sunglasses* — unravels. -Mandy W.
Title: A Rogue of One's Own (A League of Extraordinary Women #2)
Author: Evie Dunmore
Publication Date: 2020 September 01
Series: A League of Extraordinary Women
Why I'm Excited:
Evie's debut romance was full of great female characters and a unique voice in a sea of Regencies. I'm only sad that I have to wait so long to read Lucie's story! -Stephanie
Title: Shine (Shine #1)
Author: Jessica Jung
Publication Date: 2020 October 06
Series: Shine
Official Blurb:
Crazy Rich Asians meets Gossip Girl by way of Jenny Han in this knock-out debut about a Korean American teen who is thrust into the competitive, technicolor world of K-pop, from Jessica Jung, K-pop legend and former lead singer of one of the most influential K-pop girl groups of all time, Girls Generation.

What would you sacrifice for a chance to live your dreams?

For seventeen-year-old Korean American Rachel Kim, the answer is almost everything. Or at least that's been the answer for the past six years, ever since she was recruited by DB Entertainment—one of Seoul's largest K-pop labels, known for churning out the industry's most popular stars.

The rules are simple: Train 24/7. Be perfect. Don't date. So while Rachel and her fellow trainees face grueling practices, punishing expectations, and ruthless competition, they know it's worth it for the chance to debut in DB's newest girl group.

And when the opportunity to sing with K-pop star and DB golden boy Jason Lee arises, Rachel knows this is her chance to get noticed. To finally debut. The only problem? Jason is charming, sexy, and ridiculously talented—he's exactly the kind of distraction Rachel can't afford to have. And exactly the kind she can't stay away from.

Get ready as Jessica Jung, K-pop legend and former lead singer of Korea's most famous girl group, Girls Generation, takes us inside the twisted, technicolor world of K-pop. Where following your dreams might just mean living through a nightmare. Where the stakes are high, but for one girl, the cost of success might be even higher.

It's time for the world to see: this is what it takes to SHINE.
Why I'm Excited:
With K-Pop's ever-growing popularity, it was only a matter of time before it broke through into the YA world. And this seems like it could be the fictionalized inside scoop that I've been waiting for! -Mandy W.
Title: Iron Heart (Crier's War #2)
Author: Nina Varela
Publication Date: 2020
Series: Crier's War
Why I'm Excited:
Crier's War was a bit of a sleeper that ended up making my "best of 2019" list, so you bet I'm excited to read the sequel. -Mandy C.
Title: Rule of Wolves (King of Scars #2)
Author: Leigh Bardugo
Publication Date: 2020 2021
Series: King of Scars
Preorder: Bookshop | Amazon
Why I'm Excited:
MOAR NIKOLAI PLEASE. Just don't tell Kaz how much I like him. -Mandy C.
---
Which novels are you looking forward to in 2020? Let us know in the comments!