'Tis the season for adding to our never-ending TBRs! (Minor spoilers possibly ahead for sequels and follow-ups.)
Note: This post contains affiliate links. Learn more about our affiliate policy here.
Title: One True Loves (Happily Ever Afters #2)
Author: Elise Bryant
Publication Date: 2022 January 04
Series: Happily Ever Afters
Official Blurb:
From the author of Happily Ever Afters, comes the highly anticipated companion novel, One True Loves, another irresistible YA romantic comedy full of self-discovery, Black love, and a dreamy European cruise.

Lenore Bennett has always been a force. A star artist and style icon at her high school, she's a master in the subtle art of not giving a . . . well, you know what. But now that graduation is here, she's a little less sure.

She's heading to NYU in the fall with a scarlet U (for "undeclared") written across her chest. Her parents always remind her that Black kids don't have the luxury of figuring it out as they go—they have to be 110 percent prepared. But it's a lot of pressure to be her ancestors' wildest dreams when Lenore's not even sure what her dreams are yet.

When her family embarks on a post-graduation Mediterranean cruise, her friend Tessa is sure Lenore's in for a whirlwind romance. But Lenore knows that doesn't happen in real life. At least not to girls like her.

Then she meets Alex Lee. After their parents bond over the Cupid Shuffle, she ends up stuck with him for the remainder of the cruise. He's a hopeless romantic and a golden boy with a ten-year plan. In short, he's irritating as hell.

But as they get to know each other during the picturesque stops across Europe, he may be able to help her find something else she's been looking for, even if she doesn't want to admit it to herself: love.
Why I'm Excited:
What can I say? I loved the first one, and it's about a frustrated writer. -Brian
Title: The Bone Spindle (The Bone Spindle #1)
Author: Leslie Vedder
Publication Date: 2022 January 11
Series: The Bone Spindle
Official Blurb:
Sleeping Beauty meets Indiana Jones in this thrilling fairytale retelling for fans of Sorcery of Thorns and All the Stars and Teeth.

Fi is a bookish treasure hunter with a knack for ruins and riddles, who definitely doesn't believe in true love.

Shane is a tough-as-dirt girl warrior from the north who likes cracking skulls, pretty girls, and doing things her own way.

Briar Rose is a prince under a sleeping curse, who's been waiting a hundred years for the kiss that will wake him.

Cursed princes are nothing but ancient history to Fi–until she pricks her finger on a bone spindle while exploring a long-lost ruin. Now she's stuck with the spirit of Briar Rose until she and Shane can break the century-old curse on his kingdom.

Dark magic, Witch Hunters, and bad exes all stand in her way–not to mention a mysterious witch who might wind up stealing Shane's heart, along with whatever else she's after. But nothing scares Fi more than the possibility of falling in love with Briar Rose.

Set in a lush world inspired by beloved fairytales, The Bone Spindle is a fast-paced young adult fantasy full of adventure, romance, found family, and snark.
Why I'm Excited:
Marketed as "Sleeping Beauty meets Indiana Jones," this book had me at hello. I'm super excited to meet Fi, "a bookish treasure hunter" and Shane, a "tough-as-dirt girl warrior." Plus: Briar Rose is a sleeping prince. -Mandy C.
Title: Weather Girl
Author: Rachel Lynn Solomon
Publication Date: 2022 January 11
Official Blurb:
A TV meteorologist and a sports reporter scheme to reunite their divorced bosses with unforecasted results in this charming romantic comedy from the author of The Ex Talk.

Ari Abrams has always been fascinated by the weather, and she loves almost everything about her job as a TV meteorologist. Her boss, legendary Seattle weatherwoman Torrance Hale, is too distracted by her tempestuous relationship with her ex-husband, the station's news director, to give Ari the mentorship she wants. Ari, who runs on sunshine and optimism, is at her wits' end. The only person who seems to understand how she feels is sweet but reserved sports reporter Russell Barringer.

In the aftermath of a disastrous holiday party, Ari and Russell decide to team up to solve their bosses' relationship issues. Between secret gifts and double dates, they start nudging their bosses back together. But their well-meaning meddling backfires when the real chemistry builds between Ari and Russell.

Working closely with Russell means allowing him to get to know parts of herself that Ari keeps hidden from everyone. Will he be able to embrace her dark clouds as well as her clear skies?
Why I'm Excited:
Solomon is an auto-read for me right now. Great romances, fully-realized inner-lives of her main characters, great locations, fun plots. I would like it all, please. -Stephanie
Title: The Red Palace
Author: June Hur
Publication Date: 2022 January 25
Official Blurb:
To enter the palace means to walk a path stained in blood…

Joseon (Korea), 1758. There are few options available to illegitimate daughters in the capital city, but through hard work and study, eighteen-year-old Hyeon has earned a position as a palace nurse. All she wants is to keep her head down, do a good job, and perhaps finally win her estranged father's approval.

But Hyeon is suddenly thrust into the dark and dangerous world of court politics when someone murders four women in a single night, and the prime suspect is Hyeon's closest friend and mentor. Determined to prove her beloved teacher's innocence, Hyeon launches her own secret investigation.

In her hunt for the truth, she encounters Eojin, a young police inspector also searching for the killer. When evidence begins to point to the Crown Prince himself as the murderer, Hyeon and Eojin must work together to search the darkest corners of the palace to uncover the deadly secrets behind the bloodshed.
Why I'm Excited:
I really loved the richness of Hur's most recent The Forest of Stolen Girls, and I appreciate that her niche seems to be historical procedurals/mysteries. Murders, court intrigue, secret investigations, and the MC's mentor is the accused? This sounds like it's going to be a ride. -Stephanie
Title: The Roughest Draft
Authors: Emily Wibberley and Austin Siegemund-Broka
Publication Date: 2022 January 25
Official Blurb:
They were cowriting literary darlings until they hit a plot hole that turned their lives upside down.

Three years ago, Katrina Freeling and Nathan Van Huysen were the brightest literary stars on the horizon, their cowritten books topping bestseller lists. But on the heels of their greatest success, they ended their partnership on bad terms, for reasons neither would divulge to the public. They haven't spoken since, and never planned to, except they have one final book due on contract.

Facing crossroads in their personal and professional lives, they're forced to reunite. The last thing they ever thought they'd do again is hole up in the tiny Florida town where they wrote their previous book, trying to finish a new manuscript quickly and painlessly. Working through the reasons they've hated each other for the past three years isn't easy, especially not while writing a romantic novel.

While passion and prose push them closer together in the Florida heat, Katrina and Nathan will learn that relationships, like writing, sometimes take a few rough drafts before they get it right.
Why I'm Excited:
It greatly amuses me that this real-life husband-wife writing duo is basically writing a fictionalized version of their partnership. And bonus Florida setting! (Who else loves to play "spot the real-life things from my area" in books? They better go get Pub subs at least once, lol.) -Stephanie
Title: This Woven Kingdom (This Woven Kingdom #1)
Author: Tahereh Mafi
Publication Date: 2022 Feb 01
Series: This Woven Kingdom
Official Blurb:
Clashing empires, forbidden romance, and a long-forgotten queen destined to save her people—bestselling author Tahereh Mafi's first in an epic, romantic trilogy inspired by Persian mythology.

To all the world, Alizeh is a disposable servant, not the long-lost heir to an ancient Jinn kingdom forced to hide in plain sight.

The crown prince, Kamran, has heard the prophecies foretelling the death of his king. But he could never have imagined that the servant girl with the strange eyes, the girl he can't put out of his mind, would one day soon uproot his kingdom—and the world.

Perfect for fans of Leigh Bardugo, Tomi Adeyemi, and Sabaa Tahir, this is the explosive first book in a new fantasy trilogy from the New York Times bestselling and National Book Award-nominated author Tahereh Mafi.
Why I'm Excited:
Persian empire Game of Thrones? Yeah, Imma need that on my Kindle ASAP. -Rosemary
Title: Horror Hotel
Authors: Victoria Fulton and Faith McClaren
Publication Date: 2022 February 01
Official Blurb:
This addictive YA horror about a group of teen ghost hunters who spend the night in a haunted LA hotel is The Blair Witch Project for the TikTok generation.

When the YouTube-famous Ghost Gang—Chrissy, Chase, Emma, and Kiki—visit a haunted LA hotel notorious for tragedy to secretly film after dark, they expect it to be just like their previous paranormal huntings. Spooky enough to attract subscribers—and ultimately harmless.

But when they stumble upon something unexpected in the former room of a gruesome serial killer, they quickly realize that they're in over their heads.

Sometimes, it's the dead who need our help—and the living we should fear.

Underlined is a line of totally addictive romance, thriller, and horror paperback original titles coming to you fast and furious each month. Enjoy everything you want to read the way you want to read it.
Why I'm Excited:
Hello! Haunted hotel anyone? -Brian
Title: I Must Betray You
Author: Ruta Sepetys
Publication Date: 2022 February 01
Official Blurb:
Romania, 1989. Communist regimes are crumbling across Europe. Seventeen-year-old Cristian Florescu dreams of becoming a writer, but Romanians aren't free to dream; they are bound by rules and force.

Amidst the tyrannical dictatorship of Nicolae Ceaușescu in a country governed by isolation and fear, Cristian is blackmailed by the secret police to become an informer. He's left with only two choices: betray everyone and everything he loves—or use his position to creatively undermine the most notoriously evil dictator in Eastern Europe.

Cristian risks everything to unmask the truth behind the regime, give voice to fellow Romanians, and expose to the world what is happening in his country. He eagerly joins the revolution to fight for change when the time arrives. But what is the cost of freedom?
Why I'm Excited:
Nicolae Ceaușescu was one of the worst modern dictators. -Brian
Title: Across a Field of Starlight
Author: Blue Delliquanti
Publication Date: 2022 February 08
Official Blurb:
An epic sci-fi graphic novel romance between two non-binary characters as they find one another through time, distance, and war. An amazing story that explores the complexity of human nature and what brings us together.

When they were kids, Fassen's fighter spaceship crash-landed on a planet that Lu's survey force was exploring. It was a forbidden meeting between a kid from a war-focused resistance movement and a kid whose community and planet are dedicated to peace and secrecy.

Lu and Fassen are from different worlds and separate solar systems. But their friendship keeps them in each other's orbit as they grow up. They stay in contact in secret as their communities are increasingly threatened by the omnipresent, ever-expanding empire.

As the empire begins a new attack against Fassen's people — and discovers Lu's in the process–the two of them have the chance to reunite at last. They finally are able to be together…but at what cost?

This beautifully illustrated graphic novel is an epic science fiction romance between two non-binary characters as they find one another through time, distance, and war.
Why I'm Excited:
That cover art is already amazing on its own, but the premise rocketed this onto my list! -Mandy W.
Title: The Girl Who Fell Beneath the Sea
Author: Axie Oh
Publication Date: 2022
Official Blurb:
Deadly storms have ravaged Mina's homeland for generations. Floods sweep away entire villages, while bloody wars are waged over the few remaining resources. Her people believe the Sea God, once their protector, now curses them with death and despair. In an attempt to appease him, each year a beautiful maiden is thrown into the sea to serve as the Sea God's bride, in the hopes that one day the "true bride" will be chosen and end the suffering.

Many believe that Shim Cheong, the most beautiful girl in the village—and the beloved of Mina's older brother Joon—may be the legendary true bride. But on the night Cheong is to be sacrificed, Joon follows Cheong out to sea, even knowing that to interfere is a death sentence. To save her brother, Mina throws herself into the water in Cheong's stead.

Swept away to the Spirit Realm, a magical city of lesser gods and mythical beasts, Mina seeks out the Sea God, only to find him caught in an enchanted sleep. With the help of a mysterious young man named Shin—as well as a motley crew of demons, gods and spirits—Mina sets out to wake the Sea God and bring an end to the killer storms once and for all.

But she doesn't have much time: A human cannot live long in the land of the spirits. And there are those who would do anything to keep the Sea God from waking…
Why I'm Excited:
This cover, SA-WOON. This book sounds like it has pretty much everything I want in a fantasy AND it's a stand-alone. I already have the ARC and I am trying so hard not to read it RIGHT NOW. -Stephanie
(Seconded by Mandy C. and Mandy W.)
Title: House of Sky and Breath (Crescent City #2)
Author: Sarah J. Maas
Publication Date: 2022 February 22
Series: Crescent City
Why I'm Excited:
Not exactly YA, but nonetheless wholly entertaining (and, because it's Maas, super hot), House of Earth and Blood had me fist-pumping and rooting for Bryce and Hunt. Maas's worlds are so expansive, too; there are so many ways for this story to play out! -Mandy C.
Title: League of Liars
Author: Astrid Scholte
Publication Date: 2022 February 22
Official Blurb:
In this fantasy thriller, four teens charged with murder and the illegal use of magic band together to devise the ultimate jailbreak. Perfect for fans of Six of Crows and How to Get Away with Murder.

Ever since his mother was killed, seventeen-year-old Cayder Broduck has had one goal–to see illegal users of magic brought to justice. People who carelessly use extradimensional magic for their own self-interest, without a care to the damage it does to society or those around them, deserve to be punished as far as Cayder is concerned. Because magic always has a price. So when Cayder lands a once-in-a-lifetime opportunity to apprentice under a premier public defender, he takes it. If he can learn all the tricks of public defense, the better he'll be able to dismantle defense arguments when he's a prosecutor. Then he'll finally be able to make sure justice is served.

But when he meets the three criminals he's supposed to defend, it no longer seems so black and white. They're teenagers, like him, and their stories are . . . complicated, like his. Vardean, the prison where Cayder's new clients are incarcerated, also happens to be at the very heart of the horrible tear in the veil between their world and another dimension–where all magic comes from.

League of Liars is a dark and twisty mystery set in a richly-drawn world where nothing is as it seems, rife with magic, villains and danger.
Why I'm Excited:
Scholte's written some of my top reads over the past couple of years, so I was quick to add this new book to my Want to Read list. Also very excited for the teenage-criminals-but-are-they-really mystery vibe. -Mandy C.
Title: All My Rage
Author: Sabaa Tahir
Publication Date: 2022 March 01
Official Blurb:
From #1 New York Times bestselling author Sabaa Tahir comes a brilliant, unforgettable, and heart-wrenching contemporary YA novel about family and forgiveness, love and loss, in a sweeping story that crosses generations and continents.

Lahore, Pakistan. Then.

Misbah is a dreamer and storyteller, newly married to Toufiq in an arranged match. After their young life is shaken by tragedy, they come to the United States and open the Cloud's Rest Inn Motel, hoping for a new start.

Juniper, California. Now.

Salahudin and Noor are more than best friends; they are family. Growing up as outcasts in the small desert town of Juniper, California, they understand each other the way no one else does. Until The Fight, which destroys their bond with the swift fury of a star exploding.

Now, Sal scrambles to run the family motel as his mother Misbah's health fails and his grieving father loses himself to alcoholism. Noor, meanwhile, walks a harrowing tightrope: working at her wrathful uncle's liquor store while hiding the fact that she's applying to college so she can escape him—and Juniper—forever.

When Sal's attempts to save the motel spiral out of control, he and Noor must ask themselves what friendship is worth—and what it takes to defeat the monsters in their pasts and the ones in their midst.

From one of today's most cherished and bestselling young adult authors comes a breathtaking novel of young love, old regrets, and forgiveness—one that's both tragic and poignant in its tender ferocity.
Why I'm Excited:
After the Ember in the Ashes series, I will read anything that Sabaa Tahir puts in front of me, but I'm particularly excited about her foray into contemporary! -Sarah
Title: The Lost Dreamer
Author: Lizz Huerta
Publication Date: 2022 March 01
Official Blurb:
A stunning YA fantasy inspired by ancient Mesoamerica, this gripping debut introduces us to a lineage of seers defiantly resisting the shifting patriarchal state that would see them destroyed — perfect for fans of Tomi Adeyemi and Sabaa Tahir.

Indir is a Dreamer, descended from a long line of seers; able to see beyond reality, she carries the rare gift of Dreaming truth. But when the beloved king dies, his son has no respect for this time-honored tradition. King Alcan wants an opportunity to bring the Dreamers to a permanent end — an opportunity Indir will give him if he discovers the two secrets she is struggling to keep. As violent change shakes Indir's world to its core, she is forced to make an impossible choice: fight for her home or fight to survive.

Saya is a seer, but not a Dreamer — she has never been formally trained. Her mother exploits her daughter's gift, passing it off as her own as they travel from village to village, never staying in one place too long. Almost as if they're running from something. Almost as if they're being hunted. When Saya loses the necklace she's worn since birth, she discovers that seeing isn't her only gift — and begins to suspect that everything she knows about her life has been a carefully-constructed lie. As she comes to distrust the only family she's ever known, Saya will do what she's never done before, go where she's never been, and risk it all in the search of answers.

With a detailed, supernaturally-charged setting and topical themes of patriarchal power and female strength, Lizz Huerta's The Lost Dreamer brings an ancient world to life, mirroring the challenges of our modern one.
Why I'm Excited:
Just, like, everything about this? That elevator pitch intro alone had me sold. -Mandy W.
Title: Blood Scion (Blood Scion #1)
Author: Deborah Falaye
Publication Date: 2022 March 08
Series: Blood Scion
Official Blurb:
This is what they deserve. They wanted me to be a monster.

I will be the worst monster they ever created.

Fifteen-year-old Sloane can incinerate an enemy at will—she is a Scion, a descendant of the ancient Orisha gods.

Under the Lucis' brutal rule, her identity means her death if her powers are discovered. But when she is forcibly conscripted into the Lucis army on her fifteenth birthday, Sloane sees a new opportunity: to overcome the bloody challenges of Lucis training, and destroy them from within.

Sloane rises through the ranks and gains strength but, in doing so, risks something greater: losing herself entirely, and becoming the very monster that she abhors.
Why I'm Excited:
I have a few monstrous girl books on my TBR, but this one intrigued me the most for the infiltrating-the-enemy aspect. -Mandy W.
Title: Lakelore
Author: Anna-Marie McLemore
Publication Date: 2022 March 08
Official Blurb:
In this young adult novel by award-winning author Anna-Marie McLemore, two non-binary teens are pulled into a magical world under a lake – but can they keep their worlds above water intact?

Everyone who lives near the lake knows the stories about the world underneath it, an ethereal landscape rumored to be half-air, half-water. But Bastián Silvano and Lore Garcia are the only ones who've been there. Bastián grew up both above the lake and in the otherworldly space beneath it. Lore's only seen the world under the lake once, but that one encounter changed their life and their fate.

Then the lines between air and water begin to blur. The world under the lake drifts above the surface. If Bastián and Lore don't want it bringing their secrets to the surface with it, they have to stop it, and to do that, they have to work together. There's just one problem: Bastián and Lore haven't spoken in seven years, and working together means trusting each other with the very things they're trying to hide.
Why I'm Excited:
Just a little too close to Lovecraft's "Shadow Over Innsmouth" for me to ignore. -Brian
(Seconded by Mandy C.)
Title: The Last Laugh (The Initial Insult #2)
Author: Mindy McGinnis
Publication Date: 2022 March 15
Series: The Initial Insult
Why I'm Excited:
For about six hours after I finished The Initial Insult, I had book-related PTSD. I knew Mindy McGinnis was cutthroat but DAMN, was she really gonna end her book that way??? Thankfully, I noticed that it was listed on Goodreads as the first of a duology – a fact I had no idea about when I read the first book. I'm gonna need The Last Laugh to heal some scars. -Rosemary
Title: Troublemaker
Author: John Cho
Publication Date: 2022 March 22
Official Blurb:
Troublemaker follows the events of the LA Riots through the eyes of 12-year-old Jordan as he navigates school and family. This book will highlight the unique Korean American perspective.

12-year-old Jordan feels like he can't live up to the example his older sister set, or his parent's expectations. When he returns home from school one day hoping to hide his suspension, Los Angeles has reached a turning point. In the wake of the acquittal of the police officers filmed beating Rodney King, as well as the shooting of a young black teen, Latasha Harlins by a Korean store owner, the country is at the precipice of confronting its racist past and present.

As tensions escalate, Jordan's father leaves to check on the family store, spurring Jordan and his friends to embark on a dangerous journey to come to his aide, and come to terms with the racism within and affecting their community.
Why I'm Excited:
My forever crush John Cho is writing a middle grade novel!?!?! INSTANT ADD. -Mandy W.
(Seconded by Stephanie)
Title: Four Aunties and a Wedding (Aunties #2)
Author: Jesse Q. Sutanto
Publication Date: 2022 March 29
Series: Aunties
Why I'm Excited:
I was surprised how often I found myself recommending Sutanto's debut, Dial A for Aunties, this year. I knew I'd liked the silliness of the plot and the family dynamics of Meddy and her aunties, but it seems I caught more feelings than expected, so I can't wait to catch up at the next wedding! -Stephanie
Title: Sense & Second Degree Murder (Jane Austen Murder Mystery #2)
Author: Tirzah Price
Publication Date: 2022 April 05
Series: Jane Austen Murder Mystery
Official Blurb:
Three of Jane Austen's classic novels receive a murder mystery makeover in this romantic and thrilling three-book series that's perfect for fans of The Lady's Guide to Petticoats and Piracy and Stalking Jack the Ripper. In Sense and Second-Degree Murder, aspiring scientist Elinor Dashwood and her sister Marianne, a budding detective, work together to solve the mystery of their father's murder.

When eighteen-year-old aspiring scientist Elinor Dashwood discovers her beloved father slumped over the desk of his office study, she knows his death means dire straits for the Dashwood women. To make matters worse, an outdated will entails his estate—including Norland & Company, the private investigation firm where her younger sister Marianne worked as her father's partner and protégé—to their half-brother and his haughty wife, who waste no time in forcing the Dashwoods out of their home and into a cramped apartment on London's Barton Street.

But before they go, the Dashwood sisters make a startling discovery that points to foul play, and the killer might be family.

Obviously, the girls must investigate. It could be dangerous; it could ruin their reputations; and most importantly, it won't bring back their father. But if the Dashwood sisters can combine their talents and bring their father's murderer to justice, it may bring them all some comfort—and it might even lead to love.
Why I'm Excited:
I loved Price's Pride & Premeditation and can't wait for the second installment in her Jane Austen Murder Mystery series, about aspiring scientist Elinor Dashwood and her budding detective sister Marianne. -Rosemary
Title: Blaine for the Win
Author: Robbie Couch
Publication Date: 2022 April 12
Official Blurb:
After being dumped so his boyfriend can pursue more "serious" guys, a teen boy decides to prove he can be serious, too, by running for senior class president in this joyful romp from the author of The Sky Blues.

High school junior Blaine Bowers has it all—the perfect boyfriend, a pretty sweet gig as a muralist for local Windy City businesses, a loving family, and awesome, talented friends. And he is absolutely, 100% positive that aforementioned perfect boyfriend—​senior student council president and Mr. Popular of Wicker West High School, Joey—is going to invite Blaine to spend spring break with his family in beautiful, sunny Cabo San Lucas.

Except Joey breaks up with him instead. In public. On their one-year anniversary.

Because, according to Joey, Blaine is too goofy, too flighty, too…unserious. And if Joey wants to go far in life, he needs to start dating more serious guys. Guys like Zach Chesterton.

Determined to prove that Blaine can be what Joey wants, Blaine decides to enter the running to become his successor (and beat out Joey's new boyfriend, Zach) as senior student council president.

But is he willing to sacrifice everything he loves about himself to do it?
Why I'm Excited:
This is basically Legally Blonde with a teen boy. LEGALLY BLONDE WITH A TEEN BOY. -Mandy W.
Title: Queen of the Tiles
Author: Hanna Alkaf
Publication Date: 2022 April 19
Official Blurb:
They Wish They Were Us meets The Queen's Gambit in the world of competitive Scrabble when a teen girl is forced to investigate the mysterious death of her best friend a year after the fact when her Instagram comes back to life with cryptic posts and messages.

CATALYST
13 points
noun: a person or thing that precipitates an event or change

When Najwa Bakri walks into her first Scrabble competition since her best friend's death, it's with the intention to heal and move on with her life. Perhaps it wasn't the best idea to choose the very same competition where said best friend, Trina Low, died. It might be even though Najwa's trying to change, she's not ready to give up Trina just yet.

But the same can't be said for all the other competitors. With Trina, the Scrabble Queen herself, gone, the throne is empty, and her friends are eager to be the next reigning champion. All's fair in love and Scrabble, but all bets are off when Trina's formerly inactive Instagram starts posting again, with cryptic messages suggesting that maybe Trina's death wasn't as straightforward as everyone thought. And maybe someone at the competition had something to do with it.

As secrets are revealed and the true colors of her friends are shown, it's up to Najwa to find out who's behind these mysterious posts—not just to save Trina's memory, but to save herself.
Why I'm Excited:
As the movie Clue proves, combining board games and mysterious deaths is a winning combination. -Mandy W.
Title: Book Lovers
Author: Emily Henry
Publication Date: 2022 May 03
Official Blurb:
One summer. Two rivals. A plot twist they didn't see coming…

Nora Stephens' life is books—she's read them all—and she is not that type of heroine. Not the plucky one, not the laidback dream girl, and especially not the sweetheart. In fact, the only people Nora is a heroine for are her clients, for whom she lands enormous deals as a cutthroat literary agent, and her beloved little sister Libby.

Which is why she agrees to go to Sunshine Falls, North Carolina for the month of August when Libby begs her for a sisters' trip away—with visions of a small town transformation for Nora, who she's convinced needs to become the heroine in her own story. But instead of picnics in meadows, or run-ins with a handsome country doctor or bulging-forearmed bartender, Nora keeps bumping into Charlie Lastra, a bookish brooding editor from back in the city. It would be a meet-cute if not for the fact that they've met many times and it's never been cute.

If Nora knows she's not an ideal heroine, Charlie knows he's nobody's hero, but as they are thrown together again and again—in a series of coincidences no editor worth their salt would allow—what they discover might just unravel the carefully crafted stories they've written about themselves.
Why I'm Excited:
1) New Emily Henry adult romance. 2) Featuring an ambitious literary agent and a brooding book editor. 3) Enemies to lovers. NEED I SAY MORE. -Rosemary
(Seconded by Mandy C., Sarah, and Stephanie)
Title: Confessions of an Alleged Good Girl
Author: Joya Goffney
Publication Date: 2022 May 03
Official Blurb:
Joya Goffney, author of the acclaimed Excuse Me While I Ugly Cry, delivers a powerful second novel about a preacher's daughter in small-town Texas and her journey toward loving herself and her body, filled with heart, humor, family drama, and a dynamic love triangle. Perfect for fans of Not So Pure and Simple by Lamar Giles and Calling My Name by Liara Tamani!

Monique is a preacher's daughter who detests the impossible rules of her religion. Everyone expects her to wait until marriage, so she has no one to turn to when she discovers that she physically can't have sex.

After two years of trying and failing, her boyfriend breaks up with her. To win him back, Monique teams up with straight-laced church girl Sasha–who is surprisingly knowledgeable about Monique's condition–as well as Reggie, the misunderstood bad boy who always makes a ruckus at church, and together they embark upon a top-secret search for the cure.

While on their quest, Monique discovers the value of a true friend and the wonders of a love that accepts her for who she is. Despite everyone's opinions about her virtue, she learns to live for herself, inspiring us all to reclaim our bodies and unapologetically love ourselves.
Why I'm Excited:
I feel like I had no idea what would come next after every sentence of this blurb, so now I have to find out what happens! -Mandy W.
Title: Forging Silver Into Stars (Forging Silver Into Stars #1)
Author: Brigid Kemmerer
Publication Date: 2022 May 03
Series: Forging Silver Into Stars
Official Blurb:
New York Times bestselling author Brigid Kemmerer expands the Cursebreakers world in an electrifying new series.

When ancient magic tests a newfound love, a dark fate beckons . . .

Magic has been banished in the land of Syhl Shallow for as long as best friends Jax and Callyn can remember. They once loved the stories of the powerful magesmiths and mythical scravers who could conjure fire or control ice, but now they've learned that magic only leads to danger: magic is what killed Callyn's parents, leaving her alone to raise her younger sister. Magic never helped Jax, whose leg was crushed in an accident that his father has been punishing him for ever since. Magic won't save either of them when the tax collector comes calling, threatening to take their homes if they can't pay what they owe.

Meanwhile, Jax and Callyn are astonished to learn magic has returned to Syhl Shallow — in the form of a magesmith who's now married to their queen. Now, the people of Syhl Shallow are expected to allow dangerous magic in their midst, and no one is happy about it.

When a stranger rides into town offering Jax and Callyn silver in exchange for holding secret messages for an anti-magic faction, the choice is obvious — even if it means they may be aiding in a plot to destroy their new king. It's a risk they're both willing to take. That is, until another visitor arrives: handsome Lord Tycho, the King's Courier, the man who's been tasked with discovering who's conspiring against the throne.

Suddenly, Jax and Callyn find themselves embroiled in a world of shifting alliances, dangerous flirtations, and ancient magic . . . where even the deepest loyalties will be tested.
Why I'm Excited:
The Cursebreaker world has been moving up my "literary worlds I'd love to visit" list for a while now, and I'm glad to know that I won't have to pine for long with this new series involving new characters in a world we're already familiar with. -Mandy C.
Title: Katzenjammer
Author: Francesca Zappia
Publication Date: 2022 June 28
Official Blurb:
From acclaimed author Francesca Zappia, American Horror Story meets the dark comedy of Kafka's The Metamorphosis as Cat searches for a way to escape her high school. Katzenjammer is a tale of family, love, tragedy, and masks—the ones others make for us, and the ones we make for ourselves. Eerie and thought-provoking, this novel will haunt fans of Chelsie Pitcher's This Lie Will Kill You and E. Lockhart's We Were Liars. Features illustrations by the author throughout.

Cat lives in her high school. She never leaves, and for a long time her school has provided her with everything she needs. But now things are changing. The hallways contract and expand along with the school's breathing, and the showers in the bathroom run a bloody red. Cat's best friend is slowly turning into cardboard, and instead of a face, Cat has a cat mask made of her own hardened flesh.

Cat doesn't remember why she is trapped in her school or why half of them—Cat included—are slowly transforming. Escaping has always been the one impossibility in her school's upside-down world. But to save herself from the eventual self-destruction all the students face, Cat must find the way out. And to do that, she'll have to remember what put her there in the first place.

Told in chapters alternating between the past and the present, Francesca Zappia weaves a spine-tingling, suspenseful, and haunting story about tragedy and the power of memories. Much like the acclaimed Eliza and Her Monsters, Katzenjammer features black-and-white illustrations by the author throughout the novel. Fans of Marieke Nijkamp's This Is Where It Ends and Karen McManus's One of Us Is Lying will lose themselves in the pages of this novel—or maybe in the treacherous hallways of the school.
Why I'm Excited:
Zappia's Made You Up and Eliza and her Monsters both totally knocked my socks off. This book seems to lean a lot more toward (body) horror, but I have no doubt it'll be just as powerful as those two previous books. -Mandy C.
Title: The Darkening (The Darkening #1)
Author: Sunya Mara
Publication Date: 2022 July 05
Series: The Darkening
What We Know:
Loyalty and love are at stake in this thrilling and epic YA fantasy debut as seventeen-year-old Vesper finds herself at the center of an impending rebellion when she is forced to infiltrate the prince's inner circle in order to save her father from prison.
Why I'm Excited:
Apparently I'm all about the infiltration/sabotage books in 2022! (And who more deserving than the monarchy lol.) -Mandy W.
Title: These Twisted Bonds (These Hollow Vows #2)
Author: Lexi Ryan
Publication Date: 2022 July 19
Series: These Hollow Vows
Why I'm Excited:
I'm so glad this is a duology so I can finish it in 2022. This also surprised me in 2021; it had no business being the mindless fun it turned out to be. -Stephanie
Title: Bloodmarked (The Legendborn Cycle #2)
Author: Tracy Deonn
Publication Date: 2022 July 26
Series: The Legendborn Cycle
Why I'm Excited:
I needed this book the second I finished Legendborn, so July can't come soon enough. How will Bree manage her new magical "role"? Will Nick be able to deal with it? Will Sel get hotter and sexier? Y'all, I gotta know! -Mandy C.
(Seconded by Mandy W., Stephanie)
Title: My Imaginary Mary (Mary #2)
Authors: Cynthia Hand, Brodi Ashton, and Jodi Meadows
Publication Date: 2022 August 02
Series: Mary
Official Blurb:
It's aliiiiiiiive! The bestselling authors of My Lady Jane are back with the electric, poetic, and (almost) historical tale of the one and only Mary Shelley.

Mary may have inherited the brilliant mind of her late mother, Mary Wollstonecraft, but she lives a drab life above her father's bookstore, waiting for an extraordinary idea that'll inspire a work worthy of her parentage—and impress her rakishly handsome (and super-secret) beau, Percy Shelley.

Ada Lovelace knows a thing or two about superstar parents, what with her dad being Lord Byron. But her passions lie beyond the arts—in mechanical engineering, to be exact. Alas, no matter how precise Ada's calculations, there's always a man willing to claim her ingenious ideas as his own.

When fate (er, fae) connects our two masterminds, they learn their talents are rare indeed—because their parents were two of the most powerful fae to have ever lived. And with the right training from a fae godmother, they can achieve anything they dare to imagine. But when their dream team accidentally-on-purpose results in a living, breathing, thinking automaton, Mary and Ada face a villain of Gothic proportions. . . .

With comic genius and a truly electrifying sense of adventure, Cynthia Hand, Brodi Ashton, and Jodi Meadows continue their campaign to turn history on its head in this YA fantasy that's perfect for fans of The Princess Bride and The Gentleman's Guide to Vice and Virtue.
Why I'm Excited:
I love, love, love the combination of these three authors and their fractured takes on historical and literary heroines. I'm looking forward to reading about Mary Shelley and Ada Lovelace and their apparent fae heritage? And their accidental creation of an automaton? You can be sure there are hijinks ahead. -Mandy C.
Title: Empty Smiles (Small Spaces #4)
Author: Katherine Arden
Publication Date: 2022 August 09
Series: Small Spaces
Why I'm Excited:
I don't normally read MG fiction as an Old but I will basically read anything Katherine Arden writes, and this deliciously creepy series is the stuff of my actual MG fantasies. I cannot wait to see how our intrepid heroes save themselves from the Smiling Man. Also, you see that cover? NIGHTMARE FUEL and I LOVE IT. -Stephanie
Title: The Golden Enclaves (The Scholomance #3)
Author: Naomi Novik
Publication Date: 2022 September 27
Series: The Scholomance
Why I'm Excited:
We haven't reviewed the other books on FYA because I was late to the party, doing my thing where I was trying to wait to read until the books were all done. I epically failed in that task and read the first book earlier in 2021 and…now I am holding out until this one is closer so I can read book 2 and 3 in one go. Release sooner!! -Stephanie
Title: Cursed (Gilded #2)
Author: Marissa Meyer
Publication Date: 2022 November 08
Series: Gilded
Why I'm Excited:
I (somewhat unexpectedly) adored the first book in this series and it's reimagining of the Rumpelstiltskin tale. I'm looking forward to seeing where our intrepid heroes go from that ending! -Mandy C.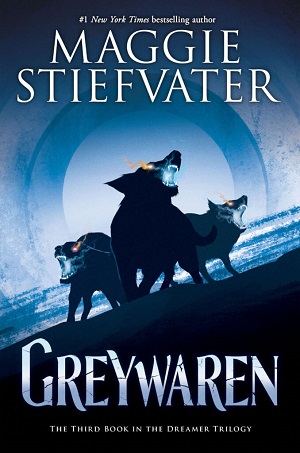 Title: Greywaren (Dreamer Trilogy #3)
Author: Maggie Stiefvater
Publication Date: 2022
Series: Dreamer Trilogy
Why I'm Excited:
In Mister Impossible, Stiefvater lured us into a dream state before slapping us in the face with a shocking ending. The wait for book three has been, and will continue to be, torture. -Rosemary
---
Which novels are you looking forward to in 2022? Let us know in the comments!