About the Book
Title:
99 Days (99 Days #1)
Cover Story: Misleading
BFF Charm: Yay!
Talky Talk: Graduate of the School of Sarah Dessen
Bonus Factors: Small Town, Non-After School Special
Relationship Status: Smitten
Cover Story: Misleading
If 99 Days was a bubblegum romance, then this cover would be completely appropriate. But while there is some mega swoon, there's also some complex issues like slut-shaming and effed up sibling rivalry, and those themes can't exactly be captured by cute Polaroids.
Then again, I kind of like the idea of an unsuspecting reader picking this up for a lighthearted read and getting a little more substance than she/he bargained for.
Maybe Balzer + Bray did this on purpose, just to be crafty? (Shyeah, right.)
The Deal:
Molly Barlow only has to make it through 99 days before she can get the hell out of Star Lake and leave her past in the dust. It's been a year since her first departure, when she fled to boarding school, but now she's back for the summer, and she can only camp out in her bedroom for so long before she has to face the disaster of her former life. Like submerged wreckage, pieces begin to float up immediately—Julia Donnelly, her former friend, egging her house; Patrick Donnelly, her former boyfriend, shooting her looks of disgust; Gabe Donnelly, her big mistake, hoping to make amends.
Turns out, when you cheat on your boyfriend with his brother, and your novelist mother turns your secret into a national bestseller, you're basically f*cked.
Shunned and alone, Molly lands a job at the Star Lake Lodge, a relic from the town's tourist heyday, and tries to keep her head down. But she can't ignore her growing attraction to Gabe or her contradictory desire to heal her relationship with Patrick, who's now dating another girl.
Looks like Molly's mom might have a sequel on her hands…
BFF Charm: Yay!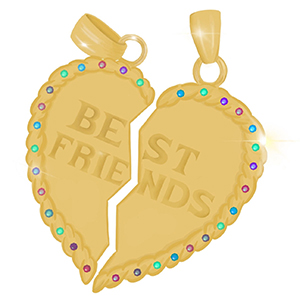 I'll be honest, I almost gave Molly a Big Sister charm because there were several times when I found myself shouting, "WHAT ARE YOU DOING? LOOK AT YOUR CHOICES!" But in spite of some questionable actions, she carved out a special place in my heart. It's hard not to feel for someone who is ostracized so severely as an adolescent, especially when you see things from her perspective.
Molly is all too aware of her flaws, and that knowledge makes her more reflective than the average teen. Her brutal honesty leaves no room for internal bullshizz, which I found refreshing even as I rooted for her to regain her confidence. By developing her character so fully, Katie Cotugno puts a very human face behind the label of "slut," and it's a face that I grew to love over the course of this book.
Swoonworthy Scale: 8
It is a testament to the steaminess of 99 Days that the stress of potentially poor decisions doesn't cancel out the hotness of said decisions, and by decisions, I mean boys.
Love triangles in YA are often flimsy contrivances, but Gabe and Patrick Donnelly make it all too easy to understand why Molly did what she did (and does what she does). Patrick, the boy she grew up with, feels like her soulmate, and their connection is taut with destiny, as Molly explains when describing their first kiss:
She would have been pretty baffled, would have never seen this coming, but the truth is of course I had: for weeks and months and maybe years, like if you'd put your ear to the ground on the day that Patrick and I met you would have been able to hear this heading towards us, a rumble from miles and miles away. I'd listened. I'd been paying attention. And when his mouth pressed against mine I wasn't shocked.
Even Molly's infidelity with Gabe can't erase her history with Patrick, and the rawness of their separation keeps things deliciously tortured.
And then there's Gabe. Considerate, charming, super hot Gabe. He's the only one in town who's actually glad to see Molly, whom he always calls by her full name, because he's sexy like that. He may not have the same soul as Patrick, but he's incredibly magnetic, and like Molly, I consistently found myself torn between him and his brother.
Also, there's this one scene in Molly's bedroom that I won't spoil for you but DAYUM.
Talky Talk: Graduate of the School of Sarah Dessen
I read (and enjoy) a lot of books with a style that reminds me of HRH Sarah Dessen—books with quietly authentic emotional notes and vivid, well-drawn characters. I always categorize the writing in those novels as belonging to the School of Sarah Dessen, but in Katie Cotugno's case, she's already graduated. Exhibit A, from a scene between Molly and her friend Imogen:
"Mm-hmm," Imogen says, smiling a little. "What's up?"

I don't answer for a minute, debating. I tuck my messy hair behind my ears. I remember that I didn't tell her last time, that I carried my secret like a rock in my shoe and in the end it came tumbling out anyhow.

This time, I tell her everything.
From the very first page, Molly's voice is intimate and endearingly familiar, and the shifting currents of her guilt and turmoil flow through the pages, driving the momentum without flooding the story too heavily. There's plenty of lighter moments that pop with humor (and, as noted above, some sizzlin' chemistry), and Cotugno's ear for genuine dialogue keeps the story lively and the tone fresh. In short, this is the kind of book that you will consume in hours but digest for days afterward.
Bonus Factor: Small Town
While I know that Molly feels very differently, I adore the fishbowl of Star Lake. A sleepy tourist town in the Catskills, it's got a handful of local joints and vibrant array of summer traditions. My favorite spot, of course, is the lodge where Molly works, probably because I kept picturing Kellerman's. And also because of this line:
A group of middle-aged ladies from Plattsburgh planned their annual book-club retreat for this weekend, and they camp out on the porch drinking rum runners all afternoon.
SIGN ME UP.
Bonus Factor: Non-After School Special
It's awesome to read a book that explores the ramifications of slut-shaming without getting heavy-handed about it. There's some straight up truth in these pages, especially when it comes to society's double standards, and Molly's narrative channels that wisdom in a dynamically engaging way.
Relationship Status: Smitten
I got 99 problems, but this book ain't one!* Thoughtful and charismatic, this novel swept me off my feet and left me hungry for more. This isn't just a fling—our time together truly means something to me, and I get weak in the knees when I think about its spellbinding storytelling.
*Like you didn't see that coming.
FTC Full Disclosure: I received my review copy from Balzer + Bray. I received neither money nor cocktails for this review (dammit!).