About the Book
Title:
A Court of Mist and Fury (A Court of Thorns and Roses #2)
Cover Story: Impractical
BFF Charm: Heck Yes
Talky Talk: Maastery
Bonus Factors: Truth, Switching Sides
Anti-Bonus Factor: PTSD
Relationship Status: All Yours
Red alert! A Court of Mist and Fury is the second book in the Court of Thorns and Roses series. If you have not read the first book (A Court of Thorns and Roses) man your battle stations turn away now, as there might be spoilers in this review. If you're caught up, however, feel free to continue below.
Content Warning: A Court of Mist and Fury features themes and scenes of emotional abuse, gaslighting, and PTSD.
Cover Story: Impractical
Boob armor is not practical, nor safe. Additionally, this armor seems to have holes in it. I'm really hoping it's ceremonial and not used in actual battles.
The Deal:
After triumphing over Amarantha and being reborn as something part-human, part-fae in the process, Feyre struggles to come to terms with the experiences she beheld (and took part in) Under the Mountain. She thinks she's happy to be back at the Spring Court with Tamlin, but she wakes every night to nightmares that make her physically ill. When Rhysand, High Lord of the Night Court, comes to remind her of the bargain she made, she believes that she has even more reason to curse her time in Amarantha's dominion … but things are not all as they seem.
BFF Charm: Heck Yes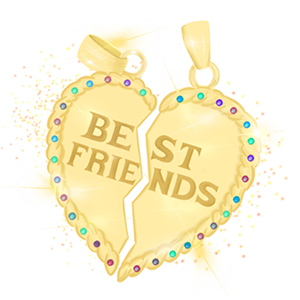 At the start of A Court of Mist and Fury, Feyre's fire has diminished some, thanks to her time spent Under the Mountain. My heart ached for her, and the situation in which she found herself. But then, after a little time goes by, I once again saw the badass I wanted so much to be friends with in A Court of Thorns and Roses. And even at some of her worst moments, Feyre's still full of snark and sass, which made me smile. She's the kind of person I'd stick around through thick or thin.
Swoonworthy Scale: 10
If y'all thought A Court of Thorns and Roses was hot, just you wait. Or don't, considering there's a—pretty dang explicit—sex scene in Chapter 2 of A Court of Mist and Fury. The book only gets hotter from there, and in some unexpected ways. However, it's not just the sexy times that make this book swoony, it's the many moments of enemistry and flirting and sweetness that exist between Feyre and her suitor. A character who can treat a woman like the strong, capable individual that she is while at the same time fantasizing about wanting to take her right there on the table makes for a seriously good read.
However, I have one bone (heh) to pick with the frequent mentions of the "length" of the male genitalia in A Court of Mist and Fury. I couldn't help but think about Ms. Perky (Allison Janney) and her work-in-progress from 10 Things I Hate About You.
Talky Talk: Maastery
When reviewing A Court of Thorns and Roses, I described Sarah J. Maas' writing as "Familiar Fantasy" because of her awesome ability to mix fantastical worlds with characters who feel like real-life people. Since reading more of her books (i.e., the Throne of Glass series), I've realized that this seamless blending of fantasy and reality is just a skill that Maas happens to excel at.
I've never been in a world in which faeries are real, but reading about Prythian through Maas' words makes me feel like I can easily visualize their towns and estates, and their various shapes and forms. Her characters also feel, even with their fae traits, like people I know; they make mistakes, they care too much, they tell crude jokes, tease their friends, and cry when they're overwhelmed. All of this adds up to a story that takes readers along for a ride they never want to end.
(The fact that Maas is also seriously good at bringing the swoon doesn't hurt one bit.)
Bonus Factor: Truth
We learn a lot about [REDACTED] in A Court of Mist and Fury, and a lot about the reasons behind why they did what they did in A Court of Thorns and Roses. Learning this backstory added so much depth to the novel.
Bonus Factor: Switching Sides
I can't really say much about this factor—because spoilers—but I'm amazed at how easily and completely I've changed my mind about [REDACTED]. What's that old saying about judging a book by its cover?
Anti-Bonus Factor: PTSD
It broke my heart to read about Feyre's condition even months after her escape from Under the Mountain, and the horrible things she put herself through because she didn't realize she deserved better. Maas does a great job of working through these issues with Feyre, but I'm sure we haven't seen the last of her issues rear their ugly heads.
Relationship Status: All Yours
I didn't think I needed a sequel to A Court of Thorns and Roses, but boy—was I ever wrong. You were everything I didn't know I needed, Book, and I'm so glad we connected yet again
FTC Full Disclosure: I bought a copy of this book with my own money and got neither a private dance party with Tom Hiddleston nor money in exchange for this review. A Court of Mist and Fury is available now.