Cover Story: Glitter Forest
BFF Charm: Yay
Talky Talk: Life and Death
Bonus Factors: Awesome (Step) Parents, Writing
Relationship Status: Haunting Me
Cover Story: Glitter Forest
I have no idea what's going on with this cover. Is she in a glitter forest? What is the girl made of? Do I like it? Do I hate it? The longer I look at it, the more questions I have. I probably would have gone a different direction, all things considered, but I appreciate the artistic nod to fabulism. I think I do, anyway.
The Deal:
Jack O'Donnell Jr.—or June, as she's called—has always been told to stay away from the Angerts. Their families have been at war for a century. Although no one really knows the reason for the feud, aside from some beautifully-worded tall tales, her parents said it, so it's good enough for her. June has no reason to doubt them—her life has always been surrounded by very specific magic in Five Fingers, Michigan, so a feud that's larger than life is nothing out of the ordinary.
Then Saul Angert comes back to town. Despite June's reservations, she keeps finding herself in Saul's path…and liking it. If their families hate each other, why are the two of them so drawn to each other? Is she dishonoring her late father's memory? What is this whole feud about, anyway? And what is that very specific Five Fingers magic trying to tell the two of them?
BFF Charm: Big Sister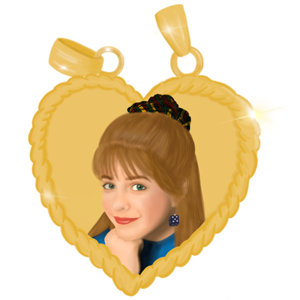 June has a really great bestie, Hannah, and her mom is pretty awesome too, but this girl really needs a big sister. I spent the whole book wanting to hug this poor kid, who is still struggling with her grief over her father's death, and wrestling with the realization that he was only human. Someone needs to tell her that curse or no curse, she's allowed to feel her feelings without blaming a feud or waiting for the other shoe to drop.
Swoonworthy Scale: 9
Wow, can Emily Henry ever write a love scene. It's not healthy to be this jealous of a fictional eighteen-year-old, but the way Henry describes Saul and June's budding romance is the stuff the Swoonworthy Scale was designed for. It's all in the details: hands on bare skin, foreheads leaning against each other, the headiness of knowing you're having a very physical effect on someone else, and not being able to get close enough. I miss being 18 sometimes, and not just because my metabolism was so much faster.
Talky Talk: Life and Death
While the plot itself here encompasses a lot of things, including the peculiar magic of the town and their quest for its source, at its core, A Million Junes is about life, death, and grief. Henry writes in peaks and valleys; one moment you'll be cheering for June and Saul to just kiss already, and the next, June's grief comes flooding back unexpectedly.
The only thing I didn't love about the book was the feud's resolution. For the purposes of wrapping up the narrative, it's necessary, but the real magic was watching June and Saul experience their feelings and process their grief together. I know many people want an explanation and resolution, but I like the immense possibility that fabulism and magical realism provides. (For example, in Brenna Yovanoff's Places No One Knows, I know some readers were frustrated that the magic system was never really explained, but I feel that if I were able to dream myself into a hot guy's bedroom, "How is this working?" would be a far, far distant thought, about a million light years behind "Can we make out now?") I like science and reason as much as the next sane person, but I also think life can always use a little mystery, magic, and wonder.
Bonus Factor: Kickass (Step) Parents
June has such a lovely relationship with her stepfather. Even though he'll never replace her father, he genuinely loves her as if she were his own child. She, in turn, loves–and respects–him. It was refreshing to read a remarriage that worked as well as one possibly could.
Bonus Factor: Writing
I love that this book slyly offers writing advice within. In June's quest to remember and honor her father, she writes down the tall tales her father has told her; her writing teacher points out the flaws in her narratives. It's the sort of thing I would have read as a teen and had a total lightbulb moment. Bonus: Saul is also a writer, and June's writing "tutor." (Got it made, got it made, got it made, I'm hot for my age-appropriate-love-interest-covering-his-name-due-to-this-silly-feud "teacher.") Luckily, he bears no resemblance to Guy In Your MFA.
Relationship Status: Haunting Me
I don't often go on book dates that have magic wrapped up in cherry trees and shoes, quiet wraiths and long-lost memories, which made this one feel extra special. Our date started off feeling dreamy and quirky, and danced around the particular solace of shared suffering. When it was over, I couldn't get you out of my head.
FTC Full Disclosure: I checked out a copy from the library. I received neither money nor a pet unicorn for writing this review, despite how hard I wished for one. A Million Junes is available now.