About the Book
Title:
A Psalm for Lost Girls
Cover Story: Enshrined
BFF Charm: Yay
Talky Talk: Sing Me a Psalm
Bonus Factors: Diversity, Religion
Relationship Status: LYLAS
Cover Story: Enshrined
There are a lot of details to take in with this cover. It took me awhile to realize that the heart was made from devotional votive candles, rather than lights. And the girl on the cover is an interesting take because it could be interpreted as Ana, the kidnapped girl who is found alive lying at one of the shrines; Tess, the saint; or Callie, Tess's sister and the book's MC. All in all, I like!
The Deal:
Tess de Costa started hearing voices about a year ago, voices with messages that she delivered to the people of her small Massachusetts town. The people of New Avon would flock to her front porch for a message from the Heavens. After Tess's unexpected death, the town began building shrines in her honor, and when Ana, a local kidnapping victim, was found alive at one of the shrines, everyone becomes feverish with a desire to make Tess's sainthood official. Everyone, that is, except for Tess's sister, Callie.
Having known Tess better than anyone, Callie is all but disgusted with the way the townspeople are claiming ownership of her dead sister, and with the help of Tess's secret boyfriend, Danny, she sets out to find Ana's kidnapper and prove once and for all that her sister was just a normal girl.
BFF Charm: Yay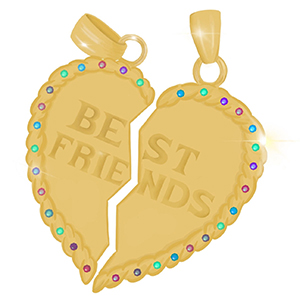 Growing up in the shadow of an older sister who's considered a *literal* saint, Callie couldn't help but have a bit of healthy rebellion inside of her. When first we meet, she's a bit of a baddie, pulling pranks and skipping school with her friends. But she loved her sister fiercely, and will do anything to protect Tess's memory after her death. Callie's tough exterior means she occasionally holds people at arm's length, but that's a trait that I can understand and sympathize with. She's been through a lot, so it makes sense that she'd be a little dubious of everyone around her. All that said, I could hang with Callie. As a matter of fact, I'm down to solve some mysteries any time. Call me, girlfriend!
Swoonworthy Scale: Um? 6? And? Also 6? Equals 12? Or equals 0?
In the words of the late*, great Avril Lavigne, "Why'd ya have to go and make things so complicated?" That is my question for Katie Bayerl. Because the swoon in this book? It's way complicated. Through peeks into Tess's journals, we get to follow along as her romance with Danny blossoms and grows and, uh, does other stuff. *wink wink* But it has to be kept a secret, because saints are supposed to be virginal. And if the townspeople find out that she's doing…boyfriend stuff, things could get messy – something Tess wants to avoid at all costs.
Meanwhile, Callie may or may not have her own feelings for Danny – and vice versa – and as the two spend more time together, things start to get swoony. But last time I checked, the rule for dating your dead sister's boyfriend was, um, don't. So it's all a mess. But it's a mess that has its moments.
*Chill out. Avril Lavigne is still totally alive.
Talky Talk: Sing Me a Psalm
A Psalm for Lost Girls is a gorgeous debut, both in terms of Bayerl's prose and storytelling. It's dreamy yet dark, sweet yet – at times – scary. I'm currently on a rather obsessive Criminal Minds binge, so I was 100% on board with Callie and Danny tracking down Ana's creepy kidnapper. But that was only one part of a much bigger story – one about complicated relationships with family, friends, God, and more. In addition to Callie's narration, we also get peeks into Tess's old journals and occasional insight into Ana's PTSD-riddled mind. There were times when the pacing was a little off, and I thought it could've been edited down a bit to make the suspenseful part of the story a bit more thrilling, but those felt like minor problems overall.
Bonus Factor: Diversity
Callie and her family are Portuguese, while Danny is Puerto Rican, and Callie's friend Karen is Latina. I got the vibe that the town of New Avon, or at least Callie's neighborhood within it, was predominately Latin American. Because the book focuses on familial relationships and religion – two things that are heavily influenced by culture – the characters' Latin America heritage added so much richness and depth to this story.
Bonus Factor: Religion
I'm not really a religious person, but something like 85% of the people in this world are. Despite that, religion seems absent from the majority of YA books. New Avon has a strong Roman Catholic presence, made obvious by the community's obsession with Tess's sainthood. Though Callie's own views on religion weren't cut and dry, Catholicism was almost like its own character in this book.
Relationship Status: LYLAS
Book, I love you like a sister. You're totally unique, full of depth and beauty, and taught me a lot of lessons about life and love. I felt like I was reading your stolen diary (because, at times, I was) and learning all your secrets. Let's share clothes and always be there for each other, okay?
FTC Full Disclosure: I did not receive money or Girl Scout cookies of any kind (not even the gross cranberry ones) for writing this review. A Psalm for Lost Girls is available now.