Cover Story: Dizzy With Boredom
BFF Charm: Let Me Love You
Talky Talk: A Lovely, Failed Experiment
Bonus Factor: Awesome Step-Parents
Anti-Bonus Factor: Mysteries…?
Relationship Status: Support Group Friends
Cover Story: Dizzy With Boredom
This is supremely boring and until I sat down to write this section I didn't even look at the cover closely. I'm guessing it's streaks of stars moving swiftly to show us the passage of time. It's a solid effort to keep to a theme, but…yawn.
The Deal:
When Leo wakes up this morning it will have been exactly a year to the day since the car accident that killed her older sister, Nina. She's not okay—she'll never be okay about losing her best friend—but Leo's made a certain peace with how her life looks: new baby sister from her dad and step-mom, new friends, and a unique, trauma-bonded friendship with her sister's boyfriend, East.
Leo's story proceeds backwards as we draw closer to that fateful night when her family's entire world shattered, including the moments surrounding the accident that Leo cannot remember.
BFF Charm: Let Me Love You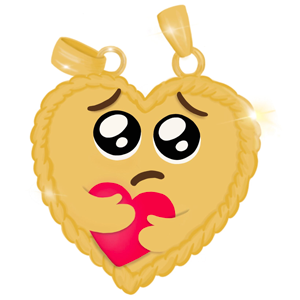 Choosing a Big Sister charm seemed gauche, but I do wish I could be a surrogate sis for Leo to confide in when she's spiraling at 2 a.m. all alone. If I had grown up with an extroverted sibling who let me hang out with them and was my best friend, I probably would've been a similar kind of teen as Leo: not a ton of friends, a little shy and awkward, feeling my most confident around those who made me feel seen and loved. We're not seeing Leo at her best in this book, but with time healing scabbing over all wounds, I can see her becoming a cool chick to hang out with.
Swoonworthy Scale: 2
There has been plenty in the trend of dead sibling books where the one left behind gets closer to the sibling's now single significant other. Being that we see how East and Leo interact "at the end" in the very first chapter, I was curiously reading through the preceding chapters to see if there were hints of angst or guilty yearning. But it wasn't really that kind of book, though Leo and East did have some unexpected chemistry (which felt understandable being that they were both people Nina was attracted to being around).
Talky Talk: A Lovely, Failed Experiment
Firstly, there is something about Robin Benway's writing that I am drawn to, especially when I'm in an introspective mood. (And as I picked this up the day after Roe v. Wade was overturned, it's safe to say I was a bundle of effing emotions.) Her prose is fairly straightforward, but there's something about the human condition that she, as a person, gets and then is able to easily convey where you're just like, damn, yeah. I've felt that. I've been there. Leo would be thinking about her sister and her grief, then Benway would drop a moment I've lived through and there I'd go, sobbing:
The problem with the worst thing happening to you, Leo thinks, is that it makes every other scary thought not just possible but suddenly, menacingly probable, and her brain knows this, presents them all at her feet at two o'clock in the morning when there's nothing and no one for her to reach for in the darkness.



Her mom could die. Her dad could die. Something could happen to Stephanie, or maybe all three of them? What if they're in a car together without Leo and she's left all alone?



Maybe that's the worst part, Leo thinks as she rolls onto her back and puts her hand over her pounding chest. That nobody can tell her that it's okay, that it's not possible, because it is possible, and eventually, she will be alone. Nina was supposed to be by her side forever and now she's not.
And even though I did cry through a lot of this book, they weren't all SAD tears. There were some lovely moments between Leo and all three of her parents, or with her new friend, Madison, that were emotional because they were sweet and special.
But.
This "going backwards in time every chapter" was a choice, and after sitting with it for a few days, I don't think it ultimately worked for me. I'm curious to see what the reasoning was for this style—was it wanting to give you the hope up front, so you knew Leo made it through the worst year of her life? (Some people purposefully always reading the last chapter first so they aren't in suspense.) But reading conversations between characters about an event I hadn't yet witnessed, then going TO that event in the next chapter where I know the outcome…I didn't care for it. I think some people may really love the style for its uniqueness, but others are going to DNF quickly, and that sucks because I think there's a good story getting mired down in stylistic structure.
So, Reader, I cheated. I read the book "properly" until about 40% in, when I got too frustrated that I wasn't getting as lost in the story because I was constantly referencing the TOC to figure out how many days had passed between chapters. So I flipped to the last chapter and read it, then flipped back two chapters and read that. I read the book in "chronological" story order until I met up with where I left off, and then I kept going to skim the first chapters I'd read to really soak it all in. I liked this much better. It was a labor-intensive way to read though, and some won't have the patience I had because I already knew Benway's writing was worth it.
Bonus Factor: Awesome Step-Parents
I loved Leo's positive relationship with her step-mom, Stephanie. There could have been plenty of resentment from Leo's end, especially as her mom struggled with her grief alone and a new baby sister was thrown into the mix, but they supported each other and had some sweet moments that (yes, you guessed it) made me cry.
Anti-Bonus Factor: Mysteries…?
One other thing that didn't quite work for me was the "mystery" surrounding Leo's missing memories from maybe ten minutes before the accident to her waking up with the paramedics hovering over her. Without "spoiling" it, while it would have been hard information for Leo to know, it didn't really have any bearing on the story itself aside from making some drama between her and East since he obviously remembered everything. There's even a moment in the first chapter (a year later) when you realize that Leo may have suddenly remembered, but then it's not even addressed again so…yeah.
Relationship Status: Support Group Friends
You opened up slowly, Book, but I never felt anything but supported by you, and I hope you felt the same. We've got an unorthodox relationship, and maybe we'll be "friends for a season" and not for a lifetime, but I wish you all the best all the same.
Literary Matchmaking
Far From the Tree
Robin Benway's last book, Far From the Tree, also wrenched at my heartstrings as it dealt with all the ways we can call one another "family".
The Sky Is Everywhere
For another introspective story of grief and losing siblings, you can't go wrong with Jandy Nelson's The Sky is Everywhere.
If I Stay (If I Stay #1)
Another writer with a way with words that make you cry and make you think is Gayle Forman and her super-popular-at-the-time, If I Stay.
FTC Full Disclosure: I received my free review copy from HarperTeen. I received neither money nor peanut butter cups in exchange for this review. A Year to the Day is available now.