Cover Story: Montell Jordan
BFF Charm: Yay
Talky Talk: Cutting Crew
Bonus Factor: LBGTQ
Anti-Bonus Factor: Blurred Lines
Relationship Status: College Boyfriend
Cover Story: Montell Jordan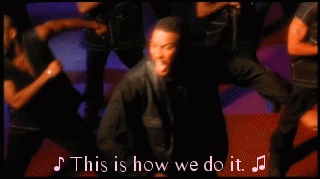 Of all the directions this cover could have gone, I think this cover choice is excellent. The simplicity of the apple (how Biblical) makes sense once you read the back blurb, but doesn't cheapen the story in any way. (Plus, it's recommended by Alison Bechdel right there on the front, so how can you go wrong?)
The Deal:
It's 2006, gay rights are making the news left and right, but Adam Freedman just wants to score with the ladies. The problem is, he's awkward and "too nice," his friends are jerks, and he just wants to get away from his Bay Area hometown. Then the perfect solution presents itself: going to visit his college-age, secretly-gay sister in New York City over the summer. He can reinvent himself, meet all the hot girls, and come back to California a changed man.
In NYC, Adam starts tagging along with his sister to underground gay clubs and meeting hot older women. The only problem is, the women who want to hook up with him assume that he is a transgender man. When he meets Gillian, his redheaded dream girl, he decides to go with it. But how long can this last?
BFF Charm: Yay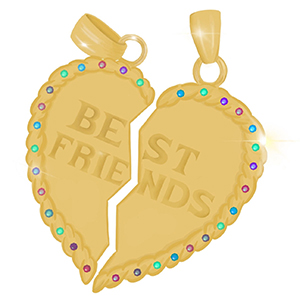 I really liked Adam. He has some vicious thoughts and makes some poor, poor choices in the name of lust and love, but there is a sincerity about him that I couldn't help but like. His character felt very real to me – a dorky teenage kid with a good heart who, nonetheless, gets aroused by a stiff breeze.
Swoonworthy Scale: 5
Adam is sincere in his adoration for Gillian, but for reasons listed below, I didn't really swoon all that much. And of course, since he's a teenage boy, the subject of sex comes up a lot. This book is definitely not for anyone uncomfortable with sex – especially non-straight, non-missionary, P-in-V sex. I wouldn't say the descriptions are graphic, but Schrag definitely paints a vivid picture of some interesting scenarios.
Talky Talk: Cutting Crew
Usually I think books that use profanity so often are ridiculous, but Schrag's voice and characterization are pitch-perfect. I never got the sense that Adam was using a lot of harsh language to shock or offend, but the way her characters speak are so clearly seventeen-year-old boys trying a little too hard. Her cutting, darkly hilarious voice is perfect for delivering the wealth of information the book provides – it's by no means comprehensive, but I could see this being the perfect resource for curious people to get a quick background or explanation on some LGBTQ issues.
Bonus Factor: LGBTQ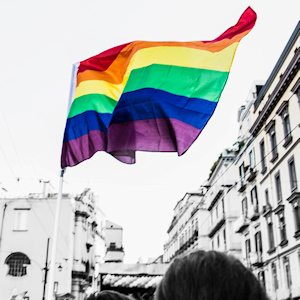 This book is brilliant at teaching without preaching. Schrag's genius in placing her naïve protagonist in an unfamiliar situation is that he learns everything he can about trans people – first, it's out of necessity in order to fool his crush, but later, he passes this information on to his visiting best friend (who still uses the word "gay" as an insult, much to his newfound dismay). The information is never presented like a lecture – Adam learns about LGBTQ cultures organically. I learned a lot about the transition process/living as a trans person from this book; there were plenty of things I hadn't thought about before.
It's not just trans issues, either – the book briefly but poignantly covers a lot of different LGBTQ topics. Adam and his sister attend rallies for gay marriage, and engage in debates with different sections of the gay community who want different things. It's a nice cross-section, and it enumerates the many difficulties the community has to deal with on a daily basis. For example, things like, "Adam's sister is so conventionally hot, why does she date masculine women?"
Anti-Bonus Factor: Blurred Lines
Obviously, any situation in which you're pretending to be someone or something you're not in order to woo a person is unethical at best. While I couldn't put this book down, I also winced at the lies Adam told and the lengths he went to in order to get the girl…who clearly did not want to date a straight, cisgender man. Near the end, there's one scene regarding consent that I was very uncomfortable with – Schrag does some tap-dancing to make it "okay," but it wasn't. (It might have been written that way on purpose, but based on the ending, that wasn't entirely clear.)
It's a testament to her writing and characterization, however, that I felt like the person in question was still basically good, just that they didn't understand the implications of what they were doing.
Relationship Status: College Boyfriend
Book, I loved you. You are sharp, witty, and have a heart of gold. I'm not sure if we're marriage material, but I can definitely see us spending college together. You're just so much more mature than those other high school boys – the perfect Gateway Book.
FTC Full Disclosure: I received a free review copy from Mariner Books. I received neither money nor a pet unicorn for writing this review, despite how hard I wished for one. Adam is available now.