About the Book
Title:
All These Things I've Done (Birthright #1)
Cover Story: No Thanks
BFF Charm: Girl Needs a HUG
Talky Talk: Hard Truth
Audio Talk: Clear But Breathy
Bonus Factor: Organized Crime
Relationship Status: Date Switcheroo
Cover Story: No Thanks
I have this feeling that many people are probably really going to like this cover. But not me. Too much of any one solid color is off putting to me (in this case white, which isn't even a color). Also, that chocolate heart? Yuck. Yes, chocolate plays a large role in the story, so it's fitting, but I hate looking at melted chocolate. Melted chocolate looks like poo. But, since television has always told me that women love chocolate more than anything else on earth, I suppose not too many people are going to agree with me here.
The Deal:
It's the year 2083 and 16-year-old Anya Balanchine is growing up in a version of New York City decidedly worse than what we know today. Poverty and crime have increased exponentially, personal transportation is almost non-existent, plus water and many other products (both essential and not) are either heavily rationed or banned. Banned items include chocolate and coffee which has created a huge black market run by organized crime. Anya has plenty of personal experience with the black market, since her now deceased father was once head of New York's large chocolate smuggling crime family. Both Anya's mother and father were killed in separate mob hits and Anya's older brother Leo is intellectually stunted due to a botched hit on their father. They live with their ailing grandmother, but it is Anya who must take care of Leo and her younger sister Natty. But living a normal life proves nearly impossible for Anya, as she attempts to keep her family together and distance herself from both the Balanchine name and her sordid history.
BFF Charm: Girl Needs a HUG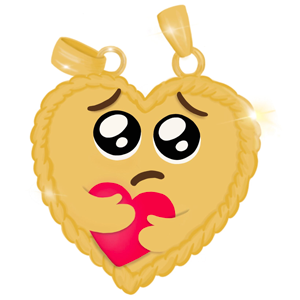 Oh, Anya. Girl, I wanna give you a HUG with this BFF charm. Anya has NOT had it easy. Both her parents are dead, her grandmother is kept alive by machines, so it's up to Anya to take care of her family. All the while, she tries to lead a normal life, be a good Catholic and go to school like any other teenager. But teachers, students and even the police will not stop holding her last name against her. They are constantly judging her for the sins of her family. Which is absurdly unfair and makes me want to smack people for her. Anya thinks she has a bit of a temper, but I think she does a good job keeping it in check, especially considering some of the crap people put her through. Anya can be practical to a fault, but you can hardly blame her given her upbringing. Anya's best friend Scarlet managed to make her adore her for 95% of the book, until she did something so wiggity wack that I lost my respect for her. But Anya is apparently more forgiving than I, so even more points for Anya!
Swoonworthy Scale: 7
Anya spends must of her time in a relationship with the new boy at school, who goes by Win (real name Goodwin, so it's not as bad as it looks). I really enjoyed the relationship between these two, because there were so many legitimate obstacles in their way. Best friend Scarlet essentially calls dibs on him early on. But even worse, Win's father is the new Deputy DA for New York City. And the last thing Win's Dad wants is his son dating someone so strongly associated with organized crime and corruption.
But not even Anya's practical nature can keep these two apart forever. Because Win is persistent and handsome and charming. Things between Anya and Win get pretty heated, especially because hormones and a secret relationship are almost always a recipe for some fairly sexy times.
Talky Talk: Hard Truth
The story is narrated by Anya, but from some unknown vantage point in the future. It's interesting to have a narrative that knows everything that is going to happen. But also a little frustrating when things are hinted at but not immediately told. However, Anya's penchant for all things practical often meant she said dry and truthful things that I couldn't help by find funny. After a young boy attempts to Rob Anya's sister, Anya stops him, but then gives him money anyway:
"Why'd you give him all that stuff after he tried to rob me?"


"Because he was less fortunate than us, Natty. And Daddy always said that we have to be mindful of those who are less fortunate."


"But Daddy killed people, didn't he?"


"Yes," I admitted. "Daddy was complex."
Audio Talk: Clear But Breathy
And now, a brief note from Sarah, who listened to the audiobook version:
Ilyana Kadushin has the right voice for a YA heroine, but her reading was a little too breathy for me. I wanted Anya's voice to be more solid, and Kadushin's voices for the other characters were kinda meh. But, with that said, she has a gentle way of enunciating that allows you to savor Zevin's text, and since I wasn't seeing the words on a page, Kadushin served them up nicely to my ears.
Bonus Factor: Organized Crime
I wouldn't exactly say this book qualifies as a mob story, but Anya's background and history with organized crime does end up influencing almost every aspect of her life. Plus, chocolate mobsters can be every bit as dangerous as normal mobsters.
Relationship Status: Date Switcheroo
Here's the thing. This book takes place in a dystopian, future setting. But I would not call it a dystopian novel. There are certain things one expects in a true dystopian novel — action, a really messed up world and some sort of evil to fight against. This book didn't have that. The dystopian scenario was just a device to set up what I thought the real story was. That story is girl taking care of her family and trying to figure out whether she should reject her past or accept and embrace her birthright. To me, this is a book about family. I think many people will be disappointed by this book because it's not going to be what they were expecting. So I went out on a date to meet this book and a totally different book showed up on the date. But I'm okay with that! Because I still really enjoyed this book. So even though it wasn't the book I thought I would hanging out with, I still ended up spending my time with a solid book.
FTC Full Disclosure: I received neither money nor cocktails for writing this review (dammit!). All These Things I've Done is available now.