Cover Story: Keeping Me In Stitches
BFF Charm: Natalie Imbruglia
Talky Talk: Project Runway: Miami
Bonus Factors: Fashion, Sabrina Retelling, Diversity
Relationship Status: Little Sibling
Cover Story: Keeping Me In Stitches
This is a truly adorable cover—between the colors, the needles and stitches, and the skyline, it's eye-catching and cute.
The Deal:
Amelia lives with her mother and abuelita on the Laurenti family estate—her mother and grandmother work for the Laurenti family, and Amelia dreams of a career in fashion. She would also really like to put her face on Ethan Laurenti's face, preferably during his prep school prom.
When she's offered a summer internship at the New York Fashion Institute, Amelia is given the chance of a lifetime—and maybe, when she comes back, Ethan will finally notice her. Or could it be that the little brother Laurenti, Liam, has some charms of his own?
BFF Charm: Natalie Imbruglia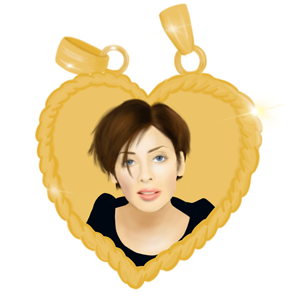 Oh, Amelia. You are so cute, and so young. I don't blame you for getting yourself into a web of Laurenti-related lies, but girl, you need to focus on your internship of a lifetime. I understand being too timid to send in an application for a long-shot internship, but when you actually get it, it's probably time to stop beating yourself up about it and dive headfirst into your new challenges. I want to meet you when you've got everything sorted out.
Swoonworthy Scale: 5
December is always a great month for lighthearted romance, and this book definitely has crushes and kisses in spades. The thing is, Ethan is never presented as an actual viable option for Amelia (he reeks of Eau-de-Clueless-Douche), so I found myself just waiting until she recognized Liam as a quality guy. We've all had our crushes on emotionally unavailable guys, but other than good looks and money, it was hard to see why Amelia had obsessed over Ethan for so long.
This is a Sabrina retelling, and, in my opinion, to truly work, Amelia (or Sabrina) has to come back radiating genuine I-Don't-Need-You confidence, while both brothers need to have real appeal. Ethan felt like a generic, teen movie jerk—but Liam was pretty cute.
Talky Talk: Project Runway: Miami
This book skews toward the younger end of the YA spectrum, best for tweens and younger teens. It's a short, quick read, but that comes at the cost of everything feeling low-stakes. Amelia's internship at NYFI goes by so quickly that it doesn't feel particularly consequential, and neither do any of her arguments or fallings out with her friends.
There are plenty of cute pop-culture references (Amelia hears Tim Gunn's voice in her head—hey, me too!), and I could see this being an adorable teen movie. On paper, though, there isn't the benefit of the "I'm working my ass off at NYFI and becoming visibly confident" montage that the book needs. If it had been about a hundred pages longer, I think it would have had the emotional weight that would have made it feel more like it was Amelia coming into her own (and then scoring the romance), and less like a series of things happening before it was time to kiss ALL the cute boys. (Don't get me wrong, I'm all for protagonists kissing cute boys, and as many of them as possible. Go, girl—just flesh out your stories with NYFI, your mother, and your new job, too!)
Bonus Factor: Fashion
There's a reason America's Next Top Model and Project Runway are binge-worthy—the world of fashion is the ultimate land of make-believe. Watching how the sausage gets made (perhaps that's not the best analogy for willow-thin models or the clothes they wear) is fascinating, so I loved Stephanie Scott's decision to set this story in the fashion world.
Bonus Factor: Sabrina Retelling
Sabrina is a charming story, rife with YA adaptation possibility—so of course I had to grab this book! What a world our heroine lives in—two rich, handsome brothers crushing on her? Sign me up. (Unpopular opinion alert: I prefer the Sabrina remake with Harrison Ford. What can I say? Audrey is the Lesser Hepburn.)
Bonus Factor: Diversity
Amelia and her family are Latina, and her NYFI friends come from a multitude of racial, ethnic, and socioeconomic backgrounds (so, you know, like real life in a big city).
Relationship Status: Little Sibling
Book, our date was fun, but I was feeling the age difference a little more than usual. I think you'll be able to—in the words of Tim Gunn—make it work with some of my younger friends.
FTC Full Disclosure: I received my free review copy from Bloomsbury. This review was originally posted on Kirkus Reviews in exchange for monetary compensation, which did not affect or influence my opinions. Alterations is available now.