About the Book
Title:
Always and Forever, Lara Jean (To All the Boys I've Loved Before #3)
Cover Story: No Shrinking Violet
BFF Charm: Platinum Edition
Talky Talk: Always and Forever, Jenny Han
Bonus Factors: Rom-Coms, Spirited Little Sister, Tasty Business
Relationship Status: I'll Never Let Go, Lara Jean
Spoiler Alert: This is Book 3 of the To All the Boys I've Loved Before series. Spoilers ahead for Books 1 and 2!
Cover Story: No Shrinking Violet
Our girl Lara Jean looks so grown up! Not only is this great on its own — which is par for the course for Lucy Ruth Cummins' impeccable cover designs — but it's beyond gorgeous as a set. The elements connecting all of them are more noticeable when they're side by side; the lettering goes from pink to blue and then finally purple, and Lara Jean herself looks to be growing up before our eyes, with both how her style evolves and just physically taking up more and higher real estate. For books that are so romance-oriented (I mean, 'love' is literally in each title), it's kind of impressive how these covers can feel so romantic with that soft, dreamy quality — and nary a kissyface in sight. In a word (or, an abbrev): PERF.
The Deal:
What a difference a year makes since we last caught up with Lara Jean: she and Peter are stronger than they've ever been as their senior year is winding down. But change is in the air — so many changes, everything is changing — and it's upending her plans for the future. Finding herself at a crossroads, will Lara Jean choose to listen to her head or her heart?
BFF Charm: Platinum Edition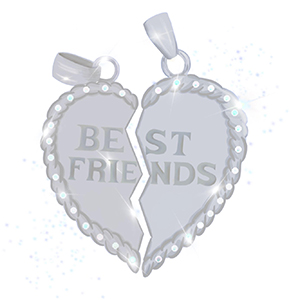 With everything seemingly happening all at once, it'd be understandable for Lara Jean to be overwhelmed. And guess what, she kind of is. So she pushes the very real possibilities that fall outside of her master plan to the backburner. Even though my rational brain wanted Lara Jean to deal with her shizz — GIRL, I FEEL YOU. Who among us hasn't put off dealing with something potentially scary, amirite? Deviating from The Plan and taking risks can be a lot for someone who's as resistant to change as Lara Jean, but it might be what's necessary to get what she wants. And I really, really wish only good things for her, because I STILL LOVE HER SO.
Swoonworthy Scale: 10
I reread the first two installments in preparation for this book, and OH BOY — P.S. I Still Love You really had me questioning my Team Peter membership again. But y'all, he won me back AND THEN SOME. Peter and Lara Jean are in such a good place as a couple; they're both way better at communicating and working on their relationship nowadays. But with maturity comes obstacles that aren't fueled by petty jealousy, as they once used to be, which makes them feel that much more insurmountable. And when you're LIVING AND DYING with every turn of a relationship like I was with this one — oh yes, this calls for a 10.
Talky Talk: Always and Forever, Jenny Han
I'm always afraid of going overboard with effusive praise, but y'allllllllll — I LOVED THIS SO MUCH. And as much as I dreaded it being over — seriously, my notes are a jumble of "HEART STARTING TO HURT" and "THE BOOK IS OVER TOO SOON" — I still inhaled it in one siting (and stayed up far too late to do so). In case it wasn't obvious enough, Jenny Han totally stuck the landing with the send-off.
Bonus Factor: Rom-Coms
Lara Jean and Peter trade off on picking their favourite movies to watch together, with rom-coms being well-represented on her list. The many rom-com shout-outs remind me of another ode to rom-coms, The Mindy Project's Season 2 finale. (Although confession: I haven't actually seen most of the rom-coms referenced in both — I know! — but I appreciate the abundant love for the genre nonetheless.)
Bonus Factor: Spirited Little Sister
A scene-stealer from her very first appearance, Kitty continues to bring the sass as Lara Jean's not-so-little-anymore sister. Having grown out of her initial infatuation with Peter, the two of them have since become total buds independent of Lara Jean (and often rolling their eyes together at the expense of her ridiculousness).
Bonus Factor: Tasty Business
These books have always featured a cornucopia of tastiness, but this time around, Lara Jean's on a mission to create the perfect chocolate chip cookies. Like, to the point of obsession and definitely noooooot stress baking over all the things she can't control or doesn't want to deal with, NOPE.
Relationship Status: I'll Never Let Go, Lara Jean
As I was nearing the end and the pages were dwindling, I came to the v. important realization that OMG I CANNOT HANDLE THIS SERIES BEING OVER. I just want to live in this book foreverrrrrrr and keep following these characters wherever life may lead them. For goodness' sake — dear reader, saying goodbye to them MADE ME CRY. To paraphrase Dodgeball, nobody makes me cry my own tears. Nobody! And to paraphrasing again — here, from these books themselves, because I'm obvi at a loss for words that could do them justice — know this: once upon a time on the internet, a girl loved this series.
FTC Full Disclosure: I received my free review copy from Simon & Schuster. I received neither money nor gelato for writing this review (dammit!). Always and Forever, Lara Jean is available now.