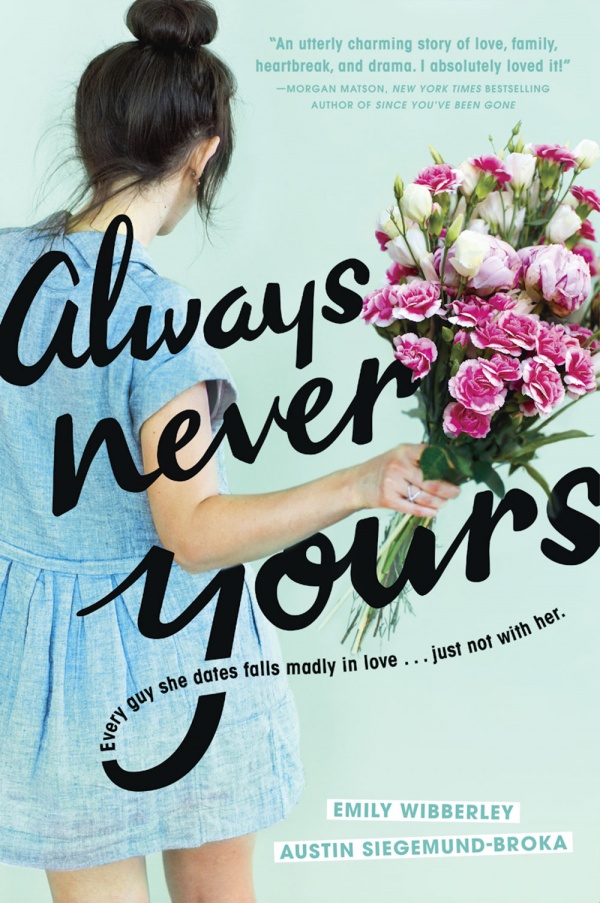 About the Book
Title:
Always Never Yours
Cover Story: Boring Stock Photo Strikes Again
BFF Charm: Big Sister
Talky Talk: Straight Up
Bonus Factor: Theatre Kids, Shakespeare
Relationship Status: You Kiss By The Book
Cover Story: Boring Stock Photo Strikes Again
While the colors are nice and I *do* love a peony, this cover has stock photo written all over it. I mean, this is a theatre book about drama kids doing Romeo and Juliet, with a protagonist who dreams of becoming a director. That sentence alone held at least 20 cover ideas, but they went with Random Girl Holding Random Bouquet. Which if you REALLY sit and think about it for a minute could represent the bouquet that the cast gives the director at the end of a show, but whew boy, that is a stretch. So while the end result is cute enough, it loses points for lack of originality.
The Deal:
Megan Harper wants two things: 1) to get into the theatre school of her dreams to study directing and 2) a boyfriend. The problem with the first is that despite years of directing experience and a longing to stay behind the curtain, her dream school requires at least one acting credit on her resume. The problem with the second is that no matter how hard she tries, Megan is always the girl a guy dates just before he meets his One True Love. She's the Rosaline to everyone else's Juliet – not even the star of her own life. But when she auditions for her school's performance of Romeo and Juliet, hoping to land the smallest possible role and fulfill her acting requirement, she is inexplicably cast as Juliet. It's her worst nightmare – Megan is no actress, and everyone in the play knows it. Everyone except Owen Okita, the quiet playwright who is cast as Friar Lawrence. He and Megan strike a deal – he'll help her catch the eye of his friend and stagehand, Will, if she will lend her life experience to him while he writes a play about Rosaline. Then maybe, finally, Megan will get to be the star of her own love story.
BFF Charm: Big Sister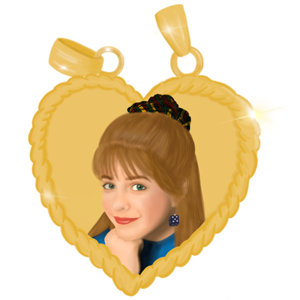 Megan felt really different from so many of the protagonists who have come before her. I loved her passion for directing, and creating something magical on stage without needing to be the star of the show. She truly understood the way theatre works, not just the twinkle of the stage lights, but the nitty gritty, chaotic, behind-the-scenes stuff too. Megan is also bold, funny and an unapologetic flirt. She's boy-crazy and she knows it, always on the hunt for her next victim. This, too, felt new and refreshing, especially because it wasn't depicted as a negative thing. When Megan sees a cute boy, she raises a coy eyebrow, makes a suggestive remark, grins, and BAM – she's reeling them in, even if she doesn't get to keep them forever.
All this is well and good, and totally BFF-charm worthy, but Megan's need to immediately feel as close as possible (and yes, I mean, close) to boys is the reason she's getting big sistered. Megan, listen to your girl Rosemary! You are a dope ass girl, and it's cool as hell that you know what you want and aren't afraid to go after it. But sometimes, baby girl, you just gotta chillax. Slow down. Enjoy Megan for awhile. Don't rush through these experiences because you're afraid that if you don't hustle you'll lose your opportunity.
Swoonworthy Scale: 8
Listen, I'm not gonna pretend like y'all don't know what's up. This book is a rom-com and despite Megan's infatuation with Will (who Owen geniusly refers to as "new-hot", like new-money, because Will doesn't yet understand the etiquette that's required with hotness), you KNOW that Owen is where it's at. He's sweet, he's pensive, he thinks the world of Megan, and he's a playwright and she is a director. It's meant to be! Except that Owen has a girlfriend and Megan's sort of dating Will. But as the story progresses and Megan and Owen find it harder and harder to deny their meant-to-be-ness, well, the temps slowly rise until we get some seriously hot scenes. ::fans face::
Talky Talk: Straight Up
Emily Wibberley and Austin Siegemund-Broka deliver a contemporary romantic comedy with wit, heart, and spot-on pacing. I gobbled this up in 48 hours. Is it revolutionary? No. But it is well done. And it's exactly the type of book I long for when I need a breather between long trilogies or books with heavier subject matter.
Bonus Factor: Theatre Kids
Fun fact about me: my mom was a high school theatre teacher, so as a kid, I grew up in the wings at all her play rehearsals. I was automatically cast as the kid in every play that required a small child, starting at the ripe old age of 18 months (Mildred, sister of Helen Keller, in 1986's The Miracle Worker), and I have a working knowledge of technical direction and know all the words to every song from just about every musical (not by choice). By the time I'd reached high school, I was mostly uninterested in theatre because I'd been around it my whole life, but books about theatre kids will always make me nostalgic nonetheless!
Bonus Factor: Shakespeare
Who doesn't love a good Shakespeare retelling? Well, sort of a retelling, since Rosaline didn't even appear on stage in Romeo and Juliet. It's high time the jilted lover gets her own story!
Relationship Status: You Kiss By The Book
In Always Never Yours, Megan wonders whether Juliet telling Romeo "You kiss by the book" is a compliment or a burn. I'm not sure what the answer is, but Book, you kiss by the, well…book. You are well-studied in the art of YA contemporary rom-com, and gave me all the sweetness and swoon my heart desired. But you weren't exactly breaking all the rules to give me something totally new and revolutionary. Which is totally fine! Sometimes, the familiar is exactly what I'm longing for.
Literary Matchmaking
When You Were Mine
If you want to read another book that reimagines Romeo and Juliet from Rosaline's side of the story, give When You Were Mine by Rebecca Serle a try.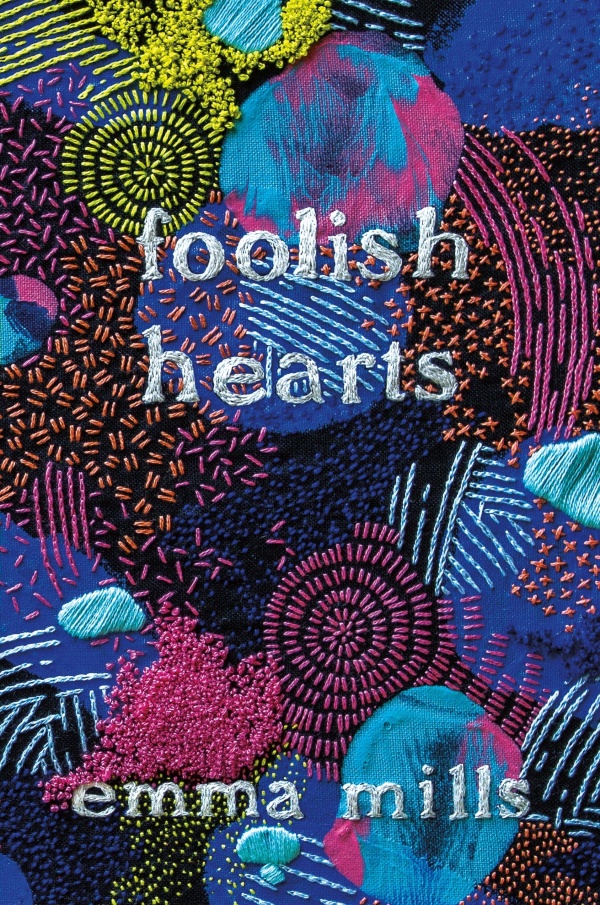 Foolish Hearts
Or try Emma Mills' Foolish Hearts for another story about a high school production of Shakespeare.
FTC Full Disclosure: I did not receive money or Girl Scout cookies of any kind (not even the gross cranberry ones) for writing this review. Always Never Yours will be available May 22, 2018.