About the Book
Title:
Among the Beasts & Briars
Cover Story: Ready for the Rose Parade
BFF Charm: Yay
Talky Talk: Familiar Fantasy
Bonus Factor: Sexy Fox
Factor: Series Starter?
Relationship Status: Comfortable
Cover Story: Ready for the Rose Parade
At first glance, this is a lovely cover with a title treatment that reminds me a whole lot of the live-action Beauty and the Beast. It's pretty and it says "this is a fantasy book" without much fanfare. But looking closer, all of the imagery is created from natural elements—flower petals, bark, leaves, etc., which adds a whole other level of detail that bumps this from "it's good" to "wow" territory. I bet this cover designer had a lot of fun!
The Deal:
Cerys is the daughter of the royal gardener of the kingdom of Aloriya, a prosperous, peaceful nation ruled by a royal family with magical gifts and a magical crown bestowed upon their line centuries ago by the Lady of the Woods. The crown keeps their nation safe and the horrors of the woods outside their borders at bay. Cerys has resigned herself that she'll always live in Aloriya and eventually take over for her father, and she's OK with that … mostly.
But then things go awry at the coronation of Queen Amwen, Cerys's best friend. The horrors of the woods wreak havoc, spreading a curse through the people and turning them into monsters. Cerys alone is safe from the curse—although she doesn't know why—and so it's up to her to venture into the woods to seek the help of the Lady of the Woods.
BFF Charm: Yay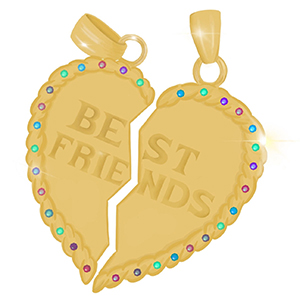 On the surface, Cerys is a pretty traditional fantasy heroine: she's got an unusual "special" gift, she doesn't see her own worth or her own beauty, she has to overcome hurdles both external and internal, and is the only person who can save the world. But all of those elements are standard for a reason; she's the kind of heroine that's easy to root for at her best and her worst, and she'd be delightful to know IRL.
Swoonworthy Scale: 7
As Cerys escapes the coronation, she's got a companion: a semi-tame fox that she saved from a hunter's trap many years ago. But this isn't a book with that sort of swoon; the fox, through magical means, turns into Fox, a mostly human, very attractive man.

Talky Talk: Familiar Fantasy
Among the Beasts & Briars is a pretty standard fantasy novel that doesn't do much to shake up the genre—but it doesn't need to. Especially with *gestures around at everything*, reading a book that feels like home is a wonderful experience. Poston obviously knows her fantasy; her characters are realistic—even the ones that used to be animals—and her world-building is solid. I know I'm not really selling the quality of this book, but, while it's familiar, Among the Beasts & Briars isn't the kind of book that you'll read and immediately forget. Although it fits nicely in its place, it's also a standout amongst so many books that all feel the same. Plus …
Bonus Factor: Sexy Fox
Need I say more?
Factor: Series Starter?
I read an e-galley of this book, so I'm unsure of what the end of the final version looks like, but there's a line at the end of Poston's acknowledgments in the ARC that reads "And as most stories go, this one is not quite finished yet …" followed by two short passages from POVs of secondary characters in the book. Not sure if this indicates that there are additional books to come in this world, or if it's just, in general, open-ended, but time will tell.
Relationship Status: Comfortable
I had hopes that we'd connect, Book, and you didn't disappoint. Our date wasn't massively exciting, but I had a truly nice time. Thank you for being just what I needed to escape reality for a little while. I love you (gray sweat pants, no makeup, so perfect).
Literary Matchmaking Geekerella (Once Upon a Con #1)
If you'd like to read more of Poston's work, please do yourself the favor of checking out her Once Upon a Con series, which are some of the best fandom books I've read.
Don't Call the Wolf
For another fantasy novel with people who are sometimes animals, try Alexsandra Ross's Don't Call the Wolf.
The Shadows Between Us
And for a book that's totally different than this one, but no less a perfect escape from reality, pick up Tricia Levenseller's The Shadows Between Us.
FTC Full Disclosure: I received a copy of this book from Balzer + Bray, but got neither a private dance party with Tom Hiddleston nor money in exchange for this review. Among the Beasts & Briars is available now.