About the Book
Title:
Another Little Piece of My Heart
Cover Story: At Least It's Not a Kissy Face
BFF Charm: Heck Yes!
Swoonworthy Scale: -5… Or Is That +5?… No, 7
Talky Talk: Austentatious
Bonus Factors: Musicians, Breakup Song
Relationship Status: Love You Like a Love Song
Cover Story: At Least It's Not a Kissy Face
Well, it's not the worst cover with a guitar that I've ever seen. It's also not terribly exciting, but kudos for being a contemporary romance cover that manages to show restraint. Plus, it actually gives a pretty good sense of what the premise is: two guitarists, probably young-ish based on the font, in a setting with beach-y wood.
The Deal:
Claire's parents are way harsh, Tai. They've never approved of her relationship with Jared; he's just not good enough in any way that matters to them. So when Claire dumps him for their sake, Jared channels the remnants of their relationship into a hit song. (A highly biased and erroneous hit song, at that.)
Even years after the breakup, Claire still can't escape that song—or the past. And that degree of difficulty is turned up to 11 during her post–high school family vacay, with her running into Jared all the freaking time. Not that it even matters, since Claire is soooo over that jerk. Umm, right?
BFF Charm: Heck Yes!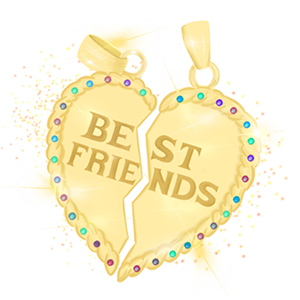 Claire pretty much would have had my BFF charm from the very first sentence, if it hadn't taken me a few chapters to determine if she was legit cool or poseur cool (more on that later). Thankfully, girlfriend is all about Hammer Time, i.e. 2 LEGIT 2 QUIT. Claire's wit totally made the inside of her head a great place to metaphorically visit. She's caught in that Not-a-Girl-Not-Yet-a-Woman stage, so she's smart enough to call out her own B.S., but she can't help feeling like that anyway. I would love to host a bestie intervention with her BFF, Kristen, so that Claire doesn't have to keep her feelings re: dramz over her family and Jared all bottled up. Right after we check out Claire's band, Stabbing Shakespeare, of course.
Swoonworthy Scale: -5…Or Is That +5?…No, 7
UGH, Jared is such a rollercoaster of swoon. He owes his success to a song that inaccurately paints Claire as shallow bitch—I hate him! He gets Claire and he makes her happy in a way that no one else does—I love him! He wears a thumb ring—I hate him! Despite his poor choice in phalangeal jewelry and how he handled the break-up, Claire and I both found Jared's pull to be irresistible. In other words, he's exactly every ex that you couldn't quite get over. And probably better than those exes, since Jared is a dreamy rock star with a six-pack. (Or maybe those are your exes. I don't know your dating history.)
Talky Talk: Austentatious
Another Little Piece of My Heart is a retelling of Persuasion, and y'all know anything related to Jane Austen is total FYA bait. Although confession: I've never read Persuasion. (Or any Jane Austen novels other than Pride and Prejudice. But that's an admonishment for another time.) Even with my literary oversight, I could clearly sense that Tracey Martin captured the Austentatious spirit: The charming heroine and the sizzling enemistry, sprinkled with healthy doses of humor and insight.
Bonus Factor: Musicians
Martin strikes the perfect chord (see what I did there?) with Claire and Jared's authentic music geekery. She also makes a smart compromise, by using real-life references for revered musicians (the Beatles, Janis Joplin) but inventing ones in place of current bands. Not that I'm in a position to be a music snob (see: all the musical nods in this book report), but when books give shout-outs to real bands that you're supposed to think are hip and cool, I just end up completely judging the characters for their musical tastes.
My only minor quibbles are THE LYRICS. Nothing personal, Book, because yours aren't bad and they don't show up that much anyway. But this is a general aversion that stems from fictional lyrics being more like poetry than actual songs.
Bonus Factor: Breakup Song
Did I instantly think of this bonus factor when I first read this book's blurb? YEP.
Casting Call:
Tracey Martin has got to be a swimfan of My So-Called Life, yeah?
Relationship Status: Love You Like a Love Song
OK, Claire and Jared might not approve of my allusion to Selena Gomez. (Whatever, haters—that song is my jam!) But I did keep hitting re-peat-peat-peat-peat-peat-peat for my dates with this book. I bopped my head to the beat of its words, and it had me on my feet, genuinely begging for an encore. When the show's over and the crowd's gone home, you can find me kicking it backstage with this book. Just don't call me a groupie; the proper term is Band Aid, after all. 
FTC Full Disclosure: I received my free review copy from Harlequin Teen. This review was originally posted on Kirkus Reviews in exchange for monetary compensation, which did not affect or influence my opinions. Another Little Piece of My Heart is available now.
Shop Our Jane Austen Themed Merch