Cover Story: Too Shy
BFF Charm: Come On Eileen Phoebe
Talky Talk: Sidewalk Talk
Bonus Factors: Early '80s NYC, Female Friendship
Relationship Status: Head Over Heels

Content warning: Brief scene of sexual assault
Cover Story: Too Shy
I like this cover, I do, but I think this is a missed opportunity. Yes, the color scheme is great, and the photo gives off some Desperately Seeking Susan vibes, but overall the design is a bland echo of the book's edgy '80s aesthetic. This story should've inspired a cover that I'd want to frame on my wall, is what I'm saying.
The Deal:
It's 1984, and Phoebe Hayes has impulsively decided to follow her college pal (and idol) Carmen to the East Village. After living a rather mundane existence that was cracked open by her father's death, Phoebe yearns for all of the excitement and adventure that New York has to offer, and Carmen, with her trust fund confidence and heroin-addicted boyfriend, is the ultimate guide. Together they soak up the wild nights of the city, from gallery openings with hot renegade artists to drug-fueled escapades at Plutonium, a club where Phoebe lands a gig as Astrid, a fortune teller who uses old movie ticket stubs to see the future. But Phoebe fails to predict the devastating downfall of her relationship with Carmen, and after the latter disappears, even Astrid can't divine the way for Phoebe to find her friend and, in turn, find herself.
BFF Charm: Come On Eileen Phoebe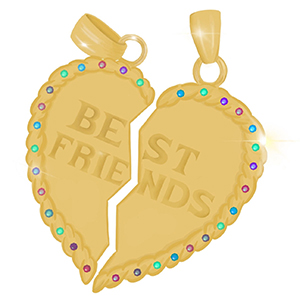 I felt an immediate kinship with Phoebe, a girl who's been sheltered for most of her life and just wants to experience some shit. That said, she's driven by this longing much further than I ever was, and consequently she mistakes worldliness for worth. The result is a whole mess of situations that I wanted to yank her out of, which makes me exactly the kind of friend she would push away. At one point, she admits, "To me, a girl who felt smothered, neglect looked like freedom," and it's that mentality that allows people to take advantage of her, while she fools herself into thinking her heart is unbreakable. Yet thankfully she never quite loses her agency, and–even though she'd consider any kind of cheerleading to be totally uncool–I rooted like mad for Phoebe to discover her true value.
Swoonworthy Scale: 3
Yeeeah, so this book is like a (self-aware) crash course in unhealthy relationships. Phoebe briefly has an affair with an older man, who is definitely NOT a good dude, before moving on to a bohemian artist who, surprise, is also not a good dude. When the best example of love is the bond between a rich party girl and her junkie boyfriend, you know starry-eyed romance is not the order of the day.
Talky Talk: Sidewalk Talk
By infusing Phoebe's journey with her own experience as a young woman in 1980s New York, Standiford has crafted a novel as electrifying and dynamic as the city itself. The untamed, almost feral energy of the setting provides a compelling contrast to Phoebe's earnest voice, which is strikingly wholesome in its plainness, and consequently, the headiness of the highs and the weight of the lows pack quite a punch. But the biggest kick in the gut is delivered by Phoebe's quiet realizations, like this one:
I'd been living underwater, in an undersea world with its own language and myths, which was great and everything, except that all this time I'd been holding my breath.
I've been a huge fan of Natalie Standiford since How to Say Goodbye in Robot, so I don't say this lightly: Astrid Sees All is her best work yet. 
Bonus Factor: Early '80s NYC
Standiford paints a gritty yet dazzling portrait of the East Village, a place pulsating with possibility and glittering with danger. I wouldn't want to live there during this era, but damn did I enjoy being a voyeuristic tourist. From Phoebe's neighborhood café to the shifting shadows of Tompkins Square Park, the setting is rich with transportive details and characters, including a few real life celebrities. But nothing holds a candle to Plutonium. Pardon the Stefan impression but this club has everything, and I mean everything. Merpeople! Alien dancers! A tank with actual sharks! A live owl that flies around and lands on people's shoulders! With monthly themes ranging from "Surrealism" to "Martyrdom," Astrid's home base is a major scene and a total trip (even without the drugs).
Bonus Factor: Female Friendship
The dynamic between Carmen and Phoebe is fascinating in its flaws, especially given the different ways they do or don't need each other. After placing Carmen on a pedestal, Phoebe is consumed by the idea that she has to be more interesting in order to hold her attention, and it's that desire that fractures their already fragile relationship. "Enjoyed" maybe isn't the right word, but I was thoroughly captivated by Standiford's exploration of an imperfect and sometimes toxic friendship still rooted in love.
Relationship Status: Head Over Heels
Astrid Sees All intoxicated me with its magnetic setting and vivid characters then promptly sobered me up with its raw emotion and unflinching look at what it takes to find yourself in the darkness. From euphoric nights to serious soul-searching, our time together has been a rare combination of fabulously diverting and deeply meaningful, and I don't need Astrid's skills to know that I will cherish this book for years to come.
FTC Full Disclosure: I received my free review e-copy from Atria Books. I received neither money nor cocktails in exchange for this review.