About the Book
Title:
Aurora Rising (The Aurora Cycle #1)
Cover Story: Better Big Face
BFF Charm: Bertie Bott's Every Flavor
Talky Talk: Kaufman and Kristoff
Bonus Factors: Found Families, Pop Culture References
Factor: Series Starter
Anti-Bonus Factor: Instalove?
Relationship Status: Had a Good Feeling
Cover Story: Better Big Face
This cover was illustrated by one of my favorite contemporary artists (Charlie Bowater—seriously, she's ridiculously good), so I'm going to excuse the almost Big Face just this once. The cover's a near-perfect complement to the story, and y'all know I dig a space motif.
The Deal:
Tyler Jones is at the top of his class at the Aurora Academy, the training school for the galaxy's main peacekeeping and humanitarian force. He's poised to have his pick of the other top students in the upcoming Draft to form his squad, which he knows will be the Best Squad Ever. But then, the night before the draft, he can't sleep. And so he ventures into the Fold—the space between space that allows for super quick space travel—and finds a spaceship that went missing more than 200 years prior full of dead colonists … and one girl, who survived against all odds.
BFF Charm: Mixed Bag
Although Tyler's the first character we meet in Aurora Rising, there are six other characters whose POVs we hear from throughout the book. Semi-spoiler alert—although it's not if you've read the synopsis for this book—Tyler doesn't end up with the cream of the crop in his squad; rather, he ends up with his sister, their best friend, and three other students who no one else wanted on their team. (And then there's the girl out of time …) Although they might be outcasts in the eyes of the rest of Aurora Academy, most of them are super worthy of BFF charms; a couple of them even the "Be Mine" edition. There are two who earn an Eventually and a Caution, respectively. But on the whole, they make for the kind of team I'd be more than happy to get stuck with.
Swoonworthy Scale: 6
As often happens when you throw a group of seven teens together, emotions (and hormones) flare. I won't ruin how it all shakes down in the end, but "It's Complicated" sums the swoon in this book up nicely.
Talky Talk: Kaufman and Kristoff
If you've not read The Illuminae Files, the stellar talent that is the writing duo of Kaufman and Kristoff won't be familiar to you, but I promise it'll be a delight to discover. Their dialogue is punchy and realistic, even while set in a future full of space travel and aliens; their characters are fully realized and full of personality, and feel like real teens; their world-building (or galaxy building, in this case) is fresh and expansive. Aurora Rising is influenced by a lot of other science fiction properties (more on that below), but it never feels derivative. Instead, it's fun trying to suss out all of the Easter eggs the authors have peppered throughout.
My only real complaint is that a lot of the action in the book felt like it was setting up for what's to come later in the series. As one friend described it to me, it felt like a bridge book without anything to really bridge between. But I'm most definitely not feeling the blues.
Also, if you're familiar with The Illuminae Files, full disclosure: Aurora Rising isn't as inventive or unusual. It's more of a regular book—not that there's anything wrong with that, obvs—with occasional bits of AIDEN-like color commentary interspersed. But it's a solid follow-up to their first joint series. The Illuminae Files are something special, and I have to imagine that it was super daunting trying to follow them up with something as unique. I'm actually kind of glad they didn't try to one-up themselves, as it might have gone too over the top. (And the world isn't ready for a virtual reality Kaufman and Kristoff adventure.)
Bonus Factor: Found Families
More and more, the idea of found families is becoming one of my favorite tropes. Especially, like in the case of Tyler and his squad, when the people involved seem, on the outset, like they'd never in a million years work together well. I am HERE for a story about outcasts who realize in the end that they're not outcasts anymore.
Bonus Factor: Pop Culture References
I know for a fact that I didn't catch all of the many references/nods Kaufman and Kristoff included in Aurora Rising, but I loved the ones I did recognize. From Firefly/Serenity to Dragon's Age, the references are many and varied. But it never felt like Kaufman and Kristoff were just copying other properties, and the story feels fun and new while being familiar.
Factor: Series Starter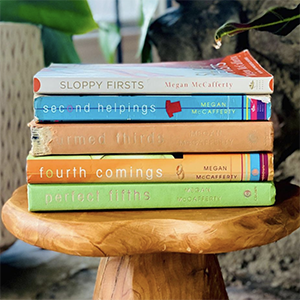 This is the first book in a trilogy. Does it end on a bit of a cliffhanger? Yep. But I'm never going to turn down more Kaufman and Kristoff books.
Anti-Bonus Factor: Instalove?
One of the relationships in Aurora Rising feels a bit like instalove, but there's a pretty good reason it does so. Regardless, it still feels slightly lazy, even though the complications it adds to the plot spice things up.
Relationship Status: Had a Good Feeling
When I first came across your profile online, Book, I had a feeling that our time together would be great. I wasn't wrong, and I can't wait until we get together again. I'm going to be telling all my friends about you, and don't be turned off if I text you like all the time.
Literary Matchmaking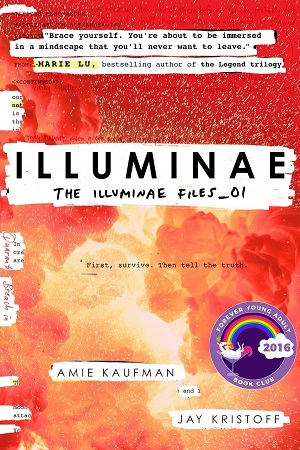 Six of Crows (Six of Crows #1)
Leigh Bardugo's Six of Crows duology features a similar group of saucy outcasts who find themselves with a family (and frequently also aim to misbehave).
Defy the Stars (Constellation #1)
And for more space adventure starring a character who was trapped in a derelict ship for a good while, check out Claudia Gray's Constellation series.
FTC Full Disclosure: I bought a copy of this book with my own money and got neither a private dance party with Tom Hiddleston nor money in exchange for this review. Aurora Rising is available now.