About the Book
Title:
Becoming Jinn (Becoming Jinn #1)
Cover Story: Put a Ring On It?
BFF Charm: Big Sister
Talky Talk: More Than Meets the Eye
Bonus Factors: Jinn, Zar Sisters
Relationship Status: Hookup Turned Serious
Cover Story: Put a Ring On It?
Oh yes, it's safe to assume that Feiwel & Friends liked it. OK, it's not actually a ring (the lack of visual context makes it hard to tell!), so here's a more appropriate musical reference.
he Deal:
Sweet sixteen takes on another meaning when you're a Jinn like Azra Nadira. In addition to finally accessing magical abilities, new Jinn undergo a physical transformation that's sort of like a second puberty that's guaranteed to make them hot. (Um, how do I retroactively sign up for this?) But with great perks come great responsibilities: Azra's now at the beck and call of the Afrit, a ruling class of Jinn that hands out wish-granting assignments.
As Azra tries to balance her life in the human world and her Jinn obligations, she begins to notice that her powers aren't quite like those of other Jinn. And uncovering the truth will put everything she thought she knew into question.
BFF Charm: Big Sister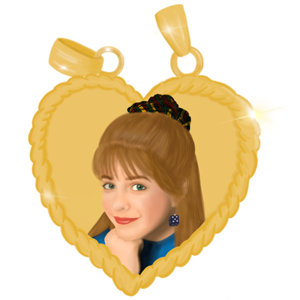 Azra mainly keeps to herself, and she can be a bit prickly and withdrawn. She's reached that point of having enough self-awareness to try to keep that 'tude under control but not always succeeding anyway. (Been there, and might still own a timeshare there.) On top of acquiring a new set of Jinn responsibilities that put a damper on her independence, she's also experiencing typical teenage angst — lamenting her modest chest and possessing absolutely no game when it comes to boys. Azra might be undergoing her share of growing pains, but in a relatable way that shows promise of the person that she's growing into.*
*Omg, did I just turn into a middle-aged guidance counselor with that sentence?!
Swoonworthy Scale: 5
Azra's a complete noob when it comes to dating, so there are plenty of cute and awkward Bambi-walking-for-the-first-time moments. Azra reconnects (not a euphemism) with her neighbour, Henry, with whom she shares a tragic history, but they both insist their friendship is Not Like That. She's also long harboured a crush on star athlete Nate, who's fortuitously working as a lifeguard on the same beach as her summer job. (Workday eye candy? SCORE.)
Even though I was pulling for one guy more than the other, they're both hot and sweet and basically total catches, which makes Azra's dilemma in choosing between the two highly understandable and enviable. ("Two nice, hot boys vying for my affection? WHATEVER SHALL I DO?")
Talky Talk: More Than Meets the Eye
Lori Goldstein's breezy style is easy to devour without the sacrifice of substance. This book boasts quite a large supporting cast, with smart characterization that transcends stereotypes. But since there are so many characters, there are still some that I'm looking forward to knowing better in the next book. (Yes, I know — it's yet another series; I just can't help starting new ones because I want to read them ALLLLLL.)
Bonus Factor: Jinn
Like most stories featuring supernatural beings, Becoming Jinn has its own twist on mythology:
Pop culture has turned genies into jokes. Oil lamps, serving a master, flying carpets, three wishes — none of it's true. Jinn live in houses, not lamps or bottles. Jinn do not fly on a carpet or otherwise. The Afrit assign wish candidates to Jinn. The candidate gets but one wish. The idea of three stems from humans who were greedy and Jinn who were pushovers.
Even though this book takes place in the human world, there are glimpses into the mysterious history and the complicated politics of the Jinn world — the biggie being how only female Jinn are allowed in the human world, where they must live and serve until retirement. Jinn might not be confined to lamps or bottles, but they def. don't have freedom, either.
Bonus Factor: Zar Sisters
One major Jinn custom is the Zar sisterhood, which consists of six female Jinn born within the same year — kind of like a second family. Azra's Zar are all daughters from the same Zar, which reminds me of hanging out with kids of my parents' friends due to the foolproof logic that closeness in age begets friendship. (That strategy yields variable success for Azra, but meh for me.)
Relationship Status: Hookup Turned Serious
Book, I could tell when I first met you that we'd have a lot of fun together. And the better I got to know you, the more layers to you that I unearthed. Before I knew it, I had, like, feelings for you! Lighthearted as you are, you also don't shy from going a little deeper — or a little darker — which was a pleasant and welcome surprise, just like me falling for you. So, uh, how about that second date already?
FTC Full Disclosure: I received my free review copy from Feiwel & Friends. I received neither money nor froyo for writing this review (dammit!). Becoming Jinn will be available April 21.