Cover Story: Adorbs
BFF Charm: Eventually
Talky Talk: Straight Up
Bonus Factors: Swimfandom; Road Trip; Austin, TX
Anti-Bonus Factor: The Tease
Relationship Status: Mosh Pit Buddy
Cover Story: Adorbs
Yeah, this cover is a little twee, but I love it! The concept is fun and totally fits with the story, down to the Delia's models sporting attire that matches the three main characters. With the bright yellow color and fabulous typeface, this cover screams GOOD TIMES, which is a nice contrast to all of the emo faces and sad floating girls we usually see. Like, you can tell this book knows how to party.
The Deal:
Alice, Tiernan and Summer used to be best friends. They would spend hours together in the Pea Pod, a VW camper van parked in Alice's backyard, where they would make collages and dream about marrying their favorite band of all time, Level3. But then the unthinkable happened: Level3 broke up. And then, something even worse happened: their friendship broke up. Four years later, the girls are basically strangers to each other, and now that they've graduated, their paths may never intersect again. But when Alice finds out that Level3 is reuniting for one night only in Austin, TX, she can't imagine seeing them with anyone but her two ex-best friends. So she buys three tickets and convinces them to join her on the ultimate road trip. But while the highway down to Texas might be smooth, their road to reconciliation is full of potholes.
BFF Charm: Eventually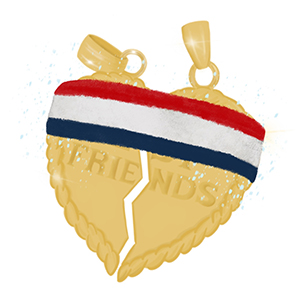 LORD these girls drove me CRAY CRAY. After about 40 pages, I was pretty sure Alice was certifiable because putting these three gals inside a VW camper van was as smart as shaking a wasp's nest. But then! I got to know them, and while their pettiness over the past still irked me, I really grew to appreciate their differing personalities. Alice is the goody goody, the sheltered brainiac who feels the need to plan the shizz out of everything. (Uh, sounds like someone I know.) Tiernan is the chick with the bad attitude who dyes her hair and constantly fights with her mother. And Summer is the pretty, popular one who hides her creativity inside. In spite of the cliches, they're all fun, relatively authentic girls, and they ultimately challenged each other to be better people, which is the true sign of a good friend. Plus, anybody who is unashamed of their adolescent swimfandom is totally cool in my book. (Says the girl who saw NSYNC twice.)
Swoonworthy Scale: 4
The focus of this book is obviously friendship, but Graham throws in a bit of romance when the girls hit Kentucky. I won't spoil it for you, but it involves a cute boy, an all-night convo and a most deserving girl. And while I thought the swoon was v. sweet, I was impressed by the fact that I wasn't jonesing for it. (That never happens!) It's refreshing to read a story that truly focuses on the importance of female friendship.
Talky Talk: Straight Up
While the story is written in third person, the chapters rotate through the perspectives of all three girls and provide us with a glimpse into their motivations. It's the perfect set-up for exploring Alice, Summer and Tiernan's messy, broken relationship, because readers can fully grasp the hurt and blame rooted in their misunderstanding of each other. Graham writes in an easy breezy yet deeply honest style with fantastically believable dialogue and excellent pacing. The pages hum with energy, and Graham carefully balances emotional reflection with delightful humor.
Bonus Factor: Swimfandom
As middle schoolers, Alice, Summer and Tiernan were OBSESSED with Level3. They made dozens of collages using pictures of the band and photos of themselves, and they plastered them all over the Pea Pod. They know every single lyric to every single song, as well as every detail of their Dream Dates with the band members. Their love for Level3 was probably my favorite part of the book, because it reminded me of my various obsessions in junior high and high school, from Keanu Reeves (oh yeah, I saw Dogstar, bishes!) to Newsies to the MMC. As a teenager, there's something so exhilarating about losing yourself in a band and feeling like their songs were written just for you. There's many a day in the cynical adult world when I wish I could be so unabashedly adoring of something. Then I come here and write a post about it, because FYA has replaced puff paint shirts as my swimfan outlet.
Bonus Factor: Road Trip
I am such a sucker for road trip books. The adventure! The eccentric small towns! The delicious junk food! And y'all, Summer, Tiernan and Alice's road trip does NOT disappoint. There's nudist swimming holes and sno cones and tacky hotels and dirty hippies and New Orleans debauchery (!) and so much more.
Bonus Factor: Austin, TX
When I heard that Austin was the location of the Level3 concert, I was pretty stoked. I mean, it makes sense, given that we are the (self-proclaimed) music capital of the world. And while it was fun to read about my city, it was even more fun to be a know-it-all about my city. Like, the Level3 concert would NEVER happen at Frank Erwin, esp. since the boys are from ATX. It would happen at Stubbs. And when one of the characters remarked on the "dry heat" of Houston, I almost spit up my wine because HA HA HA.
Anti-Bonus Factor: The Tease
The only thing I didn't enjoy about this book was the constant referencing of the "Winter Wonderland Dance" when the girls' friendship broke apart. Everyone kept thinking about it, but the truth wasn't revealed until the end of the book. And I get that this is a literary device to keep the reader engaged, but OMG STOP BRINGING UP THE WINTER WONDERLAND DANCE IF YOU'RE NOT GOING TO TELL US WHAT HAPPENED. It drove me BANANAS.
Relationship Status: Mosh Pit Buddy
Normally I like to maintain my personal space at a rock show, but when this book ended up next to me, I didn't mind at all. It was crazy enthusiastic and cute, and we had a blast dancing together. I didn't even mind when it accidentally elbowed me a few times, because we were both caught up in the thrill of the show. This book definitely knows how to have a good time, and if I see it at another concert, I'm totally buying it a shot of Jameson.
FTC Full Disclosure: I received a review copy from Simon & Schuster. I received neither money nor cocktails for this review (dammit!). Reunited is available now!