About the Book
Title:
Black Canary: Ignite 
Cover Story: Hand Drawn
BFF Charm: Big Sister
Talky Talk: Gateway Drug
Arty Art: Influenced
Bonus Factors: Friendships, Family
Relationship Status: Cheerleader/Groupie
Cover Story: Hand Drawn
I am a huge fan of Cara McGee's art, so I wish that this cover highlighted her skills more than it does. This cover also looks a little sloppy; the hand-drawn text is cool, and the colors really draw the eye, but why is the title so far to the left? It kind of looks like something a younger person would draw … But then again, maybe that's the point? And maybe all of my nitpicking has made me realize that all of the parts really work as a whole?
The Deal:
Middle School isn't easy, but for Dinah Lance, things are about to get a whole lot harder: all of a sudden, she can break things just by speaking at them. Dinah doesn't know where her new superpower came from, but it's seriously getting in the way of her plans to win Gotham City Junior High's Battle of the Bands.
BFF Charm: Big Sister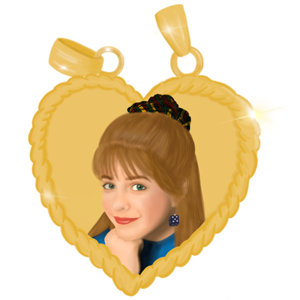 Dinah's very young and has a lot of learning/growing to do. She is only in junior high school, after all. I would have thought she was the absolute coolest when I was her age, but at this point in my life, I felt more sisterly toward her than friendly. I'd try to be a cool big sister, and help her through her body's weird changes—both superpower-related and otherwise.
Swoonworthy Scale: 0
Black Canary: Ignite is much more about Dinah figuring herself out—and spending time with her friends—than it is about the swoon. And that's OK!
Talky Talk: Gateway Drug
As it says on the cover of the book: "Meg Cabot [is the] reigning grand dame of teenage chick lit …" I mean, HRH Cabot wrote The Princess Diaries series, which are some of FYA HQ's all-time favorite books. Cabot is especially talented at writing slightly awkward young women who're trying to find their place in their world; give Mia Thermopolis some superpowers instead of an unexpected crown, and you've got Dinah Lance. (OK, maybe with a bit more rock and roll, too.)
Black Canary: Ignite isn't a long book, but I have a hope that it will serve as a great intro to a new generation of YA readers who haven't yet had the privilege of discovering Cabot's books.
Arty Art: Influenced
Page via DC Comics
I've been a fan of McGee's art for a long while, so I'm very familiar with her unique style. If you're not like me, however, you might see a lot of different influences in Black Canary: Ignite's art, from anime to Steven Universe. It's sweet and cartoony with a little bit of edge, which is perfect for this story.
Bonus Factor: Friendships
Dinah's relationship with Vee and Kat is SUPER adorable, even when it goes through some tough times. And their band? Absolute goals. (Yes, even for me, a 35-year-old woman.)
Bonus Factor: Family
It's more common than not for superheroes to have terribly sad origin stories involving the untimely and often horrific death of one or more parents. But both of Dinah's parents are alive—and they're wonderfully caring while being somewhat overprotective. It's nice to see a "whole" family in a comic.
Relationship Status: Cheerleader/Groupie
Our time together was brief, Book, but a ton of fun. I'm going to be rooting for you, in whatever way you need, when you need it.
FTC Full Disclosure: I received a copy of this book from DC Comics, but got neither a private dance party with Tom Hiddleston nor money in exchange for this review. Black Canary: Ignite is available now.