Cover Story: The Look of Love
BFF Charm: Big Sister
Talky Talk: Grounded (Mostly)
Arty Art: True Blue
Bonus Factor: Tasty Business
Factor: Just Go with It
Relationship Status: Summer Lovin'
Cover Story: The Look of Love
This is so lovely and indicative of the gentle romance blooming* between the two characters. It's not a big splashy moment, but in meme-speak, find you a man who looks at you the way Ari looks at Hector.
* This pun was inevitable, and you know it.
The Deal:
High school grad Ari can't wait to leave his small beach town behind. His family can't afford to send him to music school, so he's going to do the next best thing: move to the city with his bandmates and try to make it big. But it'd be a lot easier to get his parents on board if Ari could find them a good replacement for their struggling family bakery.
Enter Hector, who's taking a break after his first year of culinary school. And actually, Hector's a lot of fun to hang out with—so much so that Ari's enjoying working at the bakery for the first time in a long time. But the family business isn't the life that Ari wants… right?
BFF Charm: Big Sister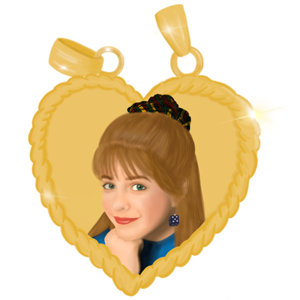 Ari's one of those characters whom I'd prefer to hang out with once he's a little bit older. As much as he butts heads with his parents, his heart is ultimately in the right place. But he can be bratty and sulky occasionally, and he has yet to recognize a toxic friendship for what it is. Ari's still growing, and sometimes making mistakes is the only way to learn. (Who hasn't been there, though?)
Swoonworthy Scale: 6
Ari and Hector become fast friends, but the romantic aspect develops more cautiously. (Ari doesn't even know whether Hector would be interested in guys, let alone him specifically, until they've known each other for a while.) Their chemistry might be sweet and cute, but it can also be total FIRE. And Hector definitely isn't afraid to call Ari out on his shizz, of which there is plenty.
Talky Talk: Grounded (Mostly)
The dialogue and plot feel realistic, with a few heightened incidents for DRAMZ in an otherwise lowkey story.
Arty Art: True Blue
OK, so this monochromatic color scheme is more accurately Real Teal, but that's a nonsensical idiom despite being technically synonymous. Any way you slice it, Savanna Ganucheau's artwork is exquisite. Her pictures really do speak louder than words, especially in the many wordless panels and full-page spreads throughout the book.
Bonus Factor: Tasty Business
Bagels, baguettes, baklava—Kyrkos Family Bakery does it all. (Ari's parents even make their own phyllo!) And if that wasn't enough reason to make sure not to read on an empty stomach, there's even a little bit of Samoan food, courtesy of Hector's grandmother's old recipe book.
Factor: Just Go With It
My brain can be annoyingly nitpicky about minor details that do not matter one iota, which is how I get fixated on the most inconsequential stuff. I mean, it's plausible that teenagers in 2015, which is when the book is set, could have watched Captain Planet despite being born after its original run ended, or that they'd be burning mixed CDs instead of curating a playlist.
But then I start wondering about the bakery's business model. They're not suffering because of product quality, so why haven't they tried any social media promotion? Have they considered that they're overextending themselves by offering basically every variety of baked goods under the sun and also taking care of their own deliveries? I know the minutiae of running a small business doesn't make for a scintillating story, but these are the kinds of things that my mind gets stuck on.
Relationship Status: Summer Lovin'
Indeed, I had me a blast and it happened so fast. But I'd rather not dwell too much on our time together, or I'll start thinking about the small peeves that might make us incompatible. Let's just stay in the pleasant cocoon of summer love and bask in the cuteness, OK?
FTC Full Disclosure: I received my free review copy from First Second. This review was originally posted on Kirkus Reviews in exchange for monetary compensation, which did not affect or influence my opinions. Bloom is available now.