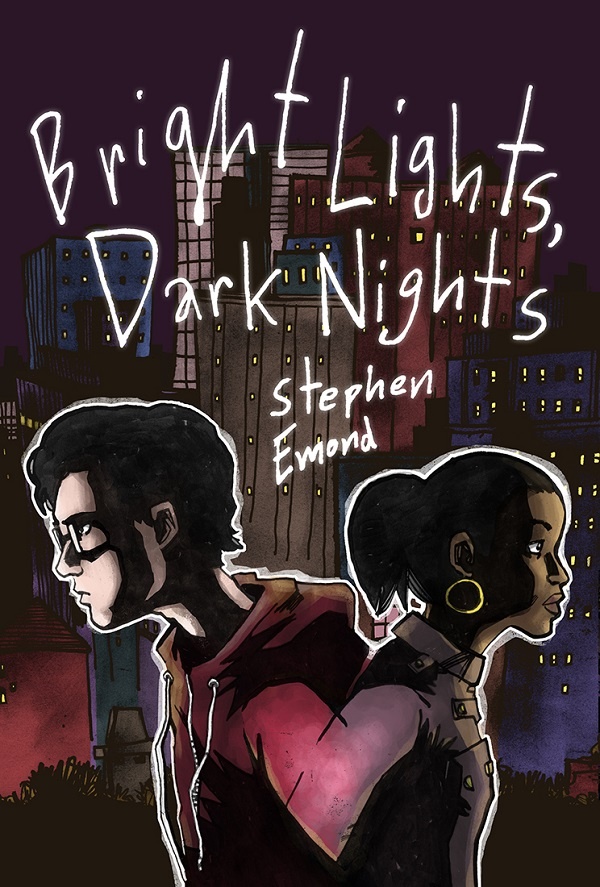 About the Book
Title:
Bright Lights, Dark Nights
Cover Story: The Heart of the City
BFF Charm: Big Sister
Talky Talk: Too Close for Comfort
Bonus Factors: Illustrations, Music
Anti-Bonus Factor: Internet Trolls
Relationship Status: It's Not You, It's Me
Cover Story: The Heart of the City
Seeing as the cover was illustrated by the author, it unsurprisingly sums up the book pretty well. The not-so-hidden heart is a nice touch, even if it makes Walter and Naomi look a little like a fused-at-the-back superhero watching over the city. (For the record: would also read.)
The Deal:
Walter Wilcox is perfectly content with a small circle of friends and a dramz-free high school existence. But then he gets to know Naomi Mills, who can match him quip for quip and totally gets his sense of humor. As the two of them grow closer, their city grows more tumultuous between haves and have-nots, Black and white—dividing lines that Naomi and Walter fall on opposite sides of. With the world around them tearing itself apart, are they willing to fight for their love to stay together?
BFF Charm: Big Sister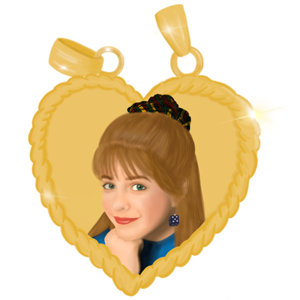 Walter might be a little young and awkward, but he's a good kid whose love of both noir and rap would at least make for an interesting little brother. He already has a big sister, but I'd gladly join the older sibling brigade to help him reconnect with his estranged mother, and to offer guidance when the going gets tough.
Swoonworthy Scale: 5
From their very first convo, Walter and Naomi have a comfortable and adorable rapport that's incredibly easy to cheer for. And they'll need all the support they can muster against the waves of unwanted opinions that they shouldn't be together (more on that later).
Talky Talk: Too Close for Comfort
Oh, man. So many emotions to unpack here. (Semi-spoilers ahead.) 
So, Walter's dad is a cop that gets accused of using excessive force against a Black teen suspect, which simultaneously feels too close and not close enough to the real-life headlines of racially motivated police brutality. Too close, in that those stories are occurring at a heartbreaking rate, and not close enough, because the cynic in me doubts that a case involving only ("only") assault would make as much of an impact in national news these days. It should, but it might not, given that much worse has happened and is happening to Black people all too frequently lately. Not that I'm saying that the book's conflict should be violently mirroring reality, either. The book's already terrible situation just exists in a more innocent world than the one we actually live in, and what a damn bummer that is. 
Like I said—MANY EMOTIONS. Some that I keep typing and deleting because I'm not sure how to navigate this veritable minefield. Needless to say, I was super tense and on edge for most of this book.
Bonus Factor: Illustrations
As with Emond's previous YA novels (Happyface and Winter Town), there are illustrations included throughout this book. Aside from the cover, the drawings focus on the city and the settings of specific scenes. Be they full two-page spreads or placed next to the text, the artwork is immensely atmospheric and immersive.
Bonus Factor: Music
An early blurb mentioned a "mutual love of the Foo Fighters," and SHIZZ YEAH I WILL READ ANY YA ABOUT FOO FIGHTERS LOVE. Even though Walter and Naomi have an inside joke about Dave Grohl and there's a Foo Fighters concert in the story, "mutual love" is a bit of an oversell, since Naomi's really the one who loves them and Walter's more into rap.
And I call total b.s. on so many aspects of that concert, esp. being able to chat up people on the floor without screaming into the ears of someone standing two inches away. Not that the inaccuracies diminished my enjoyment, but this experience bears very little semblance to any of the four Foo shows I've been to. 
Anti-Bonus Factor: Internet Trolls
What's the one internet rule to follow? DON'T READ THE COMMENTS. Sure, there are exceptions—hi, FYA readers!—but it's especially true for controversial current events, like the one that Walter's dad is embroiled in. And because human beings are the worst, Walter and Naomi's relationship gets dragged into the whole debacle, too. That feeling of losing faith in humanity in 140 characters or less? YUP. 
Relationship Status: It's Not You, It's Me
Book, I hate to do this, since there are so many reasons why we should be a match. (Foos! Diversity! Artwork!) While your timeliness can be beneficial, it kind of just makes my heart hurt that the real world is in such a mess that this barely scratches the surface of the racial turmoil in society. Still, I'm glad to have met you, and I know a book like you won't—and shouldn't—stay on the store shelves for too long, so I wish you all the happiness with other readers.
FTC Full Disclosure: I received my free review copy from Roaring Brook Press. This review was originally posted on Kirkus Reviews in exchange for monetary compensation, which did not affect or influence my opinions. Bright Lights, Dark Nights is available now.