Cover Story: That's Hot
BFF Charm: Mixed Bag
Talky Talk: Nessy
Bonus Factors: Dragons, [REDACTED]
Anti-Bonus Factor: 1950s Small Town
Relationship Status: Intrigued
Content Warning: Burn features scenes of racism, homophobia, police brutality, attempted sexual assault, and violence. Please read carefully if any of these things might be triggering.
Cover Story: That's Hot
This cover is almost minimalist in its simplicity, and I love that about it. There's fire, there's a dragon—what more do you need?
The Deal:
It's 1957 and Sarah Dewhurst and her father are struggling to make ends meet at their farm in Frome, Washington. They can't afford a human to help them, but they can afford a dragon. Clearing fields isn't the only thing on the dragon's mind, however; there's a prophecy about this time, this place, and a girl who just might be Sarah—and it foretells the end of the world as everyone knows it.
BFF Charm: Mixed Bag
Burn is told from multiple POVs. Some of the characters are people I'd totally be friends with, like Sarah, a young woman who feels very alone in her small town—thanks in part to her mixed-race heritage—but is stronger than she knows and whose willingness to follow her curiosity, even if it means facing danger, is enviable. There are others, like the mysterious boy who calls himself Malcolm, who might be a sociopath and is definitely dangerous. (So, obvs, I have some reservations about that friendship.) And then there's the dragon, who I'd totally be friends with, even if he viewed me as a lesser entity not entirely worthy of his attention. I mean, he's a dragon.
Swoonworthy Scale: 5
Sarah and her neighbor, Jason Inagawa maybe have a thing going on, but there are larger things at play in Burn than young love.
Talky Talk: Nessy
The simplicity of Burn's blurbs fail to fully depict the book's wide array of topics and themes. One might imagine it as standard historical novel—a young woman and father hire someone to work their farm, with dragons in the place of your standard farmhands—but it escalates quickly into a novel that's much more than it seems. Dragons and the prophecy are only one part of the book; Ness also factors in too-timely subjects like race relations—Sarah's half-Black and their neighbors, the Inagawas, were forced into an internment camp in Idaho during WWII—and police brutality.*
And then there are the more science fiction-y aspects of the book, which I didn't see coming and won't go into here because spoilers, and the cult storyline … There's so much more to Burn than meets the eye, but Ness makes it all work together cohesively with a skill that's truly impressive. Ness also infuses a lot of wit into Burn; his commentary is both cutting and honest while causing a laugh. For example:
"That had made Sarah think of her mother, who had also felt the need to teach Sarah a lot about a world where things might not be easy for her. Sarah felt that any world that needed this many lessons must have something deeply wrong with it."**
*It honestly felt a little weird and more than a little heartbreaking to feel so connected in this moment to this book, which, as I mentioned, is set in 1957. We have to stop history from repeating itself, y'all! Or stop all of these terrible themes from being so pervasive and never-ending!
**I pulled this line from the ARC; it might be different in the final version.
Bonus Factor: Dragons
Burn's dragons are snarky, self-possessed, aloof creatures who are willing to do menial labor for meager amounts of precious metals and yet seem above it all at all times. Perfectly dragony, I say.
Bonus Factor: [REDACTED]
There's a really cool twist about halfway through Burn that changed the book in a really fascinating way, but I can't tell you what it is without ruining it for you. Just know that I found it totally unexpected, in a good way. (For a hint, it has to do with Aaron Burr and money …)
Anti-Bonus Factor: 1950s Small Town
There's so much pain hiding underneath the surface of Frome, Washington, in 1957. And the fact that I know small towns haven't changed all that much since then makes it all the more heartbreaking. (See Content Warning at the top of this review for specifics.)
Relationship Status: Intrigued
You really surprised me, Book, in both exciting and uncomfortable ways. You were nothing like I expected, but you showed me a really good time, regardless. I'm willing to see where this goes, if you are?
Literary Matchmaking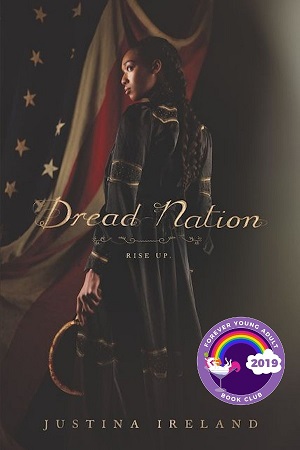 Dread Nation (Dread Nation #1)
And for another historical fiction book with a decidedly "this is not how history went" story, check out Justina Ireland's Dread Nation duology.
FTC Full Disclosure: I received a copy of this book from HarperTeen, but got neither a private dance party with Tom Hiddleston nor money in exchange for this review. Burn is available now.