About the Book
Title:
The Fear (The Enemy #3)
Cover Story: Bad. Ass.
BFF Charm: Make It Rain & Nay
Talky Talk: OH SHIZZTASTIC
Bonus Factors: Evolving Zombies
Relationship Status: You are my favorite
Cover Story: Bad. Ass.
I love the way the cover designs for this whole series captures the chilling nature of the books. Plus, the part of me that wishes Halloween were all year 'round thinks they're pretty.
The Deal:
The events that happen in The Fear begin 5 days before the end of The Dead. DogNut, Courtney and a few other kids are setting out from the Tower of London in search of Brooke, as well as to find out how many other groups of kids like theirs are surviving against the zombified mothers and fathers.
As is required by the Zombie Handbook, shit goes cray.
BFF Charm: Make It Rain, Nay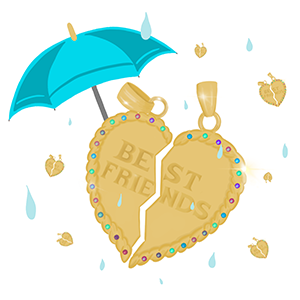 When I read the first book in the series, The Enemy, I immediately fell in love with SO many characters, and was amazed by how Higson managed to make each member of such a large cast feel developed. In the second installment, The Dead, while I liked most of the new characters — especially the three chavtastic girls, Brooke, Courtney and Aleisha — it was really all about the relationship between Ed and Jack. Everybody else felt a little two-dimensional. Now in this third episode, Higson takes some of those lesser-fleshed-out folks and gives them the depth I was looking for. I loved getting to know DogNut and Courtney, and having them break my preconceived notions about them. And then there was Shadowman, who replaced Small Sam in the "character I was most worried about" category. Ugh!!! Charlie Higson why you want to give me an ulcer?
Another character we get to see a whole lot more of is Jester. And, man, Jester. I feel bad for you, I do. But I think there's a mother or a father out their with your name on them.
Swoonworthy Scale: 4
This is certainly the swooniest of The Enemy books, with some of the kids trying to navigate the minefields of unrequited love and idiocy while still trying not to get eaten. Also 12-year old Jenny was totally crushing on Shadowman.
Talky Talk: OH SHIZZTASTIC
Charlie Higson. Seriously. How do you do it? How do you write a series where each book delivers THE most pulse-pounding, heart stopping, I-have-to-close-the-cover-sometimes-just-to-catch-my-breath story I've ever read? And WHY are you so MEAN?!!!! And also? You are SO gross. And I mean that in the nicest way possible.
I finished this book a week ago, and last night, I STILL had a dream about trying to escape zombies.
Bonus Factor: Evolving Zombies
What is the most scary monster in the world? (You might ask) It's not vampires, or werewolves, or racists, or even a snake riding a shark! It's a zombie who can learn!!!! (Well, okay, maybe actually the racist…)
The kids from the previous books aren't the only characters we revisit…
Relationship Status: You Are My Favorite
Listen, The Enemy series. I love to read. I love LOVE to read. I'm the person who chooses to stay home with a good book instead of going out on the town. Given that knowledge, you wouldn't be wrong if you assumed that I might have a hard time being faithful to you (in the strictest sense of the word), were we to attempt a monogamous relationship. So instead of trying to get all traditional with defining things, why don't we follow the advice of life guru and all-around expert, Ice T? When we're together, we're TOGETHER. When we're not… let's not even ask each other what goes down, okay? Just know this: you are my favorite.
FTC Full Disclosure: I purchased my own review copy. I received neither money nor cocktails for writing this review (dammit!). The Fear is available now.