About the Book
Title:
Caraval (Caraval #1)
Cover Story: Tasteful
BFF Charm: Natalie Imbruglia
Talky Talk: Colorful
Bonus Factors: The Forbidden Game, Magic
Relationship Status: Enchanted
Cover Story: Tasteful
I can easily picture the idea board for this cover, which probably featured phrases like "shadowy man in top hat" and "big face surrounded by roses." So high five to Flatiron Books for keeping it classy with this elegant design that hints at the fantastical.
The Deal
Ever since she was a child, Scarlett Dragna has dreamed of attending Caraval, a traveling show of marvels and delights helmed by a mysterious man named Legend. Her grandmother's stories of this epic performance always bewitched her imagination, but over time, Caraval came to represent an escape of a different sort–a way for Scarlett and her sister, Donatella, to flee from their cruel and violent father.
Now, at the age of 18, Scarlett has settled for a more realistic path to freedom through an arranged marriage to a stranger, who promises in letters to provide a place for Tella as well. It's as good of an offer as Scarlett is likely to get…until an invitation arrives straight from Legend himself.
In less than 24 hours, Scarlett finds herself immersed in a world where nothing is what it seems. Tella, vanishing upon their arrival at Caraval, has suddenly become the prize of the game, and the only person who can help Scarlett find her is Julian, a devious sailor with ulterior motives. The clock is ticking, and as the search for Tella leads Scarlett through challenges both dazzling and dangerous, she must solve the greatest puzzle of all: her own heart.
BFF Charm: Natalie Imbruglia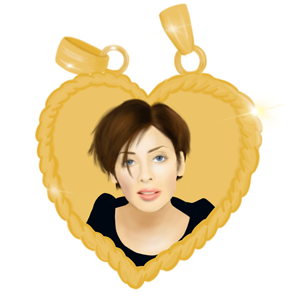 I'm super torn, y'all. Scarlett is an incredible sister to Tella, and she'll go to any lengths to protect her. In spite of her abusive upbringing, she's a real sweetheart, though underneath that compassionate demeanor lies a steely determination. I liked her, and I wanted her to save the day, but I also grew impatient with her wide-eyed innocence and, related to that, her uptight nature. I mean, I get it, she wants to cling to a sense of safety, and her arranged marriage is a sure thing, but girl, you are in the middle of a wild, amazing adventure, a once in a lifetime opportunity. Let your hair down a little and ENJOY IT.
Swoonworthy Scale: 8
Julian emerges on the scene as a total scoundrel, which is another way of saying he's devastatingly hot. With a handsome face hiding any number of secrets, he's not to be trusted, and yet he seems to want to help Scarlett. Or does he? The only thing that's certain is the need to wear some kind of safety glasses while reading this book, because SPARKS DOTH FLY.
Talky Talk: Colorful
Stephanie Garber brings Caraval to life with richly vivid descriptions that will transport you and all five of your senses into a spectacular world:
The canals were circular, like a long apple peel spread out around curving lantern-lit streets, full of pubs piping russet smoke, bakeries shaped like cupcakes, and shops wrapped in colors like birthday presents. Cerulean blue. Apricot orange. Saffron yellow. Primrose pink.
Her writing is meant to be savored, with words that softly linger under your nose and melt on your tongue:
She didn't realize how toasty it had been in the tavern until she escaped into the brittle evening. Crisp, like the first bite of a chilled apple, smelling just as sweet, with hints of burnt sugar weaving through the charcoal night air. Around her, the people on the street were as thick as a murder of crows.
This chromatic vibrancy extends beyond the setting and into the mind of Scarlett, who sees emotions as colors. While there's plenty of action and excitement, reading this book is like walking through a gallery of paintings right before the museum closes–you can't help but feast your eyes on each canvas before racing to the next.
Bonus Factor: The Forbidden Game
While this story is a little more developed and a little less '90s than L.J. Smith's trilogy (an object of teenage obsession that I never grew out of), there are certain similarities: the scavenger hunt-style quest, the gray line between good and evil, the unnerving possibilities of deception. Oh yeah, and a super-sexy bad boy named Julian.
But Caraval steps it up a notch (or five) when it comes to layers of intrigue. You might think you know what lies ahead, but this labyrinth ain't messing around with its twists and turns.
Bonus Factor: Magic
It's clear that Garber had a blast while concocting the elements of Legend's empire, which boasts a Diagon Alley's worth of eccentric shops and curiosities. I particularly enjoyed Scarlett's charmed dress that changes in both style and color in the span of a second (and has a mind of its own).
Relationship Status: Enchanted
Book, you wooed me with beautiful language, enticed me with intrigue and straight-up wowed me with imagination. I quickly fell under your spell, and after our date ended with that spectacular finale (!!!), I'm counting down the days until our next rendezvous.
FTC Full Disclosure: I received my free review copy from Flatiron Books at BEA 2016. I received neither money nor cocktails in exchange for this review. Caraval is available now.