About the Book
Title:
Murder in Mesopotamia (Hercule Poirot #13)
Cover Story: Grossly Inaccurate
BFF Charm: Eventually
Talky Talk: Sit Up and Pay Attention
Bonus Factors: Cocktails!
Relationship Status: Friends With Benefits
Cover Story: Grossly Inaccurate
With an emphasis on the gross. I love how these vintage covers have nearly nothing to do with the actual story! I wish we uncovered an altar with a skull and pearls on it in this book, that sounds pretty awesome.
The Deal:
Our narrator this time out is Nurse Leatheran, who is hired to oversee the nervous wife of Dr. Leidner, an archeologist. They are on a dig in the Middle East, and everyone on the trip feels a weird vibe. What do you know? Mrs. Leidner is found dead in her locked room, and suddenly everyone is a suspect, especially since the crew is out in the middle of nowhere. One of them had to have done it. Why was Mrs. Leidner so nervous? Lots of reasons, it turns out, the most important being the return of her long-thought-dead jealous husband! Lucky for us, Hercule Poirot is traveling through (on his way to the Orient Express, I believe). He steps in to try and provide an answer to this locked room mystery.
BFF Charm: Eventually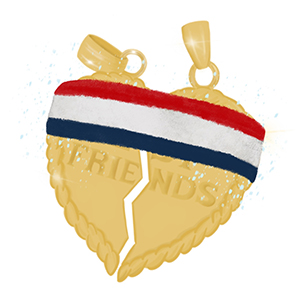 Having a new narrator takes some getting used to. I eventually cam to like and respect (and trust) Nurse Leatheran. She always speaks her mind, and is good at forming accurate opinions on folks, so, yeah, she's pretty cool once you get to know her.
Swoonworthy Scale: 1
There are some adulterous affairs talked about, proven, hinted at, but overall there was very little to no swoon in this novel. I also find the idea that Mrs. Leidner wouldn't recognize her long-lost husband, even if she was living in a house with him at this dig, and especially if she had lots of deeply personal interactions with him, totally far-fetched.
Talky Talk: Sit Up and Pay Attention
Christie does it again with her classic misdirection, laying all the clues out for us to pick up and then giving us the correct answer right at the very end. I can say for certain I thought I was on to something (more than once), but I ended up not having the right solution after all.
Bonus Factor: Cocktails!
Yes! Just when you were thinking, "I need a new drink in my life," here we are! Actually, in all fairness, this is a new take on a drink that already exists, but it fits nicely with the heat and the dust of this mysterious tale. This recipe came about as a way to make Fireball at home (which, if you haven't had Fireball, it's a delicious cinnamon-flavored whiskey which really tastes like the old fireball candy!). Here's how to make your own "Murder in Mesopotamia:"
2 oz. Your choice of cheap whiskey (nothing fancy here)
1/2 oz. Simple syrup
1/4 tsp Ground cinnamon
Stir together in a shaker and pour into your favorite tiny (shot) glass. It's hot, and it's a little dusty, and I think it's suits this book just fine. Enjoy!
Relationship Status: Friends With Benefits
We definitely can see each other from time to time, book. You're a fun one, although you will never be my main squeeze.
FTC Full Disclosure: I received neither money nor cocktails for writing this review (dammit!). Murder in Mesopotamia is available now.
---
About the Contributor:
Jill Brumer has been reading murder mysteries since she was old enough to wrap her hands around a Nancy Drew book. She can be found most days in Houston sewing or teaching others to sew.