Cover Story: Boring Shades of Grey
BFF Charm: Yay!
Talky Talk: Straight Up With a Shot of Adrenaline
Bonus Factors: Post-Apocalyptic New York City, Sisters
Relationship Status: Hot Date
Cover Story: Boring Shades of Grey
If I were to judge this book by its cover, here's what I would surmise about the story:
– It takes place in NYC. (True)
– It takes place in the winter. (True)
– It's about a war and people dying. (True)
– There's lots of dead trees. (False)
Aaaand that's about it. Nothing about the cannibals in the subways or the bombed out buildings or the death matches or ANYTHING INTERESTING ABOUT THE BOOK.
The Deal:
Sky and her younger sister Phee live with their mother Sarah in New York City. Except it's not the Big Apple as we know it. Pulverized by the Red Allies' bombs during the third world war, the city is a hollow shell of its former self, and years later, the few survivors remain trapped in Manhattan as prisoners of the enemy. It's a bleak existence, but it's all Phee and Sky have ever known, and Sarah takes great care to give them freedom–holing up in an old Wall Street apartment, hunting for food and scavenging for books and other forgotten treasures.
Now that winter is coming (Game of Thrones reference unintended), the trio must travel to Central Park to participate in the P.O.W. census and gain safe lodging under the roof of Rolladin, the tough as nails warden. But a slight accident on their journey sets off a chain of events that expose Phee and Sky to terrible truths about their world, which is about to come crashing down. HARD. REAL HARD.
BFF Charm: Yay!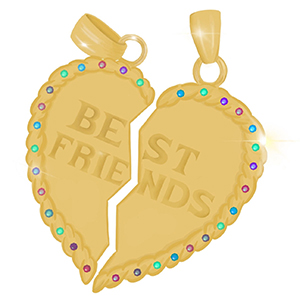 The book begins from Phee's point of view, and right away, I was sold. Yes, she's young and impulsive, but she's also bold and dynamic, and I had a blast walking in her badass shoes.
Phee gets a charm because I admire her, and Sky gets a charm because I am her. Or, at least, we're very similar. She's a bookworm, not a fighter, but that doesn't make her a pansy. When push comes to shove*, Sky flexes her (brain) muscles and fights back, revealing a hidden reservoir of strength.
*Even though Sky faces certain death several times, the scenario that pained me the most was when she was forced to give up one of her precious books. That's some Sophie's Choice shizz right there.
Swoonworthy Scale: 6
In the midst of their brutal adventure, Phee and Sky encounter Ryder, a British boy who has recently landed in Manhattan with several other explorers. Naturally, they both fall for him, because BRITISH BOY. He's a total dream: smart, smokin' hot and sensitive. Sparks definitely fly with a certain sister, but overall, there's not much K-I-S-S-I-N-G. Probably because there's so much D-Y-I-N-G.
Talky Talk: Straight Up With a Shot of Adrenaline
If you're a The 100 junkie like me, this book's mixture of action and emotion is a good fix. Lee Kelly doesn't mince words, but she takes the time to establish a compelling backstory so that the moments of violence really pack a punch. With nimble dialogue and vigorous pacing, City of Savages is primed for devouring, and even a few obvious twists won't hinder you from swallowing this story whole.
Bonus Factor: Post-Apocalyptic New York City
The NYC in this book is much like the setting of I Am Legend, except instead of zombies, there's cannibals in the subways and psycho warlords and "holdouts," i.e. humans who have gone rogue and a little insane in the membrane. In other words, it's super rad.
Bonus Factor: Sisters
Phee and Sky's relationship is the central focus of the novel, and as they alternate between fierce love and petty squabbling, a connection emerges that feels incredibly genuine and powerful. What I'm saying is, reading this book made me wish I had a sister. (Even if she drove me crazy from time to time.)
Relationship Status: Hot Date
Book, when you said you'd take me out, you weren't kidding. Our time together was a whirlwind of excitement, and while some of your plans failed to surprise me, there was never a dull moment between us. Sure, you didn't leave a lasting impression, but it's not like either of us was looking for something serious*, and thanks to your thrilling personality and thirst for danger, I certainly got my kicks.
*Being a stand-alone only makes you sexier.
FTC Full Disclosure: I received a review copy of this book from Saga Press. I received neither cocktails nor money in exchange for this review.