About the Book
Title:
A Court of Silver Flames (A Court of Thorns and Roses #4)
Cover Story: Switcheroo
BFF Charms: Caution, Yay
Talky Talk: Issues and Healing
Bonus Factor: Friendships, Training
Anti-Bonus Factor: Males
Relationship Status: Still Digging You
Red alert! A Court of Silver Flames is the fourth (full) book in the Court of Thorns and Roses series. If you have not read the other books in this series (A Court of Thorns and Roses, A Court of Mist and Fury, A Court of Wings and Ruin, and A Court of Frost and Starlight) man your battle stations turn away now, as there might be spoilers in this review. If you're caught up, however, feel free to continue below.
Content Warning: This book features physical, emotional, and sexual abuse; talk of rape; mental health issues; PTSD and other trauma; violence to females at the hands of males; and general battle violence.
Cover Story: Switcheroo
As I said in my review of the previous book in this series, I was fine with the faceless woman covers. But I guess they didn't take my "if it ain't broke …" advice to heart, and have since completely changed the direction of this series's covers (and reissued the previous books with new covers, too). I have a strong guess that was a decision based largely in part to move the series away from the YA genre—which, fine—but I don't know that moving so far in the opposite direction was the best way to go? This is a very elegant cover, and the use of limited color is striking. But I'm really not getting the mask (?) and all the pieces that make it up. Also, the fact that it's so heavily weighted toward the left makes me a bit twitchy. (I like symmetry!)
(Full disclosure: I totally bought a new set of these books in paperback with the new covers because I am a completist and I like how colorful they are. But I still wish publishers wouldn't make such drastic moves in the middle of a series.)
The Deal:
Nesta Archeron has reached rock bottom—or so her friends and family think. They've had enough of her drinking and sleeping around and generally shitty attitude. So they give her an ultimatum: train with Cassian and work in the library at the House of Wind, or return to the human lands without support of any kind. Nesta knows she can't return "home," so she takes the first deal … but she isn't going to make it easy on anyone who's trying to help. Especially Cassian.
BFF Charms: Caution, Yay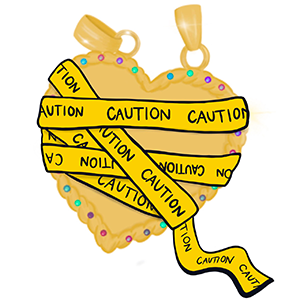 In my review of A Court of Frost and Starlight, I included Nesta as an Anti-Bonus Factor. So I was a bit hesitant coming into A Court of Silver Flames. An entire book about Nesta? Eh … Diving in, I was still side-eyeing the idea, and it took me a long while to really like Nesta. I pitied her and felt for her, but her incessant ugliness toward everyone was so, so grating. But I get her better, now, and—spoiler alert—I really liked her by the end of the book. But it was a definite uphill battle.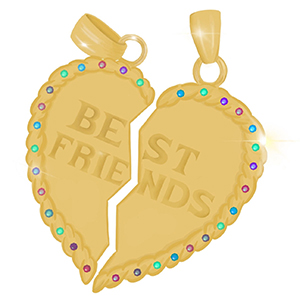 Cassian has never been my favorite of the trio of Rhysand, Azriel, and him. I liked him well enough, but he's the himbo of the group, and although himbos are fun, they're not often, well, deep. (I'm not trying to be rude; that's a known character trait!) But learning more about him through his own POV was pretty eye-opening. He's got a lot more going on behind those muscles and fighting skills, and it was great getting to see that. I also have to ask his forgiveness, because I definitely judged him by his cover. I should know better!
Swoonworthy Scale: 7*
It's hard to categorize the swoon of this book. On the one hand, it is graphic. (As you'd expect from a book in this series; Maas certainly knows how to turn up the heat.) But the sex scenes, for much of the book, are removed of feelings—or, at least, feelings that either of the parties will fess up to. Don't get me wrong, I'm fine with sex for sex's sake, but swoon, for me, means that there's an element of romance to the act as well. So that's where the asterisk in the rating above comes from.
There was one scene that had me cringing really hard, though. It was supposed (?) to be sexy, but it was everything but. It was the culmination of a lot of, um, spilling that happened in this book. I'll pass, thanks. (The line's in Chapter 58 or page 610 in the Kindle version, if you want to look it up. I really don't want to type it out here.)
Talky Talk: Issues and Healing
Although there's a larger, world-affecting plot in A Court of Silver Flames, the true plot of the book is about Nesta's growth, healing, and acceptance of who she now is. It's a rough road to travel, both for her and for the reader. Maas doesn't shy away from being brutally honest about mental health issues and the struggle it takes to overcome self-loathing and self-doubt. She also doesn't shy away from other brutal issues in the book—as documented in the Content Warning above—but the book isn't all doom, gloom, and heartbreak. Reading Nesta's path to healing was almost cathartic; I'm glad Maas decided not to leave her to "rot" and crafted a story that shows what an actual badass she is while also not making excuses for her behavior.
Bonus Factor: Friendships
One of the strongest and best relationships in A Court of Silver Flames isn't between Nesta and Cassian, and it isn't a romantic relationship. Through her time at the House of Wind, Nesta makes connections with other female fae who have their own traumas to battle. Reading their relationship's evolution is an absolute delight and full of the most fist-pumping of moments, and is by far my favorite plot point of the story.
Bonus Factor: Training
I hate exercising. I have never found a program that I could stick with longer than a few months. I know I should be more active, but … I just don't have it in me. And yet, the training that Nesta goes through intrigues me. It seems like it would be WAY harder than anything I've ever tried, and I likely wouldn't make it through, but it might actually be worth it in the end? At least for the title.
Anti-Bonus Factor: Males\
It's hard to imagine, but I think Fae males might be worse than human ones? The alphahole mentality is strong in them.
Relationship Status: Still Digging You
I wasn't sure we'd connect as well as I did with your siblings, Book, but thank you for pleasantly surprising me and making me check myself when it comes to being so judgemental about folks who are going. through. it.
Literary Matchmaking An Enchantment of Ravens
And for more "fun" with the fair folk, read Margaret Rogerson's An Enchantment of Ravens. (Quotes because dealing with the Fae is never entirely fun.)
FTC Full Disclosure: I bought a copy of this book with my own money and got neither a private dance party with Tom Hiddleston nor money in exchange for this review. A Court of Silver Flames is available now.