Cover Story: Meet Cute Magic
BFF Charm: Big Sister
Talky Talk: Jump In
Arty Art: UwU
Bonus Factors: Tasty Business, Magical Technology
Relationship Status: Let's Cuddle
Cover Story: Meet Cute Magic
There's definitely something witchy going on with these two individuals, and I'm not just saying that because of the broom.
The Deal:
Ray is a student at the Council Academy, working toward an internship with the Council itself. She's a seer—but she doesn't see the future, she sees the present. It's a unique gift that the Council will find very useful, but it's also a frustrating gift for Ray, and it's caused her to be somewhat closed off and reserved around new people. Laurie works at his aunt's bakery, but his true passion is music. Ray's taken notice of him, but the two have never made a connection until they end up waiting at the same bus stop in the pouring rain—and she realizes that he's noticed her, too.
BFF Charm: Big Sister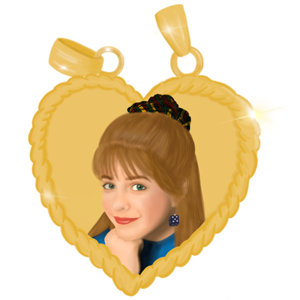 Ray reminds me a lot of myself as a youth—she's driven to do well in school because she thinks it's expected of her. She's not entirely sure that the path she's on is the one she wants to be on, or if it's the route she's going because it's the one she's been on for forever. She's also struggling with her feelings for Laurie; he's wonderful, but it's hard to get close to people when you can't touch them without seeing truths they might not want you to see. I feel for her and would love to be a sounding board for her thoughts and feelings. I'm not magical or a trained therapist, but I am a good listener!
Swoonworthy Scale: 6
Ray and Laurie are adorable, and their slow-burn romance is just as cute. But they have their struggles; Ray's gift keeps them at a literal arm's length for a while, and Laurie's a people pleaser to a fault, which isn't good for him or the people he's in a relationship with. But I can see these crazy kids working out just fine.
Talky Talk: Jump In
Crumbs is a truly sweet story about a young woman who's struggling to find her place in life, in both her career and in romance. The story doesn't offer much in the way of background information, and it took me a little while to fully understand the way the world—and the magic in it—worked. And it's still not totally clear by the end of the book. That said, it's a graphic novel, and space for exposition is limited. I would have liked a bit more explanation, but that's not really a fault of Stirling's writing, more my expectations and the limitations of the medium.
I do have to applaud her for her deft hand at crafting Laurie's personality, though. His faults are slowly revealed in a way that makes it obvious at the end that they were there all along. It's very cleverly done!
Arty Art: UwU
The art of Crumbs is as sweet as the pastries from Marigold's Bakery (see: Bonus Factor: Tasty Business, below). I'm not sure if the copy I read, as it was an advanced review copy, was the final-final-FINAL.doc version; it felt a little loose and unfinished in parts, but that could just be the style Stirling was going for. Overall, I can't think of a better way to describe it than UwU, which the Internet (and my personal experience on the Internet) tells me is an emoticon that's supposed to depict a cute face and is "used to express various warm, happy, or affectionate feelings." All of which shine through in the panels in this book.
Bonus Factor: Tasty Business
Ray is a regular at Marigold's Bakery and always orders the same item: Romance, which looks like a piece of toast with jam but is much more than that. Marigold infuses magic in all of her goods and each one elicits feelings in the consumer. Other Marigold offerings include Confidence, Contentment, Peace, Focus, etc. I would 100% be a regular there, too, if I could get a boost in some of these things!
Bonus Factor: Magical Technology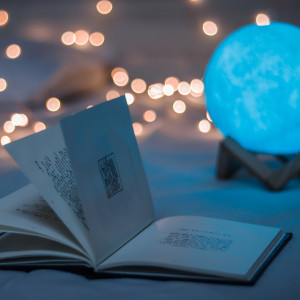 The technology in this book is heavily influenced by the magic in the world, from the reliance upon broom travel to the cute little spirits that live inside folks' mobile phones. I like Siri fine, but I would love an AI assistant that floats around like a little ghost.
Relationship Status: Let's Cuddle
You're so dang cute, Book. Can we grab a cup of Peace and curl up in large armchairs by the fire together? We can order slices of Contentment later when the rain starts.
Literary Matchmaking
Bloom
Kevin Panetta and Savanna Ganucheau's graphic novel is another sweet story that involves a family bakery.
The Prince and the Dressmaker
Jen Wang's graphic novel also deals with cute young folk figuring out who they are and trying to brush off the expectations of others.
FTC Full Disclosure: I received a copy of this book from Etch/Clarion Books, but got neither a private dance party with Tom Hiddleston nor money in exchange for this review. Crumbs is available now.