About the Book
Title:
Days of Blood & Starlight (Daughter of Smoke & Bone #2)
Cover Story: My, What Big Eyes You Have
BFF Charm: Platinum Edition
Talky Talk: Exception and Exceptional
Bonus Factors: Languages, Change of Scenery
Factor: War
Relationship Status: This Could Be the Real Thing
Content Warning: I'm about to spoil the pants out of the first book in this series, Daughter of Smoke & Bone. And trust — you do NOT want your pants spoiled, as per my scatological choice of words. I'll do my best to avoid spoilers for Blood & Starlight, but Smoke & Bone is fair game; proceed at your own risk!
Cover Story: My, What Big Eyes You Have
And my, what Big Faces this series has! But you know what? I actually like this cover the best out of the trilogy. And I'm all about sticking with a theme, so at least it's consistent with the established Big Face precedence. Though I can't say the same for the finish on the covers I have; Smoke & Bone is glossy, but most of Blood & Starlight is matte, WTF?! And yes, I've spent far too long stroking my books while writing this (not a euphemism).
The Deal:
OOH BOY. Since last we saw Karou, she's discovered that she's actually a revenant of the chimaera Madrigal. Her memories from her past life in Eretz have been unlocked — memories of falling and being in love with Akiva, and memories of getting executed for it. And now that they've been reunited on Earth, it feels so good, right?
LOL NOPE. Before Akiva found out the truth about Karou, he thought that her de facto father Brimstone was an enemy, not an ally. And so the only family Karou has ever known is now dead, and it's all at the hands of the guy she loves. (Beat THAT, everyone else's teenage angst.)
With Akiva's betrayal still fresh in her mind, Karou enlists in the help of Razgut, the Fallen seraphim, to guide her to a portal to Eretz. But it's been months since she left; where is Karou now? And with the memories of her past life restored, what lengths will she go to in the name of vengeance for her people?
BFF Charm: Platinum Edition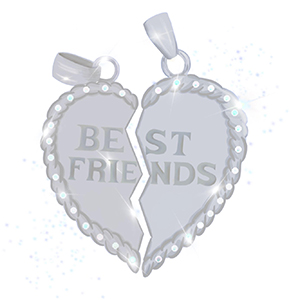 To paraphrase Paula Abdul, Karou is forever my girl. And she sure could use a bestie now more than ever, with all her memories intact and the new sitch she finds herself in. Of course, she already has the delightful Zuzana as a BFF (even if Karou has sort-of-literally dropped off the face of the Earth), so I'll just invite myself to be the Michelle to their Beyoncé and Kelly.
Swoonworthy Scale: 6
A lot of YA romances may think they're earth-shatteringly important, but Karou and Akiva's love is actually spanning years and continents, lives ruined, bloodshed EPIC. It's a testament to the well-developed foundation of this relationship is that I kept having to remind myself of why they're estranged from each other when they so obviously need to be together. (OH RIGHT — killed her family, yup.) Needless to say, LITERARY BLUE BITS. 
That heartbreaking theme of longing extends to Ziri, a member of Karou's chimaera tribe when was was Madrigal. As a young boy, Ziri had been hopelessly smitten with Madrigal. Even though Ziri is a grownup now and Karou a human, remnants of that childhood crush still linger. It's not exactly a Duckie or Oneitis sitch, but UGHHHH — Ziri, I just want someone to looooooove you!
Talky Talk: Exception and Exceptional
Oof — Laini Cussin' Taylor, y'all. Her writing is as beautiful and DEVOURABLE as ever — and this is coming from someone who's extremely picky with fantasy novels. I'd like to think that this means I'll try more from this genre, but I already feel sorry for those future books. The odds were never going to be in their favour, if I'm reading them after having read the Daughter of Smoke & Bone series.
Bonus Factor: Languages
I'm a total linguaphile, so I had already envied Karou's now-assisted fluency in so many languages. But what's different now is the increased interaction between characters without a common language, and the story is mindful of this communication barrier. (How all the Czech/Chimaera/Seraphim will translate to a movie is beyond me, though.)
Bonus Factor: Change of Scenery
This series shifts from Prague to a much more isolated environment (well, in this world, anyway), which becomes the setting for a completely different but still big picture related plot than last go-around.
Factor: War
Without veering too far into Forever Political Adults, we can all agree that war itself is pretty terrible, yes? The people whose lives are at risk on the front lines, the civilian casualties — it's all a great big tragedy. And war rages on for the chimaera and the seraphim.
Relationship Status: This Could Be the Real Thing
I know this is only Book 2, but I might have already fallen head over heels for this series. This installment builds upon what the first book established without skimping on the plot to save something for the finale; the stage has been set for a bonkers-in-a-good-way conclusion.
But Book, I've been burned by trilogies too many times to unreservedly give my heart to you. So before we take things to the next level, I'm going to wait and see what the future has in store for us first. Just know that I'm cheering for you to win me over completely. (Spoiler alert: having already read Book 3, it's safe to say MISSION ACCOMPLISHED.)
FTC Full Disclosure: I bought my review copy because omg why wouldn't I own this series?! I received neither money nor froyo for writing this review (dammit!). Days of Blood & Starlight is available now.