About the Book
Title:
All That Glitters (Enchantee #1)
Cover Story: Big Face: Marie Antoinette Edition
BFF Charm: Yay
Talky Talk: Dark Magic
Bonus Factors: Paris, The French Revolution, Hot Air Balloons
Relationship Status: Je T'aime, Oh, Oui Je T'aime!
Cover Story: Big Face: Marie Antoinette Edition
There is a lot to love about this cover: the way the colors make the stripes on the French flag, the way the title treatment covers Camille's face and plays on the theme of secret identities. While I'm historically anti-Big Face, I like that the face on this cover is clearly playing up the styles of the era, and doesn't look like a CW actress that was slapped on a book cover. I can't believe I'm typing this, but I think I love this Big Face book cover!
The Deal:
With her parents dead and her younger sister recovering from smallpox, and an older brother who shows up only to drunkenly steal what little money his sisters have to buy booze and pay his gambling debts, life hasn't been great for Camille. Her family is hungry, and she's using the little bit of la magie her mother taught her to turn bits of scrap metal into coins to buy basic necessities. But even her magic is starting to fail her, and when her brother steals her life savings, Camille must tap into a newer, darker magic deep within her to transform herself into the Baroness de la Fontaine. As the Baroness, Camille begins sneaking into the Palace of Versailles and using her magic to turn cards—just long enough to win the money she needs to pay the rent. But Versailles is a magical place, full of intoxicating people, and suddenly one month's rent isn't enough to make Camille stop spending her evenings there, and the lines between real and magic begin to blur.
In her real life, Camille befriends a group of aeronauts, including the mysterious and handsome Lazare, who opens her eyes to a new and different world, and she begins to feel hope for the future in ways she never had before. As she begins to lose control of her magic and expose her secrets, Camille must decide between her real life and the one she's worked so hard to create for herself.
BFF Charm: Yay
Camille is the real deal, y'all! She's fiercely protective of her younger sister Sophie, and willing to do whatever it takes to keep her safe, even if it means disguising herself and sneaking into the freaking Palace of Versailles! But as tough as Camille needed to be, she also allowed herself moments of vulnerability and normalcy. I was pleasantly surprised that Camille talked about how hard it was to stop gambling once she began going to Trianon every night to play cards—gambling addiction is a real and terrible thing, and not something I expected Trelease to touch on here. There was so much depth and complexity to Camille's character, and she was a joy to read.
Swoonworthy Scale: 8
Oh man, talk about a ~hot~ air balloonist! Lazare was just my type: sexy, smart, and lanky. And from the moment he comes, literally, crashing into Camille's life, I was totally smitten. But Lazare has a dark secret, and the way Trelease builds tension in their courtship will keep you on the edge of your seat till the end.
Talky Talk: Dark Magic
Trelease seamlessly blends historical fiction with fantasy, to create an alternative Paris that's even more magical than the real thing. The writing is dark and mysterious without ever feeling overwrought, and the hint of revolution combined with a slow-burn romance had me turning pages well into the wee hours of the night.
Bonus Factor: Paris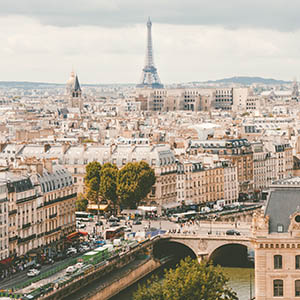 Is there anything more swoony than a book set in Paris? If you've been to Paris, and especially to the Palace of Versailles, you'll love reading about all the places you've seen. If you haven't been to Paris, you'll be planning a trip before you even finish the book!
Bonus Factor: The French Revolution
One of my favorite historical subjects, the French Revolution lends a delightful sense of unease to Enchantee, and the book even features the occasional cameo by Marie Antoinette. It's riveting to watch the drama at Versailles unfold as the mobs get angrier.
Bonus Factor: Hot Air Balloons
Okay, honestly? I would never in a million years ride around in a hot air balloon, and I think people who do are total maniacs. But I went to a hot air balloon festival once and have been in love with them ever since—at least, from a safe and respectful distance. They're so whimsical and magical, but also majestic and striking. I can't imagine what it must have been like to see one, or ride in one, 230 years ago.
Relationship Status: Je T'aime, Oh, Oui Je T'aime!
Book, I'm ready to learn French, jump on a plane, and meet you on the Seine for a romantic evening of champagne et macarons. We can eat baguettes and wear berets and doing other stereotypically French things in this montage, because then people will know that we are in love! Book, are you the Amelie soundtrack? Because you struck all the right notes for me.
FTC Full Disclosure: This review was originally posted on Kirkus Reviews in exchange for monetary compensation, which did not affect or influence my opinions. All That Glitters is available now.