About the Book
Cover Story: Big Face
BFF Charm: Destiny's Child
Talky Talk: High Seas & Stakes
Bonus Factors: Pirates
Relationship Status: Shiver Me Timbers
Cover Story: Big Face
Ahhh it's been awhile since I've had a proper Big Face cover. Are we circling back to our favorite 2010s trend? I gotta say, this one is BEAUTIFUL. The red hair! The freckles! The ship reflection in her eye. It's all so lush – and seeing this cover on a Goodreads list immediately grabbed my attention, so kudos.
The Deal:
It's been four years since Fable watched her mother drown in a shipwreck and four years since her father, the most powerful trader in the Narrows, abandoned her on an island called Jeval. Fable has spent her time since dredging the bottom of the sea for gems that she can trade for money to survive. She's a talented diver and dredger, but an easy target for anyone on Jeval who'd toss her to the sharks in exchange for a few coins.
Fable is determined to get off Jeval, find her father, Saint, and get what she deserves: a spot on his crew. But when she's caught in a life-or-death position, she must bargain everything she owns in exchange for passage through the Narrows with a young trader named West. West's crew wants nothing to do with Fable, and tensions rise when he goes against their wishes and grants her passage. As they set off on their journey, Fable realizes that an angry crew is the least of her worries. Her father has made a lot of enemies on his rise to the top, and Jeval wasn't the only place where Fable was an easy target.
BFF Charm: Destiny's Child
Fay is the ultimate survivor! Literally abandoned as a child, life could've gone a million ways for her and none of them good. But she taught herself to dive and find gems, managed to find someone to trade with, and got what she needed to survive. Once she's on the boat with West and his crew, she doesn't hesitate to make herself useful and refuses to be treated differently because she isn't technically a crew member. Fable is determined to EARN herself a place in this world, not be handed one.
Swoonworthy Scale: 7
West, the hottie helmsman of the Marigold, is a man of few words but with a serious air of mystery. He's spent years giving Fable suspiciously generous payments for the gems she trades, and even when his crew is adamant that she not be granted passage on their ship, he goes against their wishes and lets her aboard. But the more time Fable spends on board the Marigold, the more she realizes West has some MAJOR secrets. Who is he working for and what exactly is he up to?
Their romance has the tension of two people who don't fully trust one another yet but can't seem to keep their distance either. The build-up was drawn out enough to keep things interesting but also came to a satisfying conclusion…well, an almost conclusion. There is a sequel, after all, and Young succeeds at keeping her reader wanting more.
Talky Talk: High Seas & Stakes
Young successfully combines atmospheric writing, lush world-building, and perfect pacing to create a story that hooks you in the beginning and keeps you entertained till the last page. Each character carries their own secrets, and there's a long list of potential villains, double-crossers, spies, and enemies. It feels like Fable is rarely if ever safe, but that makes it all the more exciting when a character's true nature is revealed.
Bonus Factor: Pirates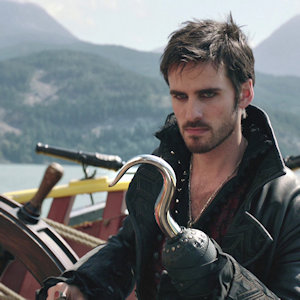 I'm not sure that the characters in this book are officially considered pirates. But they certainly FELT like pirates. Merchants, traders, dredgers – call them what you want, but the whole book had a very swarthy, sea-faring vibe.
Relationship Status: Shiver Me Timbers
I'd been jonesing for a high seas adventure and Adrienne Young delivered. It's exciting, it's swoony, it's dark and (surprise!) it has a sequel that I'm ready to dive into headfirst.
Literary Matchmaking
Six of Crows (Six of Crows #1)
The crew of the Marigold reminded me of the ensemble cast of Leigh Bardugo's Six of Crows, and West is a bit of a Kaz in the making.
Seafire (Seafire #1)
And if you want your pirate stories chock full of feminism, check out Seafire by Natalie C. Parker.
FTC Full Disclosure: I did not receive money or Girl Scout cookies of any kind (not even the gross cranberry ones) for writing this review. Fable is available now.