About the Book
Title:
Faith: Taking Flight (Faith Herbert Origin Story #1)
Cover Story: Comic Worthy
BFF Charm: Mirror Image
Talky Talk: Real (But With Superpowers)
Bonus Factors: Celebration of Fandom, Body Positivity
Factor: Series Starter
Relationship Status: Updating Facebook
Cover Story: Comic Worthy
This cover is adorable, and Faith looks amazing. I love how it echoes the comic covers while still feeling YA.
The Deal
Faith Herbert is a normal girl … with the secret superpower of flight. More pressing than her summer spent as an experiment under the control of a shady organization, however, and her newly discovered superhuman abilities is the fact that Faith's favorite TV show of all time—The Grove—has moved production to her sleepy town to film the new season. And one of the stars of The Grove, the super cool and super attractive Dakota Ash, seems to have more than a passing interest in being a part of Faith's life.
BFF Charm: Mirror Image
While reading this book and planning for this section of the review, I had two specific thoughts about Faith: 1. We're the same person and 2. If I had a daughter, I'd want one exactly like Faith. She is a fandom-obsessed, friendly, confident young woman who wants nothing more than to do the right thing and be a good friend/grandaughter, but is sometimes distracted by her imagination or situations that, in hindsight, can appear selfishly motivated (even though she didn't mean them to be!). I have most definitely been all of the above!
Swoonworthy Scale: 7
Faith has never had a significant other and is not entirely sure where she falls on the sexuality spectrum. What she does know for certain is that Dakota seems to be interested … but again, so does Johnny, a friend from Journalism who she's had a crush on for ages. Faith and I agree that love triangles are "unnecessary filler," but not having to experience it myself and watch which way the love wind blew was fun. (Sorry, Faith!)
Talky Talk: Real (But With Superpowers)
Murphy has made a name for herself writing books about real girls, many of whom are "curvy," "well-proportioned" or, to put it simply, fat. But rarely are her books solely about the fact that the characters are fat—and thank goodness for that—and Faith: Taking Flight is no exception. Faith is the kind of character who jumps (flies?) off the page and feels like someone you know (or want to know, in this case). Sure, she occasionally thinks about the fact that she's fat, like all teenagers think about their bodies, but she never lets that insecurity or the rude thoughts of others weigh her down. (Side note: Faith and Willowdean would totally be friends.)
And although Faith: Taking Flight is the origin story of an established character, I didn't feel like I needed to know anything about the comics to enjoy this story. (Truth be told, the actual origin parts felt a little rushed and I could have used a bit more exposition on what happened to Faith that summer, but that might be cleared up at a later date.) But it certainly made me want to check out the comics to spend more time with Faith!
Bonus Factor: Fandom
Faith is a huge nerd and proud of it and comes by it naturally; her parents were super nerds themselves and very happy to instill a strong sense of excitement in Faith for the nerdier side of life. As the product of a nerdy household, I get this and I LOVE this. I also love Faith's views on fandom, specifically the fact that she doesn't think anyone should ever be ashamed about loving what they love. (And how easy it is to get FULLY OBSESSED with a new fandom!)
Bonus Factor: Body Positivity
I already called this out in Talky Talk above, but I am so happy that a book like this exists and never feels like a preachy after school special.
Factor: Series Starter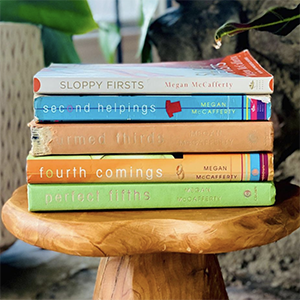 Faith: Taking Flight doesn't end on a cliffhanger, but there are pieces of the story that definitely feel left open. I'm glad there's another book to wrap these items up—and to give us more time with Faith!
Relationship Status: Updating Facebook
We had a really great time, Book, didn't we? We laughed, we gasped, we squeed over shared fandoms. I'd love to know more about your background, but I'm willing to put in the work to make you feel comfortable sharing all of yourself with me. I hope we can get together again soon!
Literary Matchmaking
Dumplin' (Dumplin' #1)
Murphy's Dumplin' features more drag queens than superheroes, but it also stars a wonderful fat girl who makes waves in her small town.
Black Canary: Ignite 
Meg Cabot and Cara McGee's Black Canary: Ignite also features an MC who's navigating newly discovered superpowers while trying to have a normal life.
Geekerella (Once Upon a Con #1)
Ashley Poston's Geekerella is another celebration of fandom and a delightful look at what can happen when you meet your celebrity crush.
FTC Full Disclosure: I received a copy of this book from Balzer + Bray, but got neither a private dance party with Tom Hiddleston nor money in exchange for this review. Faith: Taking Flight is available now.