About the Book
Title:
Famous in Love (Famous in Love #1)
Cover Story: Classy
BFF Charm: Single White Female
Talky Talk: Straight Up
Bonus Factors: Behind the Scenes, Twilight, Mysterious Loner Dude
Relationship Status: Swimfan
Cover Story: Classy
Given that this is a YA romance, the cover could've gone wrong in soooo many ways: big face, big faces kissing, beach stock photo, fancy dress, etc. Honestly it's kind of a miracle that we ended up with this tastefully restrained artwork, which hints at the themes of the book without beating us over the head with them. I love the paparazzi flashbulb heart and the old Hollywood typeface of the title. Thanks for keeping it classy, Poppy!
The Deal:
Have you ever wondered how it would feel to be Kristen Stewart, circa the first Twilight movie? What it would be like to star in the adaptation of a huge literary franchise alongside two very handsome actors and end up falling for one? If you could handle the pressure of expectations from millions of fans?
Well, author Rebecca Serle wondered, and the result is Famous in Love. It's the story of Paige Townsen, an unknown who gets cast as the lead in Locked*, the film version of a massively popular YA trilogy. Whisked away from her regular life in Portland to a Hawaiian island, Paige suddenly finds herself thrust into the literal and metaphorical spotlight. There's a lot riding on her inexperienced shoulders, but thankfully she has a supportive co-star in Rainer Devon, who also happens to be insanely hot. Sparks fly both on and off set, but when Paige's other co-star, the troubled Jordan Wilder, arrives, she feels unexpectedly drawn to him. Caught in the same love triangle as her character, Paige must make a choice, all while dealing with her skyrocketing fame and the certainty that, no matter what, her life will never be the same.
*As if this premise couldn't get any better, Serle actually wrote Locked, an e-book that I reviewed here. Because she's a genius.
BFF Charm: Single White Female
I really like Paige. She holds a true passion for acting without being dramatic about it (no pun intended), and her naiveté on set is endearing. Like any seventeen-year-old girl, she's self-conscious and lacks confidence, but she's also driven and pushes herself to take risks. I would totally love to pal around Hawaii with her if it weren't for one, tiny, insignificant detail: MY MAD CRAZY JEALOUSY.
Girlfriend is LIVING THE DREAM. She gets to star in a huge YA movie, filmed in Hawaii, and hang out all day with not one but two gorgeous dudes. And she has to make out with both of them because it's in the script. IS IT FREAKY FRIDAY YET cos I need to do some body swapping STAT.
Swoonworthy Scale: 8
Glory be, this book made me perspire with its hotness! Serle excellently balances the slow burn and the quick burn, giving us both tantalizing tension and heart-racing action (and I mean action). As much as you might hate love triangles, believe me when I say that this love triangle not only makes sense, it makes a whole lotta swoon. Rainer is charming and safe, Jordan is smoldering and sexy, and Paige is a teenage girl. I mean, come on, tell me you wouldn't be torn. And then there's the added layer of romance that comes from the film shoot itself. If you're pretending to be in love, while maybe falling in love, everything gets intense. Especially those movie kissing scenes.
Talky Talk: Straight Up
Having read her first two novels, I'm already a big fan of Rebecca Serle's style. Her heroines always speak naturally and openly, immediately engaging you in their lives as if you've known each other forever. Paige is no exception. Her voice is clear and whole, and her words resonate with emotion while never being weighed down. Thanks to lively dialogue and deliciously quick pacing, this book feels like a beach read, but it's far from fluff. Serle's exploration of fame, love and Hollywood is thoughtfully crafted, making this novel fun but never frivolous.
Bonus Factor: Behind the Scenes
As a film geek, I loved getting the dish on what it's like to be on set, from hours in the make-up chair to shooting take after take after take. And then there's the juicy off-camera drama, which is like tabloid crack in its purest form. SO ADDICTIVE.
Totally unrelated, is there fan fic about, say, the filming of The 100? Asking for a friend.
Bonus Factor: Twilight
I never thought I'd list Twilight as a bonus factor, but I also never had the brilliant idea of using its franchise as the basis of a YA novel. It's such a great concept, and Serle makes the most of it, particularly with Locked and its ludicrous plot.
Bonus Factor: Mysterious Loner Dude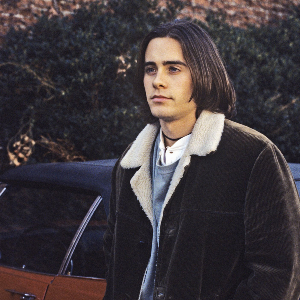 Jordan Wilder is a smokin' hot enigma with stormy eyes and a bad reputation. He and Rainer have a troubled past, and after he shows up on set, he barely gives Paige the time of day. So, obviously, I'm Team Jordan.
Relationship Status: Swimfan
With high-voltage swoons, Hollywood scandals and one helluva Cinderella story, this book has all the right moves, and I can't get enough. I don't just want to read it, I want to watch it (paging The CW), breathe it, live it. I'm officially obsessed, and I need the sequel to come out like YESTERDAY. Got that, Rebecca?
FTC Full Disclosure: I received a copy of this book from Little, Brown. I received neither cocktails nor money in exchange for this review.