About the Book
Title:
The Fire Never Goes Out: A Memoir in Pictures
Cover Story: Firestarter
BFF Charm: Heck Yes
Talky Talk: Honest
Arty Art: All Her Own
Bonus Factor: Voyeurism
Relationship Status: Love Me!
Cover Story: Firestarter
I'm a little afraid of this illustrated woman. With the fire, the crop top, and them guns, she's not someone I'd ever deign to mess with. (I also love how the covers on this book make me think of the covers of Fangirl … which Noelle did the art for. CONNECTIONS!)
The Deal:
In 2019, Noelle Stevenson is someone who seemingly has it all: published comic books, a showrunner credit for She-Ra and the Princesses of Power, and more excitement in the works, but a decade prior, she was an art student trying to figure out life. Told partly through illustrations and partly through "year in review" prose, The Fire Never Goes Out is a deeply personal memoir of a young person who's in a better place, but still working to figure it all out.
BFF Charm: Heck Yes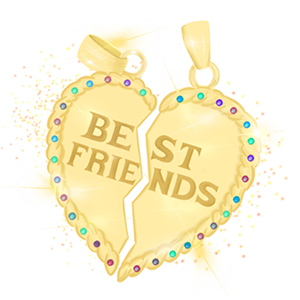 I've been a fan of Noelle's for a long while (since at least discovering the delightful Broship of the Rings way back when), and reading this memoir only cemented the fact that I think Noelle's the coolest. Nerdy, open, and not afraid to admit that she's struggling, Noelle is absolutely the kind of person worthy of a BFF Charm. I'd have a heck of a time not fangirling around her and making things awkward, but I think we'd get past that stage pretty quickly.
P.S.—You can also get to know more about Noelle in yesterday's Between Two Lockers post!
Swoonworthy Scale: 7
The swoon in The Fire Never Goes Out isn't your standard YA swoon; much of the romantic elements of the book are Noelle's struggles to figure out relationships and her falling in love with now wife, Molly Ostertag. It's raw and fragile, but it all ends well. (Have you seen their wedding photos? SO CUTE/BADASS. And yes, I'm a total creeper. But in my defense, her Instagram is public.)
Talky Talk: Honest
The Fire Never Goes Out is an honest, sometimes brutal glimpse into Noelle's life, from discovering her true passion for sequential art to falling in love with the right person at the possibly wrong time. It's not an easy read, particularly when it hits that this is a real person's story, but it's fascinating (from a somewhat voyeuristic point of view) to follow Noelle's growth in this manner. It's deeply personal, too—the "year in review" pieces are pulled from Noelle's blog, and so they're not quite polished, but all the more poignant for their rough edges.
Arty Art: All Her Own
Like I mentioned above, I'm a longtime fan of Noelle's art. But I knew more about her fan art or comics; the art in The Fire Never Goes Out is more "slice of life" doodles and art therapy (in that Noelle seems to work through a lot in her art). Boring art people might consider Noelle's art imperfect, but to me it seems like she's worked really hard to find a style that is all her own. It's wonderful in its uniqueness.
Bonus Factor: Voyeurism
I find reading biographies boring. (No shade on those of you who enjoy them!) They're always a bit dry, with a focus more on the facts of a person's life than their actual personality. Memoirs, as they're most frequently written by the person they're about, usually have more spice. And as a member of the Internet Generation, I'm all about peeking into people's lives and getting to know the real them, rather than the portrait history might paint. Although Noelle shared much of what's in The Fire Never Goes Out on the Internet previously, I can't help but feel like I'm doing something a bit salacious by reading the book and looking at the deeply personal illustrations.
Relationship Status: Love Me!
I know you're in a committed relationship, Book, and I wouldn't want to come between that. But I really want to be part of your life. Is there a place for me in your heart? Please say yes!
Literary Matchmaking
Spinning
Tillie Walden's Spinning is another graphic novel memoir.
(Don't) Call Me Crazy
And (Don't) Call Me Crazy, edited by Kelly Jensen, is a collection of stories from authors, athletes, actors and more about their struggles with mental illness.
FTC Full Disclosure: I received a copy of this book from HarperTeen, but got neither a private dance party with Tom Hiddleston nor money in exchange for this review. The Fire Never Goes Out is available now.