About the Book
Title:
Fire with Fire (Burn For Burn #2)
Cover Story: XOXO Gossip Girl
BFF Charm: Caution!
Talky Talk: Straight Up3
Bonus Factors: Godfather II, Surprise Twist
Relationship Status: Infatuated
Cover Story: XOXO Gossip Girl
This cover is from the same shoot as Burn for Burn, which means I LOVE IT. The overall design maintains the stylish sophistication and hint of scandal from the first cover, but the girls have changed their ensembles to add a layer of differentiation. Lillia and Kat have definitely upgraded their wardrobe, but poor Mary had to give up her party dress for a sweater. As if she hasn't been through enough already!
The Deal:
Obviously, if you have not read Burn for Burn, the first book in the series, you should not be reading this review. OBVIOUSLY.
Those of you who have read Burn for Burn may recall that the book ended on a climactic note at the dance, with the girls' revenge scheme backfiring on Reeve followed by a sudden, unexplained electrical fire. In other words, shizz got REAL.
Fire With Fire picks up the story two days later and immediately answers one of my burning questions: is Reeve still alive?! Yes, he is, but he's got a broken leg, which means he can't play football, which in turn means that he might as well be dead. Lillia feels terrible, especially given Reeve's obvious feelings for her, and even Mary can't enjoy the fruit of their vengeance after Reeve refuses to apologize to her for past transgressions. As is often the case with best laid plans, crap has officially gone awry. Rennie is still Queen Bee and hellbent on icing Lillia out of the clique, while Mary sinks deeper and deeper into depression. So when another window of revenge opportunity opens up, Kat and Mary convince Lillia to take a flying leap through it by romantically ensnaring Reeve… and then breaking his heart.
Thank god these girls didn't learn their lesson the first time, because the drama that ensues is deliciously complicated and juicy LIKE WHOAH.
BFF Charm: Caution!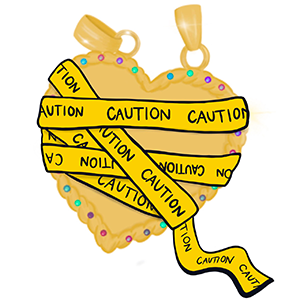 Last time around, I awarded BFF charms to all three girls. But now… well, I think we just need to take things niiiice and sloooow. I still care a great deal for Lillia and Mary, but they're heading to places where Poshes fear to tread. Without resorting to spoilers, let's just say that when it comes to Lillia, I want her to be careful, and when it comes to Mary, I want to be careful of her.
The one heroine who remains firmly in bestie territory is Kat. She's still a badass, a loyal friend and a no-nonsense broad. But, like the other two girls, she's been changed by the events in the first book, and I enjoyed watching all three of our heroines develop and grow, and, in some cases, get a little wild.
Swoonworthy Scale: 6
After the pleasant but light heat of the first book, I'm pleased to report that temperatures have risen to simmering levels. Lillia's mission to woo Reeve is the stuff of romcom dreams, but Vivian and Han deliver all of the tingles with none of the sugar. While I could have used more, ahem, details during certain scenes, there was enough chemistry soaked into the pages to make them potentially flammable. (So Fire With Fire isn't just a clever name.)
My only complaint in this arena is with Alex. Dude needs to MAN UP, and that's all I'm gonna say.
Talky Talk: Straight Up3
Following the pattern of Burn For Burn, the sequel rotates between all three protagonists' perspectives, which have increased in distinction. Each character's voice feels more fleshed out, making it easier to sink right into them at the start of every chapter. Masters of dialogue, Vivian and Han write in a satisfyingly cinematic way, and every scene danced through my head in technicolor detail. This is a highly addictive read, with a delectable frosting of intrigue that will entice you into devouring all 500 pages in one sitting.
Bonus Factor: Godfather II
I liked Burn For Burn, but in my opinion, it has been surpassed by its sequel. Fire With Fire goes darker and cuts deeper, and based on the way things are going, I predict that the third book might be the best of the trilogy. (I wish I could say the same for Godfather Part III.)
Bonus Factor: Surprise Twist
OH SHIZZ Y'ALL, the twist in this book is EPIC. Like, off the rails b-a-n-a-n-a-s.
Relationship Status: Infatuated
Armed with passionate intensity and tantalizing twists, this book knew just how to wrap me around its little finger. I couldn't rest until I knew every inch of it, and even after our thrilling rendezvous, it left me panting for more. Our romance is neither serious nor complex, but who cares?! I'm just relishing the ride, and the possibilities of our next encounter are already driving me wild.
FTC Full Disclosure: I received my review copy from Simon and Schuster. I received neither money nor cocktails for writing this review (dammit!). Fire With Fire is available now.