Cover Story: Am I Original? (No, No); Am I The Only One? (I Wish)
BFF Charm: Big Sister
Talky Talk: Jumpin Jumpin
Bonus Factor: '90s Girl/Boy Bands
Relationship Status: No Strings Attached
Cover Story: Am I Original? (No, No); Am I The Only One? (I Wish)
Similar to the cover for 99 Days and 9 Days & 9 Nights, this design uses a photo grid system, and it totally works, thanks to the models who look like besties Dana and Olivia. It's fun, it's vibrant, and it evokes the summer energy of the book.
So why, I must ask, did the publisher decide to go with a completely different cover for the paperback release? More importantly, why THIS cover?
I don't want to be mean and reference water color paintings I did when I was ten so… I'll just stop now.
The Deal
Following the graduation of the Class of '97, Dana Cartwright has resigned herself to staying in Jessell, Florida for the rest of her life. She's never imagined a world for herself beyond waitressing and sharing a trailer with her alcoholic mother, and it's all fine, really… except for watching her BFF, Olivia, head off to college to pursue a singing career. So when Olivia asks her to tag along for one last adventure–auditioning for a new pop girl group in Orlando–Dana can't refuse. And when famous music producer Guy Monroe spots Dana in the waiting room and demands that she try out, Dana finds that she can't refuse him either.
As luck would have it, Dana and Olivia are both chosen to be a part of the group, Daisy Chain (it's the 90s, y'all!!), and they move into a shared apartment in Orlando with two other girls to begin their training. It's Olivia's dream come true, but is it Dana's too? As she navigates the pressures of the record label's expectations and the demands of rehearsal, Dana finds herself drawn to this unexpected future–and to Alex Harrison, a member of Guy Monroe's boy band, Hurricane State, and the boy Olivia's been crushing on for years. It's oh so very complicated, and while Dana wrestles with her burgeoning dreams and her loyalty to Olivia, she'll discover that you might want it that way, but sometimes you'll just get shown the meaning of being lonely. (Backstreet's back alright!)
BFF Charm: Big Sister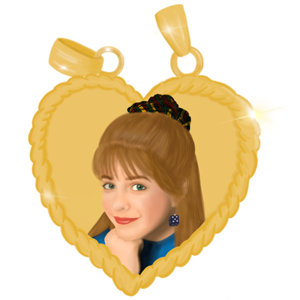 The most heartbreaking and inspiring aspect of this story is watching Dana realize that she's been settling–and that she has the potential for so much more. Obviously that's the kind of sitch that sends my inner Big Sister running to offer all manner of encouragement and pep talks. But you don't get the Big Sister support without the lectures! Dana's unwavering love for Olivia is admirable yet unhealthy, because it means that everything is about Olivia and nothing is about Dana. It's one thing to say you'll be there, but you can't let a friendship prevent you from being an independent woman. Clearly, some of Dana's behavior is due to baggage from her mom, and her heart is in the right place, but she just needs a reminder that if you don't spend a little more time on you, you can say bye bye bye to healthy relationships.
Swoonworthy Scale: 5
When Dana meets Alex at the apartment complex vending machine, the attraction is clear. He's hot; he's sweet; he's aces at flirting. But Dana resists, because Olivia liked him first, and MAN I hate this trope. I know it's not an outlandish scenario, but as Dana continued to brush him off with no explanation, the magic of their romance lost its shine for me. (But Alex really is a great guy, like in the middle of the night, he's gonna be by your side, so that's something.)
Talky Talk: Jumpin Jumpin
Katie Cotugno writes in a straightforward, engaging style that suits the contemporary genre. It's no frills, relying on the lively dialogue to move the plot along, but that doesn't mean it's basic–the main characters are well drawn, and Dana's journey feels authentic. It's easy to breeze through this book thanks to the juicy turns and consistent momentum, though the latter seems to overload at the end, with a conclusion that feels rushed. It's like, slow it down, read the sign, so you know just where you're going.
Bonus Factor: '90s Girl/Boy Bands
If my review thus far hasn't made it abundantly clear, I looooooove the '90s trend of boy and girl bands. *NSYNC is my fave, but I'm a sucker for the whole scene–the matching clothes; the formulaic yet catchy songs; the choreographed dancing; the studio sanitized sexuality. As someone who grew up wishing I could be on the MMC, I really enjoyed the behind the scenes look at the unglamorous routine of rehearsals mixed with the fully fabulous parties and concert gigs. This must be… pop!
Relationship Status: No Strings Attached
Book, ours was a fluffy fling, and you certainly showed me a good time. But let's be honest, our connection went as deep as the frosted tips on Lance Bass' head, and my memory of us will fade as quickly as B*Witched's fame. But I'm wishin' you the best, pray that you are blessed–much success, no stress, and lots of happiness.
Literary Matchmaking
99 Days (99 Days #1)
If you're a fan of Katie Cotugno's writing, don't miss her swooniest book to date.
Reunited
Fangirl over another (fake) boy band with Hilary Weisman Graham's Reunited.