Cover Story: Love at First Sight
BFF Charm: Platinum
Talky Talk: Austen High
Bonus Factors: FOOTBALL
Relationship Status: Most Ardently Admire and Love
Cover Story: Love at First Sight
I love this cover. Does it have anything to do with the book? Well, no – but it's graphically interesting and pretty and really eye catching, and geez, why does everything have to be so literal anyway?!
The Deal:
Perfectly unremarkable Devon Tennyson is already dealing with starting her senior year with a heavy crush on her oblivious best friend. Add in her obnoxious younger cousin Foster coming to stay with her family indefinitely, and she's got more important things to think about than handsome football all-star Ezra being snooty and standoffish in gym class. That is, until it turns out that dorky cousin Foster is a kicker prodigy, and gets promoted to the varsity football team faster than anyone has ever heard of. Suddenly, Devon is hanging around the football team – and Ezra – a lot more than she's entirely comfortable with.
BFF Charm: Platinum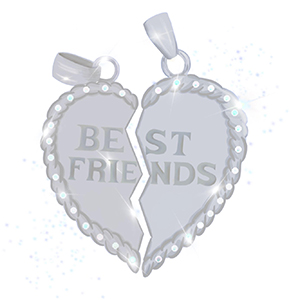 How do I love Devon? Let me count the ways – whoops, wrong historically popular author. Anyway. First of all, Devon loves Jane Austen, and strives to live her life (and romances) to the Code of Jane. And don't worry, Janeites – this is not some corny gimmick. This chick really gets it, and it makes this likable nice girl who's a little afraid to put herself out there seem really relatable. I mean honestly, who hasn't been in a prosaic high school romance and thought "ugh, if only this were more like Pride and Prejudice"? But what's really great about Devon – just like what's really great about Elizabeth Bennet, actually – is that, smart and sassy as she is, Devon really and truly cares about her family. Foster is her cousin, but he comes to live with Devon and her family because he's going through some really hard things. And although he's a major dork, Devon seriously takes care of him, helping him fit into a new school and a family that loves him. And that, ladies and gentlemen, is the stuff that Austenian heroines are made of.
Swoonyworthy Scale: 5
OMG, can we say swoon?! When I say swoon, I mean it in the highest Austen tradition. There is no bodice ripping over here – but what it does have is the most delightfully frustrating back-and-forth, will-they-won't-they that I've seen in a hot minute. So many times, a story aims for this kind of tension between two lovers – and just ends up making me want to throw the book across the room. Not Devon and Ezra, though – author Emma Mills is pitch-perfect in capturing exactly the kind of chemistry that Elizabeth and Mr. Darcy rocked in Pride and Prejudice. You know, that whole thing that made you want to simultaneously punch Mr. Darcy and make out with him forever.
Or maybe that was just me.
Talky Talk: Austen High
One of the (many) things that make Jane Austen books so lovely, aside from the beautiful romances, are the rich supporting casts. Pride and Prejudice would have probably been just as delightful with just Lizzie and Darcy, but it wouldn't be as resonant without all those awesome other characters – sister Jane, friend Charlotte, Mr. Bennet – the list goes on and on. So I loved seeing this same trait in First & Then. Devon's family and friends all combined to make a social scape just as delicately intricate – and yet simultaneously instantly recognizable – as any Regency drawing room.
Bonus Factor: FOOTBALL
Football! Go the distance! Win the big game! Do the stuff! GO TEAM!
Ok, I don't know anything about football. But I am from the South, and this book perfectly captures the weird mix of high school dramz plus nostalgic wholesomeness that is the Church of Southern Football, and that was cool to see.
Relationship Status: Most Ardently Love and Admire
Book, my feelings will not be repressed. You must allow me to tell you how ardently I admire and love you. No, seriously – I'll tell anyone that will listen: if you love Jane Austen and you have a beating human heart, check out First & Then.
FTC Full Disclosure: I received my review copy from Henry Holt & Co. I received neither tea nor biscuits (the British kind) for writing this review, even though that would have been thoughtful. First & Then is available now.
Shop Our Jane Austen Themed Merch
---
About the Contributor:
Savannah Kitchens is a children's librarian living near Birmingham, Alabama. She loves discussing Harry Potter fan theories, making lists, and baking pies. When she's not reading YA books and graphic novels, she's beating her husband at Scrabble.