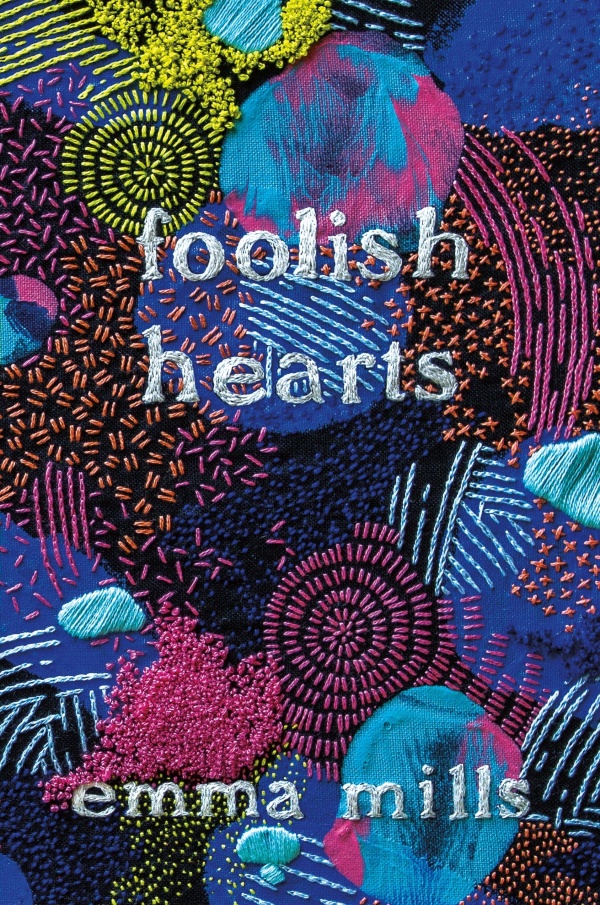 Cover Story: Love Looks Not With The Eyes, But The Mind
BFF Charm: Yay x 2
Talky Talk: The Course of True Love Never Did Run Smooth
Bonus Factors: Shakespeare, K-Pop
Relationship Status: What Fools These Mortals Be
Cover Story: Love Looks Not With The Eyes, But The Mind
I can't decide if I love or hate this cover. It's pretty, sure! I like the funky tapestry/embroidery, and I like that it's not dumbed down. On the other hand, I genuinely have no idea what it has to do with the story.
The Deal:
Claudia has accidentally overheard her classmates Iris and Paige's breakup, which is not just sad for them, but for her—mean girl Iris, who has a set of genuine brass balls (figuratively), threatens to ruin her if she ever blabs a word of it.
As the school gods would have it, Iris and Claudia are both working on their school's production of A Midsummer Night's Dream, where popular guy Gideon takes a liking to Claudia, and Iris gradually lets Claudia in as a trusted friend.
This book, which reads like every classic teen rom-com in existence, brings all the classic delight, too: new friends, new loves, and the healing of old wounds.
BFF Charm: Yay x 2
I love Claudia, who, like all of Mills' protagonists, is a sweet and fully-formed human—but I really, really love Iris. Iris is a prickly, loyal girl who has an all-consuming love of K-Pop and a heart-on for her ex-girlfriend. Iris (who has the best name, and I'm not just saying that because it's my middle name) gets all the best lines, and her friendship with Claudia blossoms in a delightful, sincere way. It's a nice contrast to the "prickly girl blooms with love from the right man" trope, and one of Mills' signatures is sweet friendships between girls. You can tell that she really gets how nice it is to have besties.
Swoonworthy Scale: 7
Oh, Gideon. If you like sweet, joyful, jovial boys, come for the adorable boy and stay for the female friendship.
Talky Talk: The Course of True Love Never Did Run Smooth
There are few contemporary YA authors that I really love, but Emma Mills is one of them. Her books are like sweet, sweet candy to me; her characters are always fleshed out, with surprising depth. When studious, angry Iris seriously referred to a K-Pop hero as her "smol son" I chortled. It's that unexpected cuteness and cultural relevancy that makes Mills' books so fun to read.
I also have to reiterate how this book reads like all of my favorite John Hughes movies—you know exactly what's going to happen, but that's totally okay. The enjoyment is in the journey.
Bonus Factor: Shakespeare
One of the nice things about this book is that Claudia crosses social divides to help others understand Shakespeare. I remember reading Shakespeare as a teen and not necessarily getting it all the time, but if I had books like these that put it in perspective, or a friend like her, I might have understood better. Plus, what is better teen drama than a high school theatre production?
Bonus Factor: K-Pop
I'm not a K-Pop fan, but so many of my friends are. What I loved about this was how it bridged the gap between Claudia and Iris—prickly, untouchable Iris has an interest that allowed her to let Claudia in. Claudia's open-mindedness, in turn, allows her to get close to Iris, who seems desperately in need of a good female friend. It's adorable…and Mills handles fandom in her usual sensitive, funny way. So yeah—it's not about K-Pop at all, but it totally is.
Relationship Status: What Fools These Mortals Be
Book, I picked you up because of your author, but I would have read you just for the Midsummer production. You were exactly what I wanted: a sweet, funny love story with a lot of friendship and depth. The other mortals will be fools if they don't see in you what I do.
FTC Full Disclosure: I received my free review copy from publisher. This review was originally posted on Kirkus Reviews in exchange for monetary compensation, which did not affect or influence my opinions. Foolish Hearts is available now.