About the Book
Title:
Geek Girl (Geek Girl #1)
Cover Story: Le Geek, C'est Chic
BFF Charm: Big Sister
Talky Talk: Talk Nerdy to Me
Bonus Factors: Modelling, Kickass Parents, Nasim Pedrad's Arianna Huffington
Relationship Status: Truly Madly Deeply
Cover Story: Le Geek, C'est Chic
This cover is way cute, and it kind of make me think Geek Girl is a superhero. And now I think Geek Girl should be a superhero.
I also prefer the U.S. version to its lip-biting Big Face U.K. cousin. Wicked face tats, bro.
The Deal:
Being fifteen is weird and awkward enough on its own, but compounding that with being a geek definitely doesn't make life easier for Harriet Manners. So when she's scouted by a modelling agent, fashion-illiterate Harriet sees this as an opportunity to shed her geeky label. Easy peasy, right?
BFF Charm: Big Sister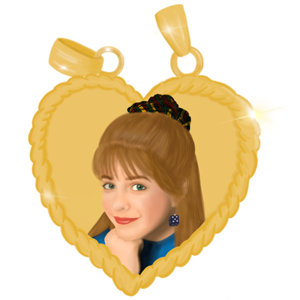 Harriet is a girl after my own heart: fervent list-maker, spouter of rando trivia, and all-around geek. She might not care for that label, but I'd like to teach her to wear that baby like a badge of honour, because it's super cool to feel genuine passion for your interests. Heck, that's why they should be your interests in the first place!
Harriet can be a bit too smart for her own good, and she sometimes reminds me of how very young she still is. But I've reserved a platinum BFF charm with her name on it, and I'm hoping she'll finally claim it when we meet again.
And a bonus BFF charm for Harriet's bestie, Nat! These two might not have a lot in common, but Nat's as loyal as they come. Pro-tip: DO NOT talk shizz about Harriet when Nat's around.
Swoonworthy Scale: 4
Nick is a quick-witted Mysterious Loner Dude who — OH YEAH — happens to be a gorgeous model. His razor-sharp comebacks and Harriet's penchant to blurt the first thing on her mind makes for much cuteness.
And then there's Toby, Harriet's geeky classmate and total stalker. No, really. Toby is obsessed and in love with her, to the point of wearing down a spot outside of her home from years of stalking. Harriet constantly tells her (harmless) stalker off, but it's still a little baffling that no one else does anything about this kid's complete lack of boundaries, regardless of how innocent his intentions are.
Talky Talk: Talk Nerdy to Me
Harriet's voice is bursting with personality and wit. In fact, most of the characters are kind of larger than life, but they exist in the kind of hyper version of reality that I find so entertaining — which includes Harriet occasionally breaking the fourth wall. (Who are all those first-person narrators talking to anyway, if they're not journaling or addressing a reader that they're aware of?)
Bonus Factor: Modelling
OBVIOUSLY. The implausibilities of Harriet's sitch would fit right with any Disney Channel classic (and I mean that in the best way possible): a teenager is plucked from obscurity to be the face of a major fashion house, which includes walking in a runway show without any prior coaching. Realistic or not, Holly Smale still has total cred, 'cause she was actually recruited by a modelling agency at 15, WHAT WHAT. (So yeah, she's hilarious AND gorgeous.)
Bonus Factor: Kickass Parents
Harriet's dad and stepmom are awesome for v. different reasons. Richard's flighty and fun, always game for spontaneity, whereas Annabel rationally looks out for Harriet's best interests above all else. When it comes to parenting, they're both a little clueless in their own ways, but their clashing personalities are perfect complements. Especially when they team up to (lovingly) tease Harriet in such a parent way.
And THANK G'NESS there isn't a bratty, clichéd "You're not my REAL mom" conflict between Harriet and Annabel. Only love.
Bonus Factor: Nasim Pedrad's Arianna Huffington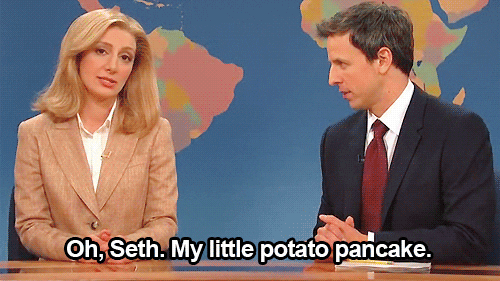 Wilbur is the modelling agent that discovers Harriet. He's over-the-top and outrageous and I ADORE HIM. Wilbur also has a habit of addressing everybody with a ridic term of endearment, a trait he shares with one of my fave Weekend Update guests.*
* Related: why does a comprehensive list of SNL Arianna's nicknames not yet exist!? You fail me, internet!
Casting Call:
How is this not a beloved British teen comedy already!? (Apparently, I am in impatient want of many things.)
Relationship Status: Truly Madly Deeply
I fell fast and hard for this book; it won me over from the start, it had me laughing until the end, and it even warmed the cockles of my cold, dark heart in between. I can't wait until we're reunited again; the next two/soon-to-be three books are already available in the U.K. (and my Canadian library, YESSSSS), so I'll probably skip the U.S. releases and get them ASAP because I desperately need more Geek Girl in my life.
FTC Full Disclosure: I received my free review copy from HarperTeen. I received neither money nor froyo for writing this review (dammit!). Geek Girl will be available January 27th.