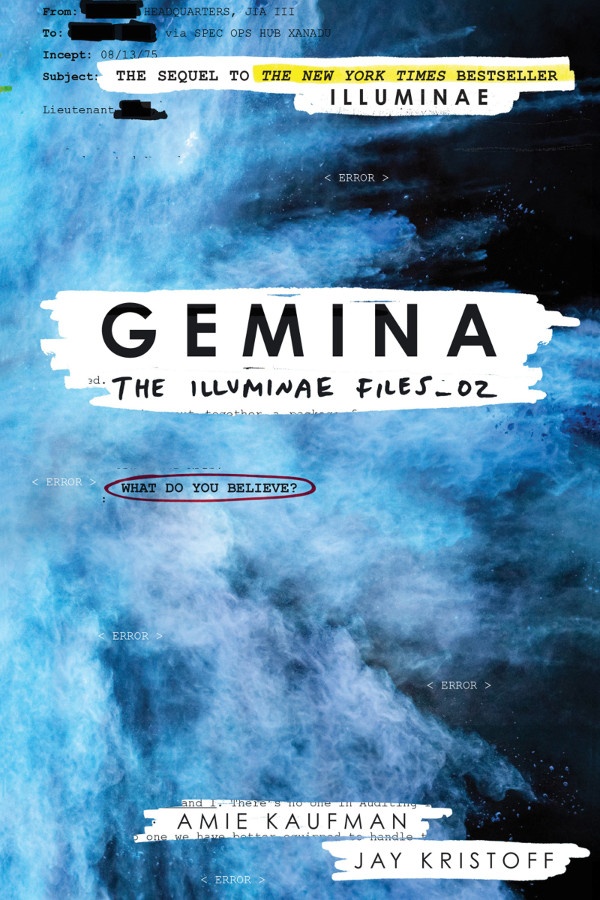 About the Book
Title:
Gemina (The Illuminae Files #2)
Cover Story: Layers
BFF Charm: Yay x 2
Talky Talk: Dossier
Trigger Warning: Violence and Death
Bonus Factors: Badassery, AIDEN, Timey-Wimey Business
Relationship Status: In it to Win it
Danger, Will Robinson! Gemina is the second book in The Illuminae Files series. If you have not read the first book in the series—Illuminae—turn away now. Do not pass go, do not collect $200. If you have read the first book, however, feel free to continue below.
Cover Story: Layers
Gemina's cover, thankfully, follows in Illuminae's footsteps. The blue dust cloud is obviously pretty, but the real delight of the book comes when you peel off the dust jacket and examine what's underneath.
The Deal:
After the BeiTech attack on the illegal mining station on Kerenza, Kady Grant and Ezra Mason found themselves in the middle of a space war and had to deal with AIDEN, an artificial intelligence who quickly became too smart/too crazy for anyone's good. But they made it through, and found safe(ish) passage aboard the science vessel Hypatia, traveling toward the Heimdall, a space station and wormhole-powered waystation to various parts of the galaxy.
But life is not all rainbows and unicorns aboard the Heimdall, thanks to an incursion by a BeiTech strike team looking to stop the Hypatia and any leak of information about the attack on Kerenza by any (i.e., violent) means necessary, and an ill-timed station-wide infestation of dangerous alien parasites. Thankfully, Hanna Donnelly, daughter of the station's commander, and Nik Malikov, member of a notorious crime family, live aboard the Heimdall, and they're not willing to go down without a fight.
BFF Charm: Yay x 2
Not unsurprisingly, there's more to both Nik and Hanna than first impressions belie. Hanna might be the spoiled daughter of the boss who is practically Heimdall royalty, but she's also a well-trained fighter and strategist. Nik might be the nephew of a notorious crime boss who's totally mixed up in his family's unsavory business, but he also has a heart of gold, and would love to figure out a way to have a different sort of life. They're both people you would want on your side, particularly if you lived on a space station being attacked by vicious mercenaries, but I'm pretty sure they'd be great addition to casual parties, too.
Swoonworthy Scale: 7
At the start of the book, Hanna is in a relationship with the dreamy Jackson Merrick. He's practically perfect in every way, and has a to-die-for accent to boot. But Nik's on the periphery, and the two have some serious enemistry. And y'all know that the bad boy is often way more appealing than prince charming. (At least in YA books. Real life, not so much.)
Talky Talk: Dossier
The amazing and engrossing story aside, one of the main things I loved most about Illuminae was its unique format. Gemina continues that trend, and to great effect. The story is told through chat logs, emails, files, security camera footage transcripts, and journal entries (illustrated by Marie Lu!) Never does the format detract from the reading experience, however; even when you literally have to turn the book around to read upside down or in a loop.
Amie Kaufman and Jay Kristoff have once again created a seamless reading experience* full of irreverent humor, balls-out action and the occasional tender moment. At 650+ pages, Gemina can seem like a daunting task, but it's the kind of book that's easy—and immensely enjoyable, if not a little anxiety-inducing—to get lost in.
*In the sense that you can't tell who wrote what, which is sometimes an issue with books written by multiple authors.
Trigger Warning: Violence and Death
If you've read Illuminae—which, if you're reading this review, you probably have—it should come as no surprise that Kaufman and Kristoff don't pull punches when it comes to the action in Gemina. The deaths in Gemina are less disturbing than those in Illuminae, however. (That probably says something worrisome about my desensitization to violence, but …)
Bonus Factor: Badassery
Hanna is a total BAMF. She makes me want start taking a kickboxing, Muay Thai, or MMA class (or all three) at my gym, just in case.
Bonus Factor: AIDEN
The crazypants AI doesn't have a huge role in Gemina, but it does pop up. And, of course, it continues to be delightfully nutty.
Bonus Factor: Timey-Wimey Business
The Heimdall is orbiting a wormhole. The wormhole needs to be maintained properly to work correctly. The BeiTech strike team doesn't know how to maintain the wormhole properly, but turns it on anyway. I'm sure you can see what I'm getting at here.
Relationship Status: In it to Win it
You and me, Book, we're in this for the long haul, through thick or thin, for better or worse. Together, we can overcome crazy AIs, corporate plotting and mercenaries with itchy trigger fingers. We make an excellent team, and I can't wait until we get together again.
FTC Full Disclosure: I bought a copy of this book with my own money, and received neither a private dance party with Tom Hiddleston nor money in exchange for this review. Gemina is available now.