Cover Story: Montell Jordan
BFF Charm: Nay
Talky Talk: Bracing
Bonus Factors: Unreliable Narrator, Being Rich
Relationship Status: Obsessed
Cover Story: Montell Jordan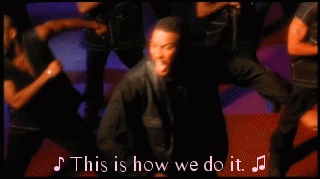 Alluring isn't the adjective I would normally use to describe a pile of hair, but the artful layout and color design make this cover quite the looker. The concept hints at disguises and glamorous subterfuge, which should be more than enough to convince you to pick this baby up off the shelf.
The Deal
Jule West Williams is a fighter, first and foremost. She's also an enterprising feminist, a scrappy survivor and a loyal bestie to Imogen Sokoloff, a loaded heiress, a social darling and an adventurous brat. As fellow orphans, the girls form an intense friendship, laced with a darkness fed by secrets they will never share.
Aaaaand at the risk of spoiling the story, I'll leave it at that.
BFF Charm: Nay
Jule is, to put it lightly, complicated. Her drive and ambition impress me while simultaneously scaring the shizz out of me. Tough as nails and sharp as a whip, she cuts a fearsome figure, and yet her affection for Imogen reveals a vulnerable side absolutely begging for a hug.
I found myself at war with my feelings towards Jule throughout the book–one minute, my heart would go out to her and the next minute, it would beat a hasty retreat. Of course, that was all according to E. Lockhart's plan, as she deftly contrasts Jule's flaws against a cast of characters who, beneath dazzling veneers, all frankly suck. I was left fascinated by my own indecision about Jule's nature and culpability in her make-up, but I am certain about one thing: friendship between us is a HARD PASS.
Swoonworthy Scale: 0
Is there such a thing as fourth or fifth fiddle? Because boys don't even play second in this book, and that's awesome.
Talky Talk: Bracing
E. Lockhart has always had a plain yet literary way of writing, a sort of cool confidence with a refined air. That style suits this story perfectly, adding enough distance to maintain a sense of mystery while candidly revealing stabs of emotion. Every page feels impeccably crafted, smart and elegantly insidious, leading the reader deeper and deeper through a masterfully tangled web.
And if you're a fellow Frankie Banks fan, you'll be happy to know that Lockhart's trademark feminism is fantastically on display in passages like this one:
Imogen Sokoloff was the type of girl teachers never thought worked to her full potential. The type of girl who blew off studying and yet filled her favorite books with sticky notes. Immie refused to strive for greatness or to work toward other people's definitions of success. She struggled to wrest herself from men who wanted to dominate her and women who wanted her exclusive attention. She refused, over and over, to give any single person her devotion, preferring instead to make a home for herself that she defined on her own terms, and of which she was master. She had accepted her parents' money but not their control of her identity, and had taken advantage of her good fortune to reinvent herself, to find a different way of living. It was a particular kind of bravery, one that often got mistaken for selfishness or laziness. She was the type of girl you might think was nothing more than private-school blonde, but you'd be very wrong if you went no deeper than that.
Bonus Factor: Unreliable Narrator
It's evident from the beginning that Jules isn't what she seems, yet her voice remains consistent, her motivation clear. The genius of this book is in its structure, a careful manipulation of time that keeps you guessing as you sift through layer upon layer of intrigue.
Bonus Factor: Being Rich
The wealth in this book is gorgeously comforting–a flat in London, a last minute trip to Puerto Rico, endless summer nights in Martha's Vineyard. It never feels extravagant, which is exactly why it is, because characters don't think twice about spending weeks at a luxurious resort or dropping out of college to lounge at the beach and host dinner parties. This is privilege at its most inviting, and if I could RSVP, my answer would be HELL TO THE YES.
Relationship Status: Obsessed
Book, you drew me in with your enigmatic ways then thrilled me with a potent mixture of dread and deceit. Our time together left my mind racing and my pulse pounding, and I can't stop thinking about you, I can't stop talking about you, I can't stop replaying every moment, rehashing every detail. Though it might not be healthy, I have this need to analyze you with everyone I know, so I hope you don't mind being introduced to ALL of my friends.
FTC Full Disclosure: I received a free review copy of this book at BookExpo America. I received neither money nor cocktails in exchange for this review (dammit).