About the Book
Title:
Gimme Everything You Got
Cover Story: Groovy
BFF Charm:  Yay!
Talky Talk: Jessica Darling But Make It 70s
Bonus Factors: Soccer, The 1970s, Self Love
Relationship Status: Teammates
Cover Story: Groovy
I love the simplicity of this cover. I think there were a lot of directions they could have taken this, but a retro title treatment and analogous color scheme give it throwback 1970s vibes without dating it too much.
The Deal:
Susan Klintock is your run-of-the-mill sex-obsessed teen girl living in the late 1970s. She doesn't care about much else, really. She especially doesn't care about playing sports. But when her high school caves to that Title IX pressure and hires Bobby McMann to coach a girls soccer team, suddenly ALL the ladies care about playing sports. Coach McMann, ahem Bobby, is a charming hottie who wears short shorts and believes that girls can play sports just as well as boys, so of course the ladies turn out in full force for soccer try-outs, until they actually have to, like, run and stuff. Most of the other girls drop out immediately, but Susan and a handful of others realize that maybe playing soccer is kind of great?
Susan meets a mysterious punk rocker who offers to help her with her soccer skills on the weekends, but no matter how much her team improves, they're still a joke to the other men's teams in town. As the team works together to improve enough for a first game, Susan's crush on Coach McMann continues to grow deeper and more inappropriate, threatening to ruin everything she's worked for.
BFF Charm: Yay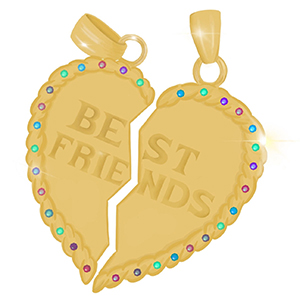 Susan is brutally honest and totally hilarious. What I think I loved most about her is that she's on this journey to self-discovery but, like any teen, she keeps hitting road blocks along the way. She enjoys soccer but still isn't completely sure that playing a sport is worth the shit she has to take for being on a girls' team. She's learning about female empowerment but still wants boys to think she's hot. There's this moment when she talks about the elastic-waist nylon shorts she wears, originally because she could pull them on over her bathing suit to go to the pool.
"Then, this summer, I realized maybe the shorts meant something bigger. Like that I was a feminist. Not one who didn't shave her armpits, but a sexy one."
She even compares the simplicity of her shorts to the simplicity of no-strings-attached sex, something she learned about in one of her mom's feminist hippie books. She loves this idea of being a cool, care-free, sex-positive woman, but she's still a little unsure of all that entails. I found myself cracking up at how adorably clueless she could be.
Swoonworthy Scale: 7
Sure, Susan joins the soccer team because her new coach is a sex god in a pair of short shorts, and as I expound on below, she fantasizes about him a LOT. But even the slightest hint that Coach McMann returns her feelings will make you want to bury your head in a hole. SUPES UNCOMFS. Do not fear though, because Susan meets a mysterious punk rocker from the local boys school named Joe, and Joe drives a Nova (be still my heart – my husband has a 1970s Nova!) and used to play soccer. Joe offers to help Susan with her soccer skills on the weekend, and as they grow closer, their friendship has all the swoony, stomach fluttering moments you would expect from two people who maybe want to be more than friends but also don't want to mess everything up.
Susan and Joe had notes of Jessica Darling and Marcus Flutie – and you know that is not a comparison I make lightly!
Talky Talk: Jessica Darling But Make It 70s
From the first page of this book, Susan was sending me major Jessica Darling vibes. She's raunchy and sex-obsessed, and her frank dialogue and hilarious one-liners will have you laughing out loud. Things like:
"Susan, tell your mom a little lipstick wouldn't kill her."
"If it's poisoned it could," I said, grabbing the can of Cheez Balls off the counter and popping three in my mouth at once, which seemed to disgust Jacqueline.
For a time period when no one could wrap their brains around the idea of a girls' soccer team, it seemed that very few people were prudes when it came to sexuality. I read a lot of contemporary YA and this was the first book I've read in a long time that felt truly fearless in the way it approached sex and sexuality.
My fantasy thoughts always started in the third person and switched to the first person once I got going. It wasn't like I was being graded.
But despite what I've made it sound like, this book isn't ONLY about sex. Not even close. Susan's growing friendship with her teammates and her love/hate relationship with soccer, how shitty she feels when the boys from a neighboring school make her and her team feel lesser than, even her evolving relationship with her parents and soon-to-be new stepmom give this story depth and complexity that only add to its greatness.
Bonus Factor: Soccer
Okay, listen, soccer is not something that I care much about, but I assume that if you care at all about soccer, then it would be a huge bonus factor to read about a group of girls forming the first women's soccer team at their school in 1979, right? It doesn't seem *that* long ago, and yet a lot of the people in this book are pretty incredulous that girls would try to play sports, so you can't help but punch your fist in the air every time they achieve in the slightest step forward.
Bonus Factor: The 1970s
This might be the first YA book I've read that's set in the 1970s, and I'm digging these vibes. It's weird to think this is historical fiction now, but I'm gonna try not to think about that too hard.
Bonus Factor: Self Love
Susan is H O R N Y and not afraid to tell you all about it. She has her fair share of fantasies about Coach Bobby, sure, but whether she's on her own or with someone else, Susan does not hold back when telling the reader all the down-and-dirty details. Her descriptions of sex and sexy-times are honest, and funny, and cringingly familiar.
Relationship Status: Teammates
Book, you're the Messi to my Neymar, the Benzema to my Ronaldo (yeah, I had to Google those, what of it). Not only are you fun to be around, but I totally get your gross sense of humor and when it comes to preaching the good word of sex-positive YA, I am 100000% on your team.
Literary Matchmaking
FTC Full Disclosure: I did not receive money or Girl Scout cookies of any kind (not even the gross cranberry ones) for writing this review. Gimme Everything You Got is available now.