About the Book
Title:
Girl Taking Over: A Lois Lane Story
Cover Story: Outta The Way
BFF Charm: Peas in a Pod
Talky Talk: Unicorn Cappufrappacinno
Arty Art: Lisa Frank
Bonus Factors: Lois Lane, Kickass Parent Award
Anti-Bonus Factor: Awful (Grown-up) Men
Relationship Status: Tired
Cover Story: Outta The Way
You better move over, title. Lois has places to be.
The Deal:
Lois Lane is ready to have the best summer of her life. She's left her small town for the busting metropolis (heh) of National City, where she has an internship at CatCo where she'll actually get to put her journalism skills to use. She has a (not-entirely-legal sublet) apartment all to herself. Everything's coming up Lois.
But then she gets to the apartment and realizes she has to share it with her former best friend-turned-nemesis and the head of CatCo is ousted on Lois' first day at her internship—and she's relegated to coffee runs and being called a myriad of incorrect names.
Lois isn't about to let everything going wrong stop her from the life she's always meant to live, though. … Is she?
BFF Charm: Peas in a Pod
Lois, with all her Type-A, "I've got my entire life planned out to the millisecond" plans, reminded me a lot of High School Mandy (albeit turned up to eleven). I think that means we wouldn't be very good friends—too similar often equals discord rather than harmony—but that's OK. I'd support her in her goals.
Unless they were the same as mine, and then we'd be total frenemies. There's no middle ground.
Swoonworthy Scale: 2
While working at CatCo, Lois meets another intern who is equally nerdy about things, albeit in a different and quieter way than her. It's clear—more from the art than the prose, which is sparse given the medium—that there's something between them, but it takes a little bit for them to actually act on what they're feeling.
Talky Talk: Unicorn Cappufrappacinno
Girl Taking Over is not a book you want to read if you're feeling any sort of anxiety; the story reads like a caffeine-fueled manic episode. Lois is always on the go, literally running from one thing to the next. There are panels in which her dialogue literally fills the entirety of a speech bubble, with some words being cut off at the edges. Lois is intense and Kuhn's dialogue drives that home with each page. But the intensity is believable for a driven teenager like Lois, even if it does make for a stressful read.
Arty Art: Lisa Frank
Girl Taking Over is a riot of color and imagery; Jovellanos's illustrations and the use of color in the book compliment the manic-ness of Kuhn's writing and characters nicely. The colors aren't exactly realistic, but they do create a world that I'd love to live in, as a lover of color.
Bonus Factor: Lois Lane
As a woman with a journalism degree (although one I'm not exactly using), Lois Lane has always been a sort of hero of mine. I love every iteration of her, and Kuhn's Lois is another great addition to the list of awesome Loises.
Bonus Factor: Kickass Parent Award
Girl Taking Over, for all its shortness, explores interesting themes like what it's like to be an Asian woman reaching for success. And it also turns some stereotypes on its head, like the overprotective Asian mother trope: Lois's mom seems to fit the bill, at first, but it's clear that she's supporting her daughter's goals as much as she pushes Lois to achieve them.
"Lo-chan, you are going to succeed—I have always known that. And whatever is happening now that you refuse to talk to me about? Well. It is a mere bump on the road to your inevitable triumph. But it is okay to cry a little on the way."
Anti-Bonus Factor: Awful (Grown-up) Men
The man who takes over CatCo is an utter jerk who understands nothing about what the company was created for but thinks he knows best. The head of Miki's theater troupe is equally terrible, speaking down to the people of the company and taking their ideas for his own. (He's a cis white man who tries to adapt Miki's one-woman show about being a queer Asian woman … you get the idea.)
Relationship Status: Tired
You're a little too much for me, Book. But I want to support you on your path to obvious success. Just let me take a quick nap first, k?
Literary Matchmaking
Fallout (Lois Lane #1)
For a different version of teenage Lois Lane, but one with no less ambition, check out Gwenda Bond's Fallout.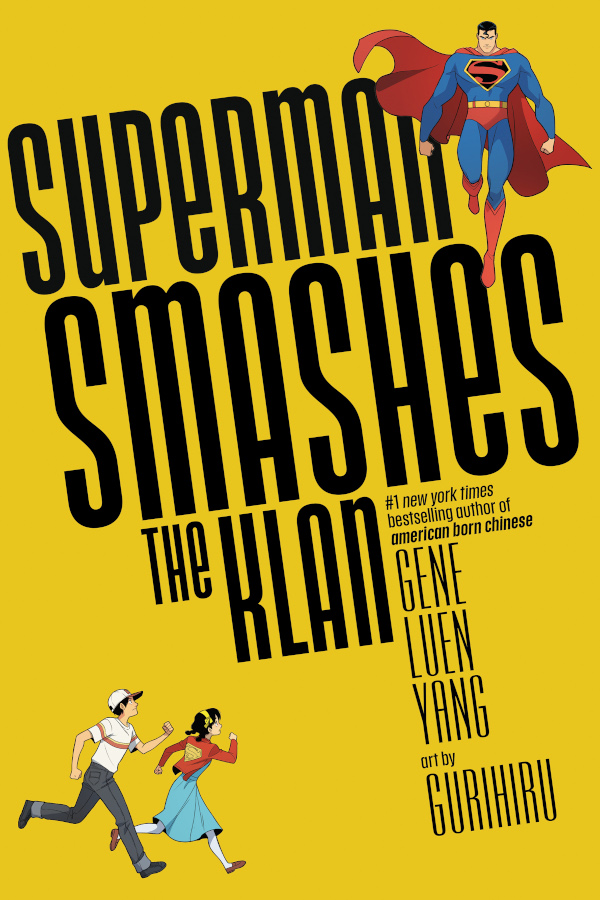 Superman Smashes the Klan
Lois isn't the main character of Gene Luen Yang and Gurihiru's Superman Smashes the Klan, but she is a part of the story, which also deals with racism surrounding the Asian diaspora.
FTC Full Disclosure: I received a copy of this book from DC Comics, but got neither a private dance party with Tom Hiddleston nor money in exchange for this review. Girl Taking Over is available now.