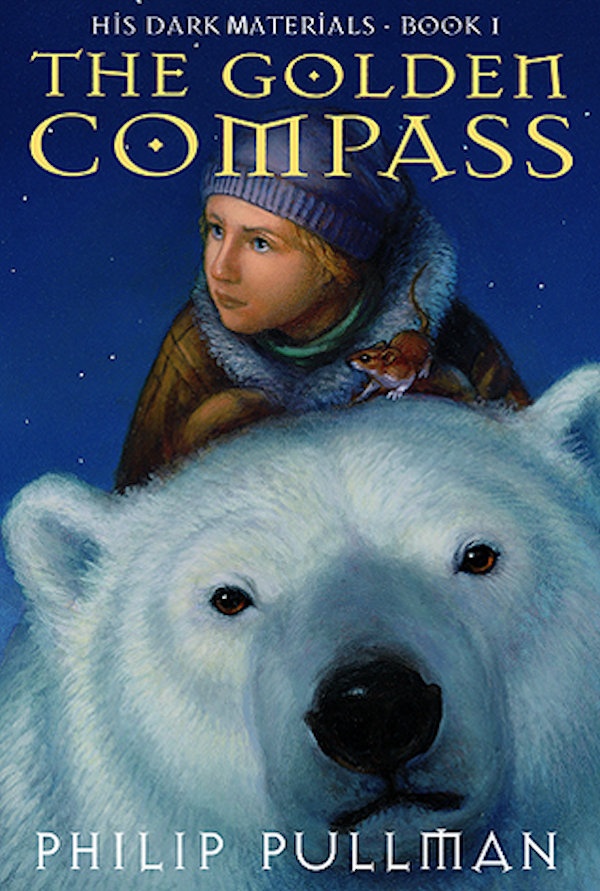 About the Book
Title:
The Golden Compass (His Dark Materials #1)
Cover Story: Bertie Botts
BFF Charm: Platinum
Talky Talk: Master Of His Craft
Bonus Factors: Alethiometer, Dæmons, Armored Bears
Anti-Bonus Factor: Awful Grownups
Relationship Status: Never Separate Us
Cover Story: Bertie Botts
Being as popular a book as this is, there has been every cover design imaginable featuring the alethiometer and/or a girl and/or a polar bear (including some from the movie-adaptation-that-shall-not-be-discussed. Seriously, do not watch it.). The one above is the one I remember the best, as it's from my childhood copy.
The Deal:
Lyra Belacqua may not be a scholar herself, but she's proud to be a ward of Jordan College in Oxford—though this Oxford is a bit different from the one we know. In Lyra's world, people have dæmons, physical manifestations of their souls who can take the shapes of various animals before settling into one that suits the person's personality after they hit puberty. Lyra and her dæmon, Pan, get into all sorts of troubles and escapades, from sneaking around the catacombs to staging elaborate warfare with the townies and the Gyptians.
But there are dark things afoot in the world beyond Jordan College's safe walls. Children are being snatched from their homes, and the rumors only grow more wild as fears begin to mount. To survive, Lyra must travel further than she's ever dreamed—to places with ice palaces, witches, and armored bears—and bear witness one of the most twisted things a person can do to another.
There is so much going on in this book that I've barely scratched the surface, but if you've somehow managed to get this far in your life and haven't yet read it, do yourself a favor and just dive on in.
BFF Charm: Platinum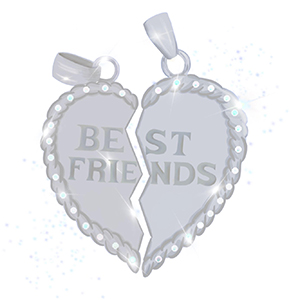 What is there to say about Lyra Belacqua? She is brazen. A liar. Courageous with a keen mind. Kind-hearted and yet also kind of ruthless. I so desperately wanted to be her as a child (not in the least because I wanted my own dæmon. #jealous). Lyra is a natural-born leader and con-woman, and you may be slightly appalled at the things she will do while simultaneously cheering her on as she puts those know-it-all adults in their place. Her dæmon, Pan, is her balanced counterpart: he enjoys Lyra's taste for fun but he's also her voice of reason and practicality, and I love him just as much.
Swoonworthy Scale: 0
Lyra is involved in way too many important things to be concerned with a romance. She's got the love and admiration of her multi-faceted friends, which is more than enough for this lady.

Talky Talk: Master Of His Craft
I've lost count on how many times I've read these novels over the last twenty-odd years, so it's tough to be completely objective at this point. But as I am far from the only fan of Pullman's work, I think it's safe to say this series is just plain good . This first book lays out a rich world full of magical ideas and creatures, combining what looks on the surface to be a simple, straightforward adventure with some heady, grown-up concepts that many unimaginative adults think are too complex for children. Yes, it's true that when I first read this book I did not grasp all the nuances of Pullman's writing. But I was a critical enough thinker to understand that stifling a person's freedom of expression was wrong, that authoritarian regimes and groupthink are dangerous, and that fact-based decisions are important. If it's been a while since you read the series, I think it would be worth a reread to see what you may have missed.
I YAngelize this book to all the readers I have influence over: While my husband and I were traveling around Scotland last month I thought it was finally time to introduce him to the series. We listed to the audiobook in the car, and I must say it was a fantastic narration. Pullman actually does the main reading himself, but there's a full cast doing the voices for all the characters. Shout-out to the person who plays Lyra, as she is SPOT-ON perfect. She imbues the right amount of wide-eyed "who me?" innocence with Lyra's penchant for weaving elaborate yarns. I highly recommend it to all. (One more book-related side story: While we were in London my husband, the darling he is, surprised me by finding a floating bookstore—the cutest little used bookstore boat with a cute bookstore dog to boot. They had an impressive YA collection, and I happened to find the entire His Dark Materials trilogy complete with the original UK title for this book, Northern Lights. I felt this was a sign from the universe that I must buy them, despite having another copy at home and the e-books.)
Bonus Factor: Alethiometer
The alethiometer is a device that can answer any question you ask it. It's such a dangerous tool that there's only a few of its kind left in Lyra's world, and it takes Scholars years of study to understand the pictures and what they mean. I want one.
Bonus Factor: Dæmons
An animal companion who loves me above all else and the world is okay with me taking everywhere with me? Pullman was speaking music to my child ears when I was ten years old. Even now, I also still totally want this.
Bonus Factor: Armored Bears
Lyra has multiple encounters with the panserbjørne—the armored polar bears of the North. (My husband thought that this was the best part of the book; the first time they were mentioned he burst out, "Armored BEARS? Fucking cool!" like a giant goofball.) If uptight parents want anything to get upset about, they need to bring up the violence in the bear fight scene where Pullman describes, in detail, one bear ripping off another bear's jaw. Metal.
Anti-Bonus Factor: Awful Grownups
For every cool person in Lyra's world like Fader Coram, former leader of the Gyptians, or Lee Scoresby, the Texan with a penchant for flying, there's a groups like the Gobblers who are going around stealing children and committing all sorts of atrocities to them (according to the rumors). Then there's the controlling Mrs. Coulter and her scary-ass golden monkey who still gives me shivers when I read about him. And Lord Asriel is an enigma for much of the book, though one thing is very clear: he's a total dick.

Relationship Status: Never Separate Us
You can be my honorary dæmon, Book; the words of my heart. I will never let anyone separate us, no matter what they may try.
FTC Full Disclosure: I purchased my own (multiple) copies of this book. I received neither money nor peanut butter cups in exchange for this review. The Golden Compass is available now.