About the Book
Title:
Goldenhand (Abhorsen #5)
Cover Story: Ho-Hum
BFF Charm: Platinum Edition and Be Mine
Talky Talk: Satisfying
Bonus Factors: Full Circle Storyline, Magical Prosthetic Limbs
Relationship Status: Permanent Resident
Careful, Sweetie: spoilers! This is the fifth book in the Abhorsen series, so if you haven't read Sabriel, Lirael, Abhorsen, or Clariel, you should probably hop back in the TARDIS and go curl up with the first book in the library by the pool before continuing.
Cover Story: Ho-Hum
This isn't the most dynamic cover, what with its bland desert landscape and floating Charter Magic symbol. The Charter plays a big role in this book, so, sure, it works on some level, but there are other scenes they could have depicted that would've been more visually interesting (the bridge and river scene, for one).
The Deal:
Six months after defeating Orannis, Lirael has fully embraced her role as Abhorsen-in-Waiting and her place with her new palace family, but she's still a bit depressed about losing her best friend, The Disreputable Dog (so are we, Lirael, so are we). When she gets a distress call from a familiar face on the other side of the Wall, she jumps at the chance to check in with Nicholas Sayre, Prince Sameth's Ancelstierrian friend. But the proper amount of jumping, mind you. She's simply concerned about how he's been getting along after his unusually rare return from the dead, that's all.
Meanwhile, a Northerner named Ferin is desperate to reach the home of the Clayr with a warning that could prevent the destruction of her homeland at the hands of the Witch with No Face. She carries with her a message from Lirael's deceased Seer mother, but there are people and things chasing her who are willing to stop her from delivering it at any cost.
BFF Charm: Platinum Edition and Be Mine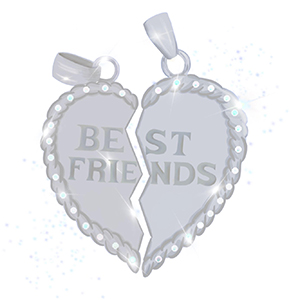 I'm happy to say Lirael has more than earned her Platinum Edition BFF status with me. She's grown from a sullen pre-teen to a lady who honors her commitments, respects her friendships, and has dedicated her life to doing good. With the absence of her loyal canine companion, Lirael could use a pal to browse the markets with, and I'd be happy be there for her.
Oh, Nicholas. You are the cutest with your silly jokes and charming smiles. I appreciate that you had this intense experience that basically turned your life upside down, and instead of wallowing in the fact that you've been dealt a serious ego blow, you're open and willing to dive into this new situation and make it your own. I also love that you are not intimidated by strong women whose abilities far exceed yours in certain areas, and that you're willing to be a follower when it's necessary to do the most good. That's a sign of a mature man, and that will always be sexy.
Swoonworthy Scale: 6
Now that Nick is no longer Orannis's meat puppet, he's finally able to see the Old Kingdom with fresh eyes, and what he's seeing, clear as a bell, is a badass, adorable librarian who's saved his butt more than once. Because we get a peek into each of their heads, it was fun to witness their timid but sweet interactions from both angles. Lirael's inexperience with men and flirting makes her shy and unable to gauge Nick's interest, while on the other side of the coin, Nicholas is struggling to regain his confidence after his ordeal and is seriously intimidated by Lirael's general awesomeness. It took more than a decade to get some resolution for those little hints we saw in previous books, but it did not disappoint.
Another character we know and love also gets their own stirrings of a new romance, and I wholeheartedly approve.
Talky Talk: Satisfying
While Garth Nix never said he was stopping with Abhorsen, that book did have a fairly satisfying ending, and I long considered the matter closed. But after finishing Goldenhand, I can now say that I am MUCH happier with where this one left off (though he hasn't officially said that this is the end either). I didn't realize until I dove in how much I wanted to see what everyone was up to, especially since Abhorsen ended on the battlefield immediately after the destruction of Orannis.
In scope, this book was a lot smaller—it's tough to top the "Destroyer of Worlds" attempting to free himself—but that was okay with me. Lirael, Nicholas and Ferin's stories paralleled each other through alternating chapters, so while at times it was tough to leave one of them while they were knee-deep in the action, I never felt like the style detracted from the overall storytelling.
Bonus Factor: Full Circle Storyline
I was glad to return to Chlorr's tale and get some closure, especially since it allowed the prequel, Clariel, to tie itself back into the main storyline. The thought "why did we need this" plagued me after finishing up the prequel, so I'm happy there was a reason for it.
Bonus Factor: Magical Prosthetic Limbs
Lirael's hand was bitten off by The Disreputable Dog at the end of the last book in order to save her life, so to compensate for her missing limb, her nephew, Prince Sam, created a hand fashioned out of Charter magic. How cool is that?! It's even possible for Lirael to feel sensation in the magical body part, which makes it five levels above a plastic prosthetic. Can we get these in our world, pretty please?
Relationship Status: Permanent Resident
I've had a special visa for a while that's allowed me to come and go as I please between my world and yours, Book, but now I believe I'm ready to make the move a permanent one. Your land is not without its dangers and scary magical beings, but you've also got some pretty awesome people that have made my stay a welcome one. I'd jump at the chance to hang out with them for as long as I can.
FTC Full Disclosure: I received my free review copy from HarperCollins. I received neither money nor peanut butter cups in exchange for this review. Goldenhand is available now.