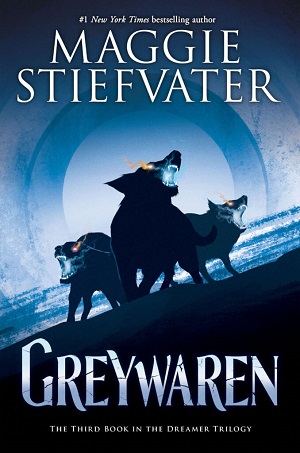 About the Book
Title:
Greywaren (Dreamer Trilogy #3)
Cover Story: What's Un Dog?
BFF Charm: Mixed Bag
Talky Talk: The Final Countdown
Bonus Factor: Origin Story
Factor: The End of a Series
Relationship Status: I Would Die 4 U
~*~sPoILeR aLeRt~*~ This is your official warning that Greywaren is the final installment in The Dreamer Trilogy, and thus, this book report contains some major spoilerage for the first two books. Continue at your own risk, babies.
Cover Story: What's Undog?
I'm a DDS (dumb dumb stupid) because despite reading all of the books in this series MULTIPLE times, I still had to ask the other members of my book club about the meaning of the wolves on the cover. And they were like no durphy, Eddie Murphy, those are Ronan's sundogs that he keeps in his little water bottle. And yes, the sundogs get released from their water bottle in Greywaren, so there is significance here, even if I didn't see it at first.
One very subtle thing I like about this series' covers is that book one, Call Down the Hawk, had a single hawk. Book two, Mister Impossible, had two people holding swords, and book three has three sundogs!
The Deal
When we last saw this motley crew at the end of Mister Impossible, Hennessey had joined forces with Carmen Farooq-Lane to betray Ronan and Bryde and pull the plug on the ley line, leaving the thousands of dreams who didn't have access to a sweetmetal in an unconscious state…including Ronan. Gasp!
Now it's 36 hours later. Bryde's been apprehended desperately trying to steal Klimt's "The Kiss" straight out of a museum. Declan is desperately trying to keep both his brothers alive – by spending his life savings on a sweetmetal for Matthew that only has enough strength to keep him awake a few hours per day, and by keeping Ronan's body stored in a safe place until he can find another sweetmetal to wake him up. Ronan is floating in the abyss, his consciousness barely hanging on to his physical body. Jordan is, to her surprise as much as anyone's, still awake, while Hennessey is staying with Carmen and the Visionary Liliana until they figure out their next steps.
But then, the bombs start to go off. Literal bombs. Planted all over the place in an attempt to kill dreamers. Suddenly, a bad situation gets much worse, and everyone's racing the clock to figure out who is killing dreamers and how to stop them.
BFF Charm: Mixed Bag
At this point, we're familiar with our main characters and I think they've all been awarded BFF Charms in the past. I stand by my previous judgements: I love 90% of these characters in varied ways (Declan, call me!). Bryde is slightly less annoying in this book because he has been put properly in his place and no one follows him around acting like he's Dream Jesus anymore. Hennessey still needs a lot of therapy.
In Greywaren, we get the backstory of Naill Lynch and the OG Aurora: Mor 'O' Corra. There are not any huge surprises when it comes to Naill. As a young father, he is not all that different from how Ronan and Declan remember him, except that he's less…large. He sort of shrinks next to Mor, and is hopelessly in love with her in a way that Mor isn't capable of reciprocating. Mor is a really interesting character because she is SO different from Aurora. These flashbacks were one of my favorite aspects of the novel because they are so different from how Ronan remembered his childhood – plus there are other things revealed in these flashbacks that I won't spoil. All in all, it was a really clever way to keep the story fresh in the final installment of a trilogy.
Swoonworthy Scale: 6
With this being the end of the series, with the end of the world at stake, there isn't a lot of time for romance. That said, Maggie has been almost cruel with her ability to keep Ronan and Adam apart through most of this series, and their struggles have been the real deal – not one of those miscommunications that can be fixed by two characters having a simple conversation. Ronan and Adam have some pretty big hurdles standing in their way, and they both have to make huge sacrifices and do some serious self reflection if their relationship is going to survive to see a happy ending. That is, if Ronan OR Adam survive to see a happy ending, because both of their souls are in mortal peril here.
Declan and Jordan are still swoony, do not worry! But we just see less of them together in this book, unfortch.
Meanwhile, Stiefvater introduced a new romance between two of the main characters that I found…surprising. I'm not sure it worked, honestly. And I'm curious if anyone else thought so too.
Talky Talk: The Final Countdown
If you're at all familiar with Maggie Stiefvater's books (and I am assuming that if you're reading this particular review, you are) then you know that our girl Maggie is a sentence-crafting artiste, and has the particularly special ability to make a series' batshit crazy plot seem second place to the thoughtfully complex, beautifully constructed characters who are living it out.
But what she does here is add a ticking time bomb to that plot. Like, literally. And suddenly, we see those characters in their worst moments, at the end of their ropes, and racing a clock not only to save themselves, but to save thousands of living things. The sense of urgency she creates is great, and keeps you turning the page, but she won't let you race through this book. She forces you to stop and take a breather when she gives us a chapter with Ronan stuck floating in a black abyss. Or a flashback of Naill and Mor moving to their new home at the Barns with their young son. It's really masterfully done, and I had no IDEA how this series would end when I started the book. Even more than halfway through it, I wasn't sure how she would end it. She kept me guessing until the last chapter – I couldn't have asked for anything better than that.
Bonus Factor: Origin Story
Those flashbacks of Naill and Mor moving to the Barns with little baby Declan become especially important when you realize that it's leading the reader into Ronan's origin story. And I can't spoil it for you but I can say this: !!!!!!!!
Factor: The End of a Series
Sob! We have officially reached the end of The Raven Cycle universe and I already miss these characters. I don't want to give any spoilies, but I will say we get a chance to visit with our TRC faves in the epilogue.
Relationship Status: I Would Die 4 U
I am 100000% biased and would give this book 5 stars no matter what. But I will admit that it isn't perfect. There were a few details that left me scratching my head, and I was left wanting more from some of the characters. It was like the story was so huge and all-encompassing that it would've been impossible to get everything I wanted from every character in less than 800 pages. But overall, Stiefvater did an incredible job of bringing this series full circle and giving us an ending that felt right in my heart but also right for the characters. I've been reading about these people for a full decade, and I feel like they'll be a part of me forever.