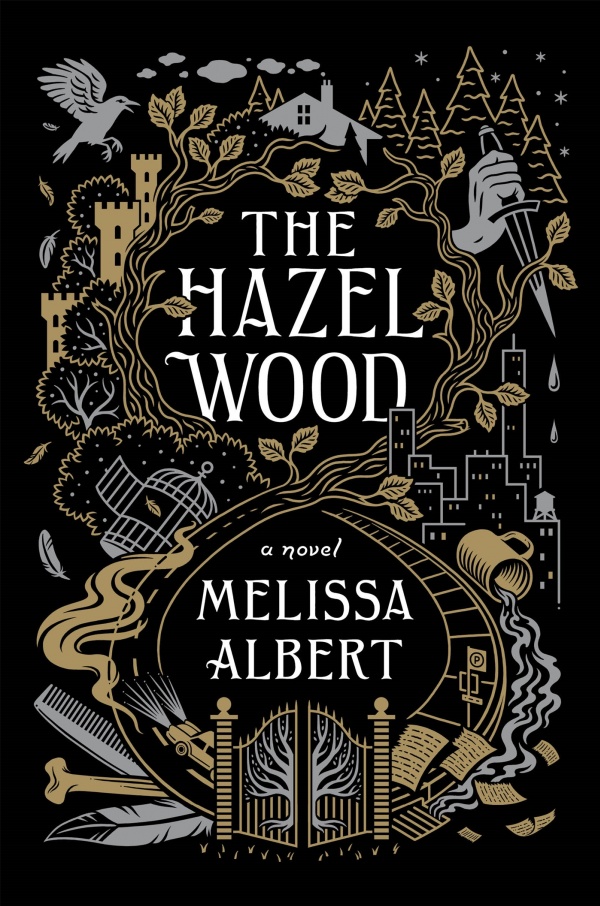 About the Book
Title:
The Hazel Wood (The Hazel Wood #1)
Cover Story: Classic
BFF Charm: Caution
Talky Talk: Burning Brightly
Bonus Factor: Story Within A Story
Relationship Status: Happily (N)Ever After
Cover Story: Classic
This cover is gorgeous. I love that it looks like a classic tome of fairy tales, but with a modern twist: the skyscrapers and the spilled coffee. All of the elements of the cover are elements of the story, too. It's intriguing before you read the book, and purposeful once you finish. More of this, please, publishers!
The Deal:
Alice is the granddaughter of a famous fairy-tale author: Althea Proserpine, a one-book-wonder who disappeared into obscurity, along with copies of her book. Despite a cult following that persists even today, Alice has never met her grandmother. Instead, she has to gather scraps of information about the mysterious woman from the internet, old articles, and the occasional fan.
Alice and her mother Ella have spent Alice's entire life on the run, drifting from town to town to outrun bad luck that might have been straight out of Althea's stories. One day, Ella gets word that Althea has died—and now, perhaps, the bad luck will end. They can finally settle down.
That is, until Ella is kidnapped and taken to the Hazel Wood—and Alice, along with her classmate Ellery Finch, is determined to rescue her mother from a fairy-tale fate.
BFF Charm: Caution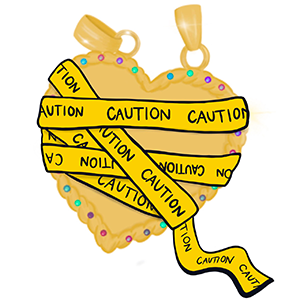 I quite liked Alice, who can be a total jerk and whose rage simmers just underneath the surface, but I'm not so sure she'd be the best friend to have. First of all, all that bad luck following her around doesn't just affect her. Second, her temper and single-minded focus make her prickly—but a terribly compelling character.
She's not without self-awareness, though. I loved this quote: "The feeling of knowing you're being an asshole is as bad as feeling wronged, but without the satisfaction." The whole book is full of observations that seem so obvious and true once she points them out.
Swoonworthy Scale: 3
Romance takes a back seat to other relationships in this book, particularly mother/daughter. Although Finch is an adorable boy, the possibility of romantic love is far less intriguing than the love between story and subject.
Talky Talk: Burning Brightly
Melissa Albert's writing is a thing of wonder. Never have I highlighted so many passages. She expertly combines the dark, lush descriptions of displaced fairy tales with sharp-tongued, dry humor. Alice's voice is angry, but in an understandable way—like the way you'd nod at a raging teenager and think, "Yeah, I feel you."
But don't take my word for it—take hers."The light in our apartment was all the colors of metal—blinding platinum in the morning, gold in the afternoon, bronze from the streetlights at night." "She spoke only to other children, mostly to make them cry.""My head pulsed with a three a.m. black coffee feeling." "Everyone is supposed to be a combination of nature and nurture, their true selves shaped by years of friends and fights and parents and dreams and things you did too young and things you overheard that you shouldn't have and secrets you kept or couldn't and regrets and victories and quiet prides, all the packed-together detritus that becomes what you call your life."
To say I love Albert's way with words is a gross understatement.
Bonus Factor: Story Within A Story
Modern fairy tale stories often have stories within stories, which, when done well, are one of my favorite things to read. Althea's stories are creepy and dark, and I was delighted to see that Albert appears to be publishing them in a companion volume sometime in 2020.
Even better: although this is the first book in a series, the story ends in a way that will satisfy your need for closure.
Relationship Status: Happily (N)Ever After
Book, I'd heard so much about you from the rumor mill, so I was nervous that you couldn't possibly live up to my expectations…and yet, our date was positively, well, magical. You made me laugh and sigh and nod in understanding as you said things I'd been thinking forever, but much more eloquently. I'll be waiting by the phone for you to ask me out again, although I suspect I might have a bit of a wait. Can you put a spell on me so the time passes more quickly?
FTC Full Disclosure: This review was originally posted on Kirkus Reviews in exchange for monetary compensation, which did not affect or influence my opinions. The Hazel Wood is available now.