Cover Story: Bad Girls, Bad Girls
BFF Charm: Yay x 2
Talky Talk: She Said, She Said
Bonus Factors: Thelma and Louise, Road Trips, Feminism
Anti-Bonus Factor: Awful Grownups
Relationship Status: Ride or Die
Trigger Warning: This book contains instances of physical and mental domestic abuse that some readers might find triggering. Read with caution.
Cover Story: Bad Girls, Bad Girls
Is it a Big Face à deux? Yes. Do I love it? Heck yes! The sunglasses, the accurate haircuts, the sexy glow from the neon lights of the title treatment? This book is clearly about two cool girls on a journey through the seedy nightlife of middle America. All adds up to 10/10 in my book.
The Deal:
To the outside world, Winona Olsen lives a perfect life. Her father, Stormy, is a beloved meteorologist and philanthropist. She has perfect hair, perfect dresses, a perfect house. What people don't see, though, is what happens behind the closed doors of that big house, or the scars hidden by her expensive jewelry. Stormy keeps a frightening control over every tiny aspect of Winona's life, and if she breaks his rules, she pays.
Everyone can see that Lucille's life isn't perfect. She waits tables at the diner with her mom, then comes home to the trailer where her older brother deals drugs from the couch and steals from Lucille's room, where her mother's loathing of Lucille couldn't be more obvious.
When Lucille and Winona met by chance at the police station after a violent evening in their respective lives, it was best-friends-at-first-sight. And when the terrible men in their lives push them one step too far, they decide to hit the road and never look back—even if they have to break a few laws to do so. And even if the terrible men in their lives plan to chase them every step of the way.
BFF Charm: Yay x 2
Winona and Lucille have my heart. Lucille is fiercely protective of Winona, who was, at times, extremely naïve—like a baby rabbit leaving its den for the first time. And Winona loved Lucille just as fiercely in return, showing her that she was loved and appreciated in a way that Lucille wasn't shown at home, and encouraging Lucille to slowly break down the protective walls she had put up over time. But as the story unfolds, these girls begin to grow and change, and while their friendship experienced a few growing pains, you never doubted their devotion to one another, or that the other was just the thing each girl needed most to survive.
Swoonworthy Scale: 3
I want to scream "NO BOYS ALLOWED" because, honestly, this book is about two besties on the open road. But a boy does manage to weasel his way into the heart of one of our heroines, and so, I'll admit that there is a skosh of swoon among these pages. Swoon takes a backseat in this road trip tale, though—the only love story here is between Lucille and Winona.
Talky Talk: She Said, She Said
Emily Henry and Brittany Cavallaro are two of my very favorite YA authors right now. Both women have incredibly original style and voice, which is why I counted the days until I could get my grabby little hands on a copy of this book. Though written in close third person throughout, Hello Girls alternates between Winona and Lucille's points of view, and alas, here we must come to my only real complaint with this book, and it was a minor one: I had a little trouble differentiating between Winona and Lucille's chapters.
This really may be more a reflection of my own expectations and less about the book itself, but I had really hoped to see Henry and Cavallaro's own unique voices shine through each girl. Instead, while the writing was beautiful and the story was great, it really was hard to tell that this was written by two women, and it felt more like one cohesive voice throughout–which isn't in and of itself a bad thing!
Bonus Factor: Thelma and Louise
How, in the good year 2019, have we not yet had a YA take on Thelma and Louise? It's criminal! Lucille and Winona are up to the task. They've been wronged, they're mad and they're on a mission—but they've still got a lot of heart, which is the thing that will get them in the most trouble on the road.
Bonus Factor: Road Trip
I sometimes wonder if road trips are one of those YA tropes that happen way more in books and movies than they do IRL. I don't think I ever took an epic road trip as a teen, certainly not a cross-country one. But I will never, ever pass up an opportunity to read about two best friends hitting the open road. Especially if they're doing so in a vintage, convertible Alfa Romeo.
Bonus Factor: Feminism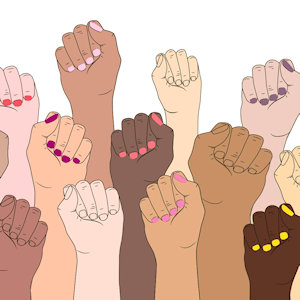 Winona and Lucille like to reflect on the ways that men have controlled their lives. They like to dress up as old ladies, because then, maybe the world would no longer care about their bodies and they would finally belong to themselves. They want to look ugly to free themselves from the male gaze. So many of my favorite highlighted passages were in these moments.
Anti-Bonus Factor: Awful Grownups
There is not a single good adult in this book. There is one bartender of questionable moral ethics who is fine, I suppose, but only better than the rest because he is not physically or mentally abusive or neglectful. So get ready: this book will make you want to punch all adults. Honestly, there were moments that made me so angry my hands shook.
Relationship Status: Ride or Die
Book, it's you and me against the world. Okay, probably not really, but if that were the case, I'd be right be your side until the end. You're just the sort of story I can rely on to break me out of a book slump, and I know you'll never let me down.
FTC Full Disclosure: This review was originally posted on Kirkus Reviews in exchange for monetary compensation, which did not affect or influence my opinions. Hello Girls will be available August 6, 2019.