Cover Story: Hello, Gorgeous
BFF Charm: Big Sister
Talky Talk: Easy Breezy
Bonus Factors: New Adulthood, Hollywood Dreams
Relationship Status: Summer Fling
Cover Story: Hello, Gorgeous
OMG YES TO ALL OF THIS. Especially that palm tree suitcase and Becca's beloved zebra flats! However, I can't help but get major vibes of a cover style that I mostly associate with another publisher. But, hey, there's no monopoly on cover trends, and this is a great look to emulate.  
The Deal:
After getting rejected from every single college that she applied to, Becca Harrington packs up her life in Boston to pursue an acting career in L.A. But her year-long plan is looking worse and worse as the months pass by: her prospects are nonexistent, her bills are piling up, and her mom's nagging her about getting back on the college track. Will Becca ever catch her big break, or will she have to admit defeat and move back home?
BFF Charm: Big Sister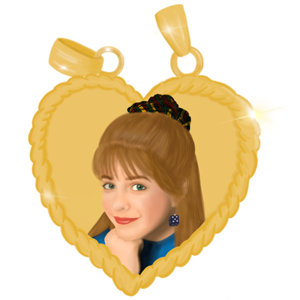 Moving across the country on its own is a seismic change, but doing so fresh out of high school and to be an actor is definitely bold and gutsy. I'm actually all for it, despite worrying for Becca anyway and sharing some of her mother's reservations. Sure, it's a tough industry to break into, but as long as Becca can support herself in the meantime, why not try for her lifelong dream? This is the time to go big – to take risks and make mistakes. So I'll happily cheer her on – with mild trepidation – as well as be her cheerleader when her usually unrelenting belief in herself wavers.
Swoonworthy Scale: 7
Alex might be Becca's high school sweetheart with a butt that won't quit, but he totally reminds me of Warren from Legally Blonde, i.e., FIRST AND WORST. There are way better options for Becca, who doesn't even have to look far to find sweet and thoughtful Raj, a film school student and aspiring director who conveniently lives in her building.
Talky Talk: Easy Breezy
Hello, Sunshine is a fast read that's perfect for inhaling on the beach. Not so much for vicarious instant stardom, though, because this book (mostly) keeps it real in this crash course to Hollywood. And true to L.A. fashion – or, at least, an SNL sketch of "The Californians" – there are even convos dedicated to how best to navigate the sprawling metropolis.
However, I did give some side-eye for a brief spirit animal discussion. While it's possible that the characters involved may have Indigenous ancestry, it's certainly not mentioned anywhere at all to indicate that cultural appropriation wasn't in play.
Bonus Factor: New Adulthood
Becca's quickly learning the joys and many, many pains of living on her own for the first time: furnishing an entire home (from Ikea, natch), paying the bills (L.A. trash fee, whaaaat?), and – gulp – getting into debt.
Bonus Factor: Hollywood Dreams
Of course, this being L.A., Becca's not the only one hoping to make it in Hollywood. In addition to Raj and his directorial ambitions, she quickly befriends fellow actor Marisol, with the three of them becoming an inseparable unit of struggling artists at the Chateau Bronson where they all live. (Their dynamic makes their living sitch feel like a real-world dorm, which in turn makes me think of the short-lived show, The L.A. Complex.)
But for all the glamour and excitement of Hollywood, there's disappointment and heartbreak, too. The highs are high, but the lows are harsh reality more often than not.
Relationship Status: Summer Fling
Fun and flirty, this book was what I was looking for in a summer escape. Even though it had big dreams, it also managed to stay (somewhat) grounded. Forever might not be written in the stars for us, but we'll always have Chateau Bronson.
FTC Full Disclosure: I received my free review copy from Disney. This review was originally posted on Kirkus Reviews in exchange for monetary compensation, which did not affect or influence my opinions. Hello, Sunshine is available now.